Spitfire Symphony Orchestra (SSO from here on forward) is a collection, that consists of 4 Spitfire instruments; Spitfire Symphonic Woodwinds, Spitfire Symphonic Brass, Spitfire Symphonic Woodwinds and Masse. We have already reviewed all of their product (except Masse) in our previous reviews.
So in this review I will focus on how the whole collection acts and works as a whole. In order to test out the whole collection I composed a short piece in the style of music by John Williams. Since this type of orchestral music has always been a real challenge for composer to accurately recreate with samples, I thought it would be a great test ground for this collection. I will touch on the ins and outs of every individual library in SSO, but for more detail about every specific product please read the individual reviews. So let's see, if SSO is a product you need in your sample library arsenal!
Content and sound
The whole collection is pretty massive to say the least. The library is composed out of 273758 samples and It will take approximately 255.1 GB of disk space (requires 510.2 GB disk space during installation). The library works in Kontakt player of in the full version of Kontakt. The Spitfire team has spent 10 years in making this huge library. The whole collection originally started as BML or British Modular Library and was released in various volumes over a four-year period. All of the libraries in SSO have been recorded in the lovely Air Studios in London, which is a favorite studio for many Oscar winning composers. All the instruments have also been recorded at their respected seating positions with three microphone positions (tree, close, ambient), so orchestral panning should not be a problem.
Spitfire Symphonic Woodwinds takes up 71.1 GB of disk space and consist of:
• Piccolo, solo flute, flutes a2
• Solo oboe, oboes a2, coranglais
• Solo clarinet, clarinets a2, bass clarinet, contrabass clarinet
• Solo bassoon, bassoons a2, contrabassoon

Spitfire has samples all common articulations as well as some more uncommon ones like harmonics and fluttertounges. The all in all sound of the woodwinds is a lot to my liking. The three mic positions (close, tree, ambient) make dialing your preferred sound a breeze. You can get a very nice intimate timbre with the close mics and a more distant and mysterious one with the ambient microphone position. I like to have my tree mic to max and dial the close and ambient microphones to about 60%. Higher woodwinds (flutes, oboes, ect) tend to mix better with a bit more ambient microphones than the lower ones (bassoons, low clarinets). The legatos play well in all of the instruments and the staccatos are nice and sharp as well. While playing fast passages works great in some instances, it lacks realism in others. If you will be using the woodwinds in a pure orchestral context, you won't find much better options on the market. I do miss some prerecorded runs though. I hope Spitfire will include them in the library in the future.
Spitfire Symphonic Brass consists of 60.2 GB of space and consists of:
• Solo Horn, Horns a2, Horns a6
• Solo Trumpet & Trumpets a2, Trumpets a6
• Tenor Trombones a2 & Bass Trombones a2, Trombones a6
• Solo Tuba, Solo Contrabass Trombone, Solo Cimbasso, Cimbasso a2

The brass section must be my favorite out of SSO. As in the woodwinds all major articulations are covered in SSB. The tone it has is warm and pure on the low dynamics and brassy/bright on the high dynamics. My favorite patches are the solo trumpet, trumpets a6, horns a6, trombones a2 and trombones a6. The only real problem I have found in the library is, that some patches and some articulations are a lot louder than other ones. For example, the horns a2 sustains and legatos seem to sound a lot quieter than the staccatos. Or the staccatos in the a6 horns sound like they have been recorded at a lot larger dynamic level than the a2 horns. This causes some issues with creating certain lines that use various articulations. If you use each articulation on a separate track, this won't be such a problem, but if you like to use keyswitches or Cubase expression maps (like me), then this problem is sometimes a hassle. Nevertheless, the brass in SSO will surely not disappoint you.
Spitfire Symphonic Strings take up 101.1 GB space and consist of:
• Violins I, Violins II, Violas, Cellos, Doublebasses

The amount of articulations offered in the stings will surely not disappoint (175 articulations, including 59 shorts, 94 longs, & 45 legatos). In comparison the the brass and winds, the strings also have a lot more uncommon articulations in addition the the commonly used ones. As in the woodwinds, I only miss some prerecorded runs, which are always a great addition to have. The best part of the strings is the great warm and rich sound that is a combination of the great London musicians recorded at the Airstudios hall with the valve and ribbon mics, that ran through the Neve Montserrat Pre-amps and Neve 88R desk. You won't get this color of sound with any other library for sure. Whether it is to your liking, is then up to your preference of sound. A very great feature in the library is also the performance legato patche(s). These patches combine several legato techniques in one and are extremely playable. What I really like about the performance legatos is, that they play very well in time. Many string libraries tend to have a sort of "lag" to them when you put them right on the beat in your DAW. So you end up constantly shifting your samples to left in order to achieve the strings playing in time. The issue is almost completely resolved with the performance legato patches. Unconnected notes also get a staccato sample overlay, which achieves a bow change sound effect. The performance legato patches also work surprisingly well with faster passages, where a lot of string libraries on the market suffer and lack.
A shout out must also go out to the Rachmaninoff molto vibrato patches and the sul G (violins) and sul C legato (violas and cellos) patches. Use these patches at the correct places in your composition and you will surely be able to fool people, that you have recorded live strings.
Although I love the legatos, I sadly cannot say the same for the shorter articulations. The spiccatos and staccatos lack the attack found in equivalent sample libraries from other developers. Even comparing the spiccatos in SSS with the spiccatos in Spitfire's very own Albion one, we can quickly hear, that the spiccatos in Albion are a lot more prominent and powerful. It almost seems like that mezzo forte is as loud as the shorter articulations go….
Another small "problem" I have found is, that the main articulations patch does not have a legato articulation in it. Instead you just have a normal sustain. This is of course not a big deal, but it does mean you will have to loud up the performance legato patch on a separate track. With that said, SSS are still one of the best (if not the best) string sample libraries I own.
The last piece of the puzzle in SSO is Masse which takes up 22.1 GB of disk space and consists of:
List of patches
• A Tutties (Strings + Brass + Woodwinds)
o a – Tutti – Beast Long
o a – Tutti – Beast Short
o a – Tutti – Brass String Choir Long
o a – Tutti – Brass String Choir Short
o a – Tutti – Long
o a – Tutti – Low Brass String Stab
o a – Tutti – Low Wood String Stab
o a – Tutti – Nutcracker
o a – Tutti – Staccato
o a – Tutti – Woods String 1 Long
o a – Tutti – Woods String 1 Short
o a – Tutti – Woods String 2 Long
o a – Tutti – Woods String 2 Short
• B Strings
• b – Strings – Cool Strings 1
• b – Strings – Cool Strings 2
• b – Strings – Cool Strings 3
• b – Strings – Cool Strings 4
• b – Strings – Giant Epic Long
• b – Strings – Giant Epic Short
• b – Strings – Ligeti Strings
• b – Strings – Mondo Plucks
• b – Strings – Slow Cool Strings 1
• b – Strings – Slow Cool Strings 2
• b – Strings – Slow Cool Strings 3
• b – Strings – Slow Cool Strings 4
• b – Strings – Slow Strings 1
• b – Strings – Slow Strings 2
• b – Strings – Super Slow Strings 1
• b – Strings – Super Slow Strings 2
• C Brass
o c – Brass – Beast Long
o c – Brass – Beast Short
o c – Brass – Choir Long
o c – Brass – Choir Short
o c – Brass – Power Long
o c – Brass – Slow Choir Long
o c – Brass – Slow Super Choir Long
o c – Brass – Super Choir Long
o c – Brass – Super Choir Short
• Woodwinds
o d – Woodwinds – Beast Long
o d – Woodwinds – Beast Short
o d – Woodwinds – Chorus Long
o d – Woodwinds – Chorus Short
o d – Woodwinds – Light Short
o d – Woodwinds – Orchestrator Long
o d – Woodwinds – Orchestrator Short
o d – Woodwinds – Slow Chorus Long
o d – Woodwinds – Slow Orchestrator Long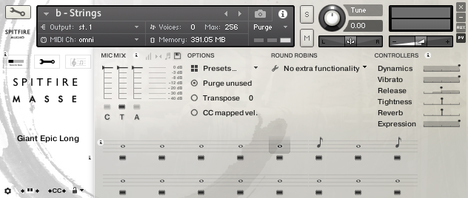 In this library Spitfire took the best out the SSS, SSW and SSB and orchestrated the samples. This library is exclusive only to the owners of SSO. The Spitfire team took 6 months of their schedule to make this library. You can think of it as a sketching tool, but it is more than just that. You can easily create very realistic orchestral composition just with Masse. If you are also an owner of Albion One, you can also try layering these to libraries together for a great effect! It is one of those "easy to use" libraries with which you can instantly get inspired and start writing. The amount of work put into Masse truly shows. I suggest you take a look at Spitfire's walkthrough video for a better sense of what Masse has to offer.
Graphics Interface
Users of other Spitfire libraries will already be familiar with the GUI and will be able to delve right into it. New users won't have a big problem, since the interface is as straight forward as it can get. On the main page you will be able to select your articulations, tweak the vibrato, dynamics, release, tightness and expression of the samples (also vibrato in the strings). You also have a handy easy mix fader which fades between the close and far mics. For quick fixes it's OK, but I suggest tweaking your desired mic positions in the settings window, which can be accessed by the little wrench icon on the left hand side of the GUI. In this window additional settings can be adjusted, such as how you want your round robins to performer. You should also try playing around with the Ostinatum which is not really an arpegiattor and not quite a sequencer. Spitfire says about Ostinatum: "This intuitive device allows you to build up complex patterns that react to your playing to achieve wild systems results tantalisingZimmeresque tension beds or cheeky multi-tonguing effects!" All in all GUIs don't get much more straight forward than this one.
Price performance and conclusion
SSO will take 1739 EUR out of your wallet. Sure, this is quite a lot of money, but you must admit you do get A LOT of content for what you are paying for. If you were to buy all the products in SSO separately you would be paying 2087 EUR instead. Spitfire also generously gives out a 30% discount for students and teachers!
As a conclusion I would like to say, that Spitfire Symphony Orchestra is almost your all in one orchestral sample library. Why almost you ask? Well, it's simple. Although SSO includes strings, brass and woodwinds it misses an essential part of every orchestra; the percussions. Spitfire does have a very great percussion library Spitfire Percussions Redux, so I am curios why they did not include in the bundle… SSO also does not have a harp inside, which is also a common orchestral instrument.
With that said, I do have to say, that SSO if a very impressive orchestral collection and I would suggest it to any orchestral composer, that has the money to spare! Because all instruments had been recorded in the same hall, they also very nicely mix with each other so the end result is a coherent sounding orchestra, that will be able to fool many ears with its realistic sound.
Download custom Spitfire Symphony Orchestra expression maps for Cubase here.
Look at the screencast video of the walkthrough video for the test track I composed with SSO.
Spitfire Audio Symphony Orchestra Review
Pros
Great sound, Very good playable legatos, A lot of articulations to choose from
A lot of articulations to choose from
xclusive extra sample library Masse included
Cons
Inconsistences by the dynamics in patches and articulations
String staccatos and spiccatos are not the best (they lack a good attack)
No percussions included, No prerecorded runs