In this year's Halloween special, we share with you our top 15 of the most scary, disturbing, creepy and haunting Kontakt libraries – perfectly suited for your next horror cue.
Please note, that in order to use most of these libraries, you'll need a full version of Kontakt 5!
Sick Bundle – by Soundiron
The Sick Bundle collects all six volumes of Soundiron's horror, gore and experimental sound design range Sick into one big package. The bundle contains about 15 GB of content, including over 6,500 samples. Each volume of Sick focuses on another area of horror sounds, like ghostly whispers, nightmarish soundscapes, destruction and monster sounds.
The Sick Bundle is currently available for a discount price of $ 84.00 (reg. $ 139.00).
Death Piano – by Production Voices
Death Piano is a alternative take on Piano Sample Libraries that celebrates the obscure. Full of reverse samples, lo-fi gritty goodness, synthesis shaped tones, morphed massacred sounds and more. Designed for Kontakt 5, Death Piano is an inspiring collection of piano oddities that is sure to inspire film composers, pianists, songwriters, producers and more.
Death Piano has an introductory price of $ 19.00 (reg. $ 79.00).
Arcane – by Embertone (FREE!)
Half game, half sample library, Arcane centers around a séance, through which you must appease the evil Kontakt spirits. In order to progress and unlock the mysteries within, there are riddles and challenges to solve. Within this innovative product you'll find a diverse assortment of sounds, and also an unforgettable experience inside Kontakt.
Arcane contains:
• a demo version of Friedlander Violin
• an Alto vocal legato patch
• ethereal dulcimer with amazing FX
• choral clusters, intergalactic drones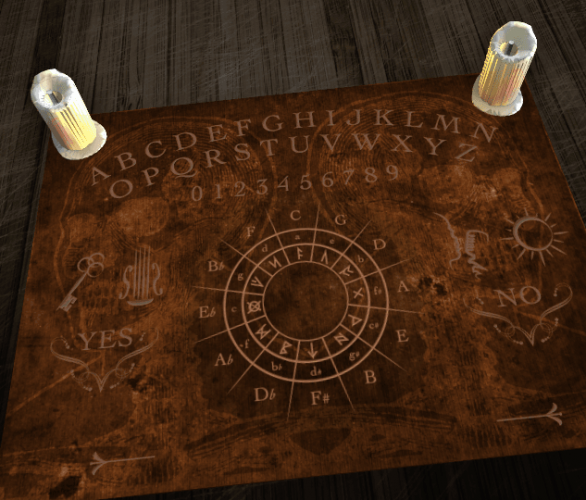 Evo Grid 1 – by Spitfire Audio
Performed by some of the most progressive avant garde string players in London today and recorded dry at the amazing Air-Edel studios via the finest vintage mics, neve pre-amps and vintage Cadac desk. Spitfire went about recording 48 different and very long Evos. Not just tense, mysterious and frightening Evos as with Scary Strings, but also intensely beautiful, tender and moving.
Evo Grid 1 is available for $ 219.00.
The New Alien Drum (Halloween Gift) – by 8dio
Although the Alien Drum is more of a soft, ambient kind of sampled instrument, we've included it here since it's part of 8dio's Halloween offer. Until November 1st, with any purchase of $ 99.00 or more, you'll get The New Alien Drum for free (worth $ 79.00).
Aleatoric Modular Series Brass Bundle – by Strezov Sampling
Featuring 3 different volumes of instruments played in an aleatoric style (French Horns, Trumpets, Low Brass), the AMS Brass Bundle is the first user-guided aleatoric orchestral sample library. It lets you guide the dynamics and variations of the aleatoric bends, flutters, trills and flurries via mod wheel or any CC of your choice. The chaotic, orchestral aleatoric effects are very suitable for the disturbing horror genre.
The bundle's price is $ 279.00. You can, however, also order each volume separately.
Whispers – by Wavesfactory ( FREE!)
This free Kontakt library features creepy male/female whispering. The library uses filtered white noise to produce the sound of different vocals. Combining these filters results in a huge variety of weird whispering sounds.
Forgotten Songs – by unEarthed Sampling
Forgotten Songs features 15 Kontakt instrument patches of pads and ambient material derived from public domain vinyl recordings from the 30s. These were mangled and twisted to create atonal choir patches, drones, pads, and pulses, perfect for Sci Fi, Horror, Chillout, and Ambient music.
Forgotten Songs is available for $ 10.00.
Dream Circle – by Dream Audio Tools
Dream Circle captures the beautiful nuances of a small handmade brass gong, recorded using Hammer, Sticks, Metals and Brushes. Hits, athmospheric effects, tempo synced patterns, tuned and playable patches, reverses, swells and more. The scraped and bowed metal sounds create an instant feeling of unease and are ideal for horror and mystery cues.
Dream Circle costs $ 22.00.
Aurorror – by FluffyAudio (FREE!)
Aurorror is a free Kontakt library designed for cinematic horror and hybrid music. It features more than 25 unearthly, disturbing sound sources which can be layered, mixed and modulated freely.
Frendo – by Soundiron
From Soundiron.com:
Frendo is a custom-built Soundiron instrument. We created this monster by stringing bailing wire around and through through steel plates and bolts, over galvanize steel piping and across wood planks. It was meant to suffer. You can help it by mistreating it in horrible ways with screwdrivers, bows, drum sticks, mallets and fingers. The instrument holds a vast amount of otherworldly sounds, which is ideal for composers looking for new disturbing, horror-like textures for their scores. Frendo is partially a mallet instrument, recorded with wooden and rubber mallets, but is also a more traditional string instrument, since we recorded finger plucks and bows. It's the sound of Satan's cello, weeping softly for your burning soul.
Frendo is currently available at a discount rate of $ 19.50 (reg. $ 39.00)
Curio – by Impact Soundworks
A hidden world of sound generated from a miniature toy piano, prepared, mangled and deconstructed to create tonal textures, sweeps, ambiances, impacts, deep percussion, and more! Perfect for film, TV, and game scoring. The twisted, apparently innocent sound of a toy piano combined with a dark atmosphere is a popular tool to create a feeling of fear and tension.
Curio is available for $ 59.00.
CAGE Bundle – by 8dio
CAGE bundle for Strings, Brass & Woodwinds is a comprehensive collection of orchestral effects, very suitable for mysterious, yet organic horror music. CAGE Bundle (Custom Aleatoric Group Effects) series is produced by Academy Award, TEC and G.A.N.G Award Winning Composer, Troels Folmann and Emmy nominated composer and orchestrator, Colin O'Malley. CAGE comes in three dedicated volumes for Strings, Brass and Woodwinds, featuring over 33,000 samples, recorded in 9 mic positions and a wealth of different articulations.
The current price of the CAGE Bundle is $ 957.00. You can also order each volume individually.
Cryptar Eternal Light – by Atomhub
Cryptar Eternal Light combines the sound of an acoustic guitar and an old grand piano with church bells, dripping water, sounds of crickets in the night, or creaking and burning. Layered, modulated and twisted, the patches included create dusty, gritty and somewhat unsettling atmospheres.
Cryptar Eternal Light is available for $ 22.00.
After all these creepy, disturbing and scary sounds you just heard, let me release you from the Halloween horror circus with a final, a bit more tongue-in-cheek approach of playable horror sounds:
Halloween Pumpkins – by Audiothing
Halloween Pumpkins features samples and unusual sound design experiments with traditional Halloween pumpkins. You will find spooky bowed textures, creepy hits, plucked rubber bands, a fake transistor organ and of course an experimental impulse response of the inside of a large pumpkin. The pumpkins were sampled with two mics, a large diaphragm condenser mic and a piezo attached directly to the skin, then mixed to match the perfect eerie sound.
That concludes our list of Kontakt libraries for Halloween! Hope you had a good (or shall I say frightening?) time, listening through the sounds and demos and found a library or two you really like. If so, feel free to comment and share this article with a friend – wow that rhymed!
Do you know other great Kontakt horror libraries? Let us know in the comment section!