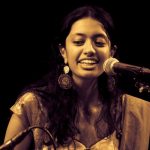 Find more about Gaayatri Kaundinya @
Official website
Twitter
Youtube
Soundcloud

Brief list of credits
Million Dollar Arm, The Hundred Foot Journey, Pele, The Jungle Book
Hi Gaayatri and thank you for taking time and doing this interview. Let's start by introducing yourself and telling us a little bit about your background in music?
Thank you so much for having me! So, I'm a singer-composer, and I currently run a music production company called Chai Time Studios. We specialize in writing scores, soundtracks, and songs that synthesize sounds and styles from all over the world into mainstream production. I started off learning Indian classical voice from the late sarod Maestro Ustad Ali Akbar Khan, and later became a composer/session singer through my work with Oscar-winning composer AR Rahman.
When did your film scoring-singing career start?
Haha, that's a two part question. I started my vocal training at the age of 4, and studied Indian classical voice for about 14 years. I started performing when I was about 7 and toured as a professional Hindustani vocalist from about 18. I also worked extensively with the SF World Music Festival, where I had the chance to really learn lots of musical and vocal styles from around the globe. I later started session singing a few years later around the age of 20 with AR Rahman. I've had the great privilege and fortune of being a Hollywood session singer ever since!
A lot of my Indian vocal training was highly improv based, much like Jazz. In Indian classical concerts, only about 10% of the material is pre-composed. There is no written notation, everything is sung by ear, and the remaining 90% is composed on the spot. With this, I had a very strong grounding in coming up with melodies and tunes. I expanded on this training learning piano and orchestration, and taking film music production courses at UCLA. I also interned with film and game composers, eventually working with AR Rahman. Not only did I get to sing for his projects, I interned with his studio and later became an assistant, where I got to learn the nitty gritty of music production.
What made this experience truly unique, was that it synthesized my background in Indian music, world/traditional music, and mainstream musical and production styles. I got to learn how to adapt all of these skills into scores and soundtracks, which is what I hope to bring to the industry with my music production company, Chai Time Studios.
How did you get involved with the Jungle Book movie and what was your role?
Initially, I got in touch with the wonderful composer John Debney when he wanted to add some specific Indian elements into the score, as the story is set in India. I was doing some vocal warm ups to mic test, and John loved the sound so we recorded some vocals to integrate into the score. At that time, the film was still in the early stages of production, and the graphics were still being laid out. About a year and half later, the film was finally nearing release and John called me again saying he wanted to have me on the title song of the film. I'd say that was one of the most amazing sessions I've ever been a part of – he integrated the Indian vocals into the song as well, and worked with the legendary lyricist Richard Sherman to write a song version of Mowgli's main theme. This song however, unfortunately never made it into the film, and was replaced by "Trust in Me." I'm hoping Disney releases it in the future, as it was a beautiful song!
Could you share with us on how you prepared for the movie, specifically, how do you train your voice on a project like the Jungle Book?
I don't really prepare for sessions as much as keep my voice in practice. It's much like the difference of studying material to pass a test vs. learning it deeply and retaining the knowledge just because you really want to master the material as best you can. The only thing I would do for a session is practice mindfulness, and just be open to possibilities and be in the moment as much as possible.
My vocal practice routine to keep up vocal health actually has roots in my Indian training. I practice my tone and body balance by first singing my tonic, or my Do. Except in Indian music, we call this Sa. Then I go down and practice my low notes, keeping my body as relaxed as possible, and connecting with the root of my core. I stabilize every note, and then practice a set of exercises and patterns in my mid register to keep my voice supple. Lastly, I open up my high notes. It's an old Indian practice dating back to the 16th century, and it gives my voice strength and flexibility through my connection to the root of my body, lending control over a full 3 octave range with an even tone. From there, I have my grounding to then manipulate tone, work with microtones, and change resonances that allow me to accurately capture the sound of various musical styles from Western, to traditional Chinese if need be.
I loved the Hundred Foot Journey movie. When did you begin the recording process for the movie?
Glad you liked it! It was a great film and a fun project to be a part of! We recorded vocals for that project on and off for about a year.
Could we get a little insight on how you translate emotion with your voice into the movie?
I think the biggest thing is connecting with the emotion of the scenes and stories you're singing for. We naturally sound different when we're feeling different emotions, and the easiest way to sing them is to really connect to the stories and feel them as if they are our own feelings. It is a deep lesson of empathy for anyone who practices the craft.
I remember in one of my earliest sessions with AR Rahman, I had a habit at that time of singing very seriously, almost with a somber, heavy, feel. Singing became something quite difficult and heavy for me after my teacher passed away, and my emotions were usually colored by my feelings of missing him. After a few takes, ARR wasn't quite getting what he wanted, and so he said "ok again, this time put a smile in it!!" It hit me that everything I was feeling was quite transparent in the music, and the moment I smiled, it changed the entire feel of the music. I realized I had to step out of my own emotions and into that of the story – because session singing really isn't about you. It's about the characters you're singing for.
Technically speaking, there are lots of aspects to factor in such as choosing the right tone and voice texture, dynamics (which is a big one), riffs or runs vs. sung simply, vibrato or no vibrato, etc. You can also change feel with different syllables, ah vs. ooh, ey vs. mmm's. Even when there are no words being sung, each sound and syllable really creates a different feel. Being in touch with that helps me pick what to use to express the emotions of the story.
In the past you have also worked as an orchestrator. Could you share with us how that began and do you still work as an orchestrator on occasion?
While working at ARR's studio, my fellow composer Ishaan Chhabra was scoring a film called "Children of War." He had a cue he needed to record with a live orchestra and no one to orchestrate it, so I ended up jumping in and orchestrating for it.
I do occasionally orchestrate for live sessions, I most recently did this for a song in an upcoming film we are working on called "Devil In Palace." We had to record a string session for it, and once again just had to jump in and get it done! That project was especially demanding to orchestrate for, as we had Indian violinists and a western Cellist, so I had to prep two different scores, one with Indian notation and one with Western notation, translating them into one another while conducting the session. I think the best part of projects like this is how cool it is to see musicians of such different backgrounds come together and create something woven together to create a world of a story.
Tell us a little bit about Chai Time Studios. How did it all begin and who are the people behind it?
During my time at ARR's studio, I got to collaborate with some of the most talented composers, producers, musicians, and engineers in the business today. I met some of my best friends in my colleagues, and we all had a mutual love of Chai.
Our core team members, Ishaan Chhabra, Jerry Silvester Vincent, Kevin Doucette, and Tony Joy, have worked on score production and additional composition with ARR for almost every film and project for the past 5+ years. We realized we had something really unique in our skillset, as we've worked on unique projects and scores with one of the only composers in the world who routinely uses a versatile set of world influences into all of his productions, and still makes them so universally appealing. We took away a lot of insight into how to integrate such diverse styles and sounds, and create stories from them that can touch anyone's heart.
Much of film music is strictly rooted in Western musical styles, and there are very few composers well versed in world traditional and pop music styles, western orchestral and mainstream musical styles, and production techniques. As a consequence, we don't hear as many scores with sonic diversity and richness as we could.
Our toolkit includes western styles, and traditional and popular musical styles from the rest of the world. This gives us a broader set of colors to paint with, and more depth in our music when it comes to building the emotions of a story. It is this unique skillset that we hope we can bring with our company to the rest of Hollywood.
What tools and technology are you currently using and why?
We love ourselves some Logic Pro X and ProTools; nothing super fancy! Lots of MIDI sample libraries: everything from Kontakt 5 to Delay Lama, as you never know what sounds can help you build the right feel at what time! We'll use any tech we can experiment with that helps bring out a new sound.
The coolest new tech we're playing with right now is working with the company Audeze, we're testing out their new Mobius headsets, which are amazing! They are groundbreaking in how they process 360 audio, surround audio, and even just plain stereo mixes! We're playing with some cool upcoming audio projects with Mobius!
What are you working on right now, and can you tell us more about that project?
We are currently working on building demo content with Ambisonics Audio, which is basically audio that exists in a 360 sphere of sound, rather than stereo or surround. Surround is not quite a continuous sphere, but rather an array of speakers –the sound still jumps from speaker to speaker when panned. We're experimenting with writing specifically for the 360 format, which has not yet been tested out very much, so we're very excited to be a part of the development process for this kind of audio!
We're also working on finishing up music for season 3 of a Disney web-series called "The Trip," which is a fun show about 4 girls and their growth into their own lives. Our own Jerry Silvester Vincent is working on it now. We just finished a National Geographic special program called "The President's Bodyguard" about an elite force that protects the President of India that just released earlier this month, composed by Ishaan Chhabra.
If you had any advice for composers or singers starting off in the business what would it be?
Have FUN! Really give your art your all, and enjoy every second of it. Learn as much as you can, and don't worry about getting work or "making it," it will all happen if you keep doing what you do from your heart, sharing it with the world and truly focusing on your own growth every day! Your art comes through YOU, and is so personal in that way. So be the best you can be, and everything will just fall into place the way it needs to.
Gaayatri, thank you so much for taking the time and answering my questions! I wish you all the best for your future projects.
Was wonderful to be with you, thank you again for having me! Looking forward to sharing more soon!
More composer interviews here.