Find more about the Dynamic Music Partners @
Official website
Facebook
Twitter
Emmy Award-winning composers Kristopher Carter, Lolita Ritmanis and Michael McCuistion, collectively known as Dynamic Music Partners are currently scoring the hit animated series Marvel's Avengers Assemble. Michael, Lolita and Kristopher have created hundreds of hours of music for a variety of different genres, including TV series, independent films, video games and live performance events. They have collectively earned twenty-eight Emmy Award nominations and six Annie Award nominations as composers for Batman: The Brave And The Bold, Justice League, Teen Titans, Batman Beyond, The Zeta Project and The New Batman Superman Adventures. They each received the Emmy Award in Music Direction and Composition for their music for Batman Beyond, and the score to the feature film "Yesterday Was A Lie" won a Gold Medal at the Park City Film Music Festival.
Original concert works and suites of their scores have been performed in festivals and special events; from New York's Lincoln Center to The Hollywood Bowl their music has received critical acclaim. This remarkable and very contemporary trio of composers and performers is an example of creative collaboration, business savvy, and artistic expression of the highest, most original level.
Thank you for taking time to do this interview. Let us start with the basic questions first. Tell us a little bit about yourself and how did you get your start as a composer?
LR: I wear many hats these days: composer, president of the Alliance For Women Film Composers, businesswoman, mother, wife. Life is never dull around here. A month ago I was at the "Annie Awards" along with my rocking partners – Michael and Kristopher. Our "Batman: Return of the Caped Crusaders" was nominated for best music in a Feature Animated Production, alongside Hans Zimmer, Alexandre Desplat and others. It is pretty cool to see how much attention our music is getting! The nomination, ceremony, and party were a blast, and although we did not win, I had a good time congratulating Hans on winning in our category, to which he said to me (via private message) "I did not know I was even nominated!" Totally cracked me up!
I grew up in Portland,Or. – the daughter of immigrants from Latvia, I am a dual citizen (EU passport) and enjoy composing music for all sorts of projects – not only animation. I just had a commissioned choral work premiered by the renowned Latvia State Choir. Next year I will be scoring a feature film in Latvia. I had a terrific experience growing up in Portland, attended public schools, sang in the musicals, choir, played in the jazz band, etc. Arrived in Hollywood at age 17, enrolled at the Dick Grove School of Music and basically started pounding the pavement in search of a career in music. I fell in love with film music, which took me from working in the music library at Warner Brothers, to being hired by Shirley Walker, jobs orchestrating for Michael Kamen, Basil Poledouris and others, and fast forward to 2017 – navigating the daily pressures and triumphs that the world of being a working film composer entails.
MM: I was always interested in music, even from a young age. I decided to pursue a classical composition degree, and after that did graduate work at USC, studying film composing with such legends as Henry Mancini, Jerry Goldsmith and Bruce Broughton. I worked as a personal assistant to keyboard virtuoso and session musician Mike Lang, and shortly thereafter got a call from Shirley Walker who had heard some music I'd written, and she asked me to be part of her composing team for Batman: The Animated Series, which was my first job as a film composer. I knew it was a great opportunity, but only now do I realize what a fantastic opportunity it was for my FIRST job!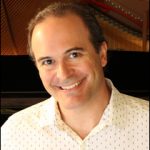 KC: I grew up in San Angelo, a little town in West Texas. Even though it is hundreds of miles from any big city, it still has a symphony and a vibrant live music scene featuring rock, jazz and (not-surprisingly) country/western, so I grew up experiencing a wide range of music. While studying for a classical composition degree in college at the University of North Texas, I realized that writing music for film was the best place I could apply my love of all these different musical styles. My stand partner in the UNT orchestra was Shirley Walker's son, Ian, and he graciously opened the door to meet her and share some of my music. After I graduated, she invited me to come to LA and work as her assistant. It was so exciting to move to Hollywood, learn the craft from such an amazing and talented mentor, and eventually join my brilliant partners Lolita and Michael on her team as a composer.
You scored a lot of animated series, specifically superhero ones. How did you get involved in those projects?
LR: Shirley Walker gave me my big break when she hired me to work on Batman: The Animated Series. That pretty much is the short answer. Her generosity propelled me into the world of being a working film composer. Sustaining my career all of these years has involved hard work, luck, and most certainly working alongside Michael and Kristopher. We have a great support team – both musically (Mark Mattson, Mako Sujishi – our engineers) and professionally (manager – Michal Marks, lawyer – Steve Winogradsky, publicist – Chandler Poling.)
Let's talk Batman! How did you come up with the main theme for Batman Beyond?
KC: The theme was actually written as part of a demo submission that Shirley organized for the producers. During the show's development, the producers met with her and expressed their reservations that we, their classical orchestral "Batman: TAS" composers, would be able to write in the futuristic, edgy Electronica/rock sound they envisioned. Not content to simply give up, Shirley suggested we send some pieces to demonstrate what we could bring to the show, so we went to our studios and created a set of new recordings in that style. All of them were heavy, rocking and thematic, and the producers were really enthusiastic to have us work on the show. They gravitated to one in particular (jokingly named "Smells Like Creamed Spinach") to be the theme song. It has been a fan favorite, with the "Return of the Joker" version of the theme being performed in several live concerts, including a performance at the Hollywood Bowl!
What do you consider to be the most difficult part scoring animated series?
LR: Each animated series has it's own set of demands. The most difficult part of scoring an animated series truthfully is finding the tone, and hoping that all the powers that be agree on what that tone should be. Once the series gets past the first few episodes, and there is a clear idea of what the producers are responding to it kind of frees us up to let our creative juices flow more naturally. It is amazing how trust from a producer can actually inspire us to write better music.
The Killing Joke is considered to be one of the best Joker stories. How did you approach Joker's theme?
MM: Interestingly, we decided not to have a theme (in the traditional sense of a specific melody or group of notes) for the Joker in this production. Instead, Lolita created a melancholy, contemplative theme for Barbara Gordon, who was the central figure of the story from the start of the film. We generally approached the music for the production from a perspective of deep psychological intimacy; this was, after all, partly a Joker origin story, and the narrative itself was so disturbing that the score lent itself to some pretty twisted and ultimately punishing musical perspectives.
Could you share more information on how did you choose instruments that described Joker?
LR: Joker has been scored so many different ways! For Killing Joke our sound palate was very much focused on creepy strings along with some noir elements. Killing Joke was so much fun to work on – with it's completely cerebral, disturbing tones.
If you could score any super hero comic book, which one would you choose and why?
MM: That's an easy one for me; I'm a big Superman fan so obviously it would be the Man Of Steel. And, fortunately, I've been able to compose quite a bit of music for Superman through different projects including "Superman: The Animated Series," "Justice League" and "Justice League Unlimited," "Young Justice" and plenty of other projects. I feel so fortunate about that!
This one is for the gearheads. What tools and technology are you currently using and why?
KC: All of us compose and sequence our music in MOTU's Digital Performer, which we have been using since it was simply "Performer" a loooong time ago! Within DP we use a variety of plugins and virtual instruments by Spectrasonics, Native Instruments, Vienna Symphonic Library, Spitfire Audio, iZotope, FabFilter, Soundtoys and many more.
What do you think was the most memorable moment in your scoring career so far?
LR: My most memorable moment without a doubt was scoring my very first solo episode of Batman: The Animated Series, an episode called "It's Never Too Late." To have 35 musicians playing my music, with the full support of Doug Frank (the head of music back then at Warner Bros.) and Shirley Walker sitting in the booth while I conducted was an absolute thrill. Your "first" anything is memorable, and this one was a really monumental first for me.
MM: It's tough to choose! There have been big moments, like the time Shirley Walker surprised me and put me in front of a 100-piece orchestra to conduct an arrangement I did for her on "Mask Of The Phantasm." That was totally unexpected. There have been small moments, like the advice I got from Jerry Goldsmith about how to incorporate jazz improvisation into the rigid structure of a film cue. But certainly one of the most memorable moments was scoring the Warner Bros. long-form movie "SubZero" when I was able to work with a live orchestra, big band and choir for several days at the legendary Paramount Scoring Stage M (which no longer exists). What a thrill! We always create opportunities to work with live musicians any chance we get, even to this day.
KC: Working on "Return of the Joker" was by far my most memorable project, with several days of recording guitars and drums, and finally a big orchestra at the Warner Bros. Eastwood Scoring Stage, but the most memorable moment for me was also on "Batman The Animated Series." I remember stepping up on the podium for my first recording session and seeing all of these amazing, world-class performers looking skeptically at this young (and at the time) long-haired kid with the baton. We sight-read through the first cue, and I saw smiles all around the orchestra as I gave the cut-off. I will never forget the feeling in the room afterwards of "oh, ok, he actually knows what he's doing… this is going to go just fine."
If you had any advice for composers starting off in the business what would it be?
LR: Think long an hard about pursuing this career. If you are passionate about what you do, and realize that there are no guarantees of work, no secure arrival at knowing when and where you will be working, or on what type of project, knowing that the business side of things takes up a ton of time, etc. and you still want to be a film composer – then congratulations! You will probably be able to carve out a career in this field. Of course you must know your craft and be willing to reinvent yourself on a regular basis! :)
MM: Understand that this is a collaborative business, and that your music is part of a larger world of story and visuals and sound. Be flexible; with current technology, picture gets re-edited a lot, and often a producer or director wants to try different approaches as the project evolves, so enjoy the ride and be open to whatever creative ideas continue to spring forth as things change along the way. Most importantly, be sure to take time to recharge physically, emotionally and spiritually so that your creative engine gets the fuel it needs to go the distance for your entire musical career.
KC: A successful career in this business is founded upon relationships. Not just relationships with filmmakers—the ones who hire you to work, but also relationships with your peers. It is important to develop relationships with other composers so that you know others that you can call on if you ever get in a bind with the schedule on a project. They may be able to return the favor down the line as well!
What are you working on right now and can you tell us more about that project?
DMP: We just finished scoring an exciting virtual reality project using the ViewMaster VR format to create the world of "Batman: The Animated Series;" it's a totally immersive experience! We're currently working on Season 4 of "Marvel's Avenger's Assemble" titled "Marvel's Avengers: Secret Wars." We're also working on another animated series and several long-form projects that we can't talk about, but they're very exciting and we'll post details on our Facebook page and website as they become available!
See also
More composer interviews here.
Introducing SOUNDLISTER - the place to find audio professionals
Are you an audio professional? Or are you looking for audio pros for you project? Be sure to check out
Soundlister
- you'll find 100s of audio professionals there already.