Find more about Sebastian-Thies Hinrichsen @
Official website
Twitter
SoundCloud
Facebook
FieldRecording.de
Field Recording Facebook Group
Brief list of credits
PlugIndex.de, FieldRecording.de, Binaural nature recordings for games, IDCD 2015 Album, Guest Lecturer at "klingt gut! Symposium on Sound" in 2016
Hi Sebastian, thank you for taking time and doing this interview. Let's start by introducing yourself and telling us a little bit about your background in sound?
Hi Zdravko. My name is Sebastian-Thies Hinrichsen. I´m 37 years old and I live in Hamburg, Germany. I´m an IT System Engineer and freelancing Nature Sound Recordist. I run my own online magazine FieldRecording.de. I´m also member of the Wildlife Sound Recording Society (WSRS).
I started field recording as a hobby about six years ago, by realizing that recording sounds in nature is more fascinating for me than recording music at home. Back then, I was trying to combine self-made ambient sounds and textures on the computer with real nature sounds.
Years later, whilst writing for a German online magazine which was dedicated to music software, I had the chance to test really cool gear, like portable recorder and microphones. This was when I had the idea to record my own nature sounds for my music and sound experiments.
And this was when a whole new world opened up for me. Field recording was much more common than I thought. I searched the whole internet for articles, reviews, interviews and likeminded people. And I found a lot of them!
Field Recording isn´t very popular like playing an instrument, but there are more field recordists in the world than you might think! It´s a huge, still growing, worldwide community and the internet makes it easy to get in contact with each other, to learn from each other, to discuss technical or designing aspects, or just to share recordings.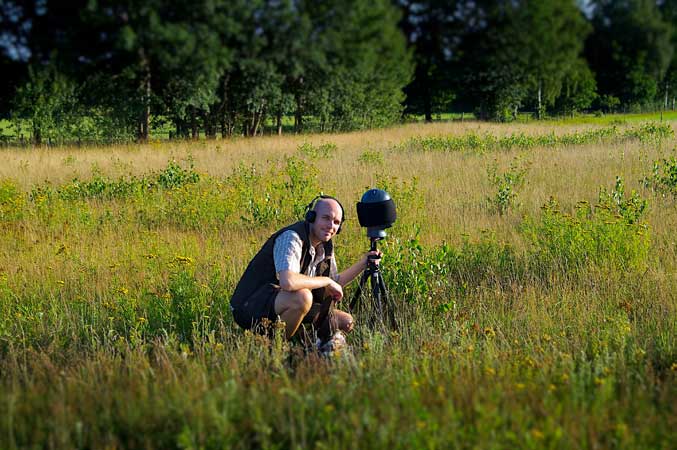 Let's talk field recording. One of your specialties is the dummy head recording. Could you share more information about your setup and how you plan your recordings?
I´ve been focusing on binaural recordings ever since interviewing Gordon Hempton for my website. It was exactly what I had been looking for in quite a while. When I started doing field recording, I wanted to capture nature´s soundscape in every detail. I wanted to make recordings that give you the full impression of the place where it was made through a pair of headphones or speakers.
And binaural recording with a dummy head was the answer for me. The stereo image from a binaural dummy head microphone gives the listener an impression to sit in the position of the microphone. It´s almost a 3D experience, when listening to it with headphones. The depth and localization inside the stereo image are awesome. You can exactly identify the location and distance of a bird sitting in the tree. And even heard through loudspeakers, binaural recordings can sound wonderful.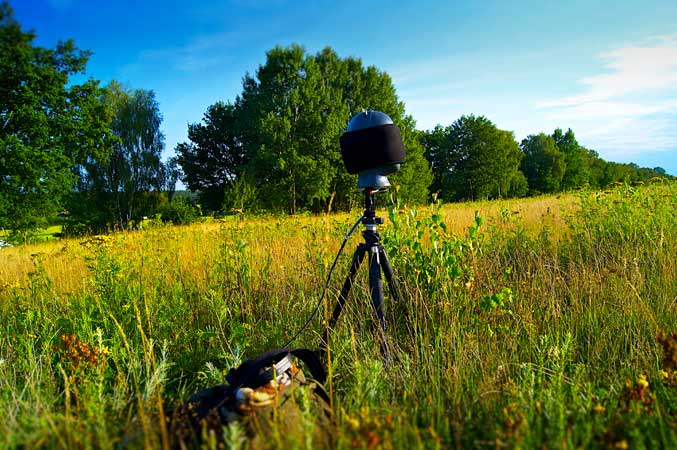 But: Binaural recording and ambisonic recording mustn't be mixed up. Ambisonic is a full-sphere surround sound technique. Binaural recording has nothing to do with it, because it only captures sounds with two microphones and gives you only a horizontal stereo image.
For nature recordings I use a Neumann KU 81i dummy head microphone and a Sound Devices 722 field recorder as my main rig. As a stand for the dummy head I use a Manfrotto camera tripod with a quick release plate. The recorder is placed inside a customized Domke F2 camera bag with another waterproof bag and a foam block inside, protecting the recorder from dirt, water and impacts.
Before I go out recording I do some research about possible locations. For dawn chorus recordings I prefer a nature reserve or a national park, because of its diversity in birds and a few of these locations are quiet enough, at least in the early hours. I look at the flight zones, highways and residential areas around the location. I also have a look at the weather map. I´ve noticed that you get the best dawn chorus when it´s a dry, sunny and warm morning. And also, it´s much more enjoyable than recording in a full rain shower, I can tell you.
Whenever possible, I visit the chosen location before recording, to have a look and a listen. I prefer to record nature without human-made noise, which is not easy! Sometimes the wind changes during recording sessions, suddenly you hear traffic noise, high altitude air traffic, or other noise sources and sometimes you have to pause, change position, or even stop recording and come back another day.
Usually, I try to get the full dawn chorus, starting with the first bird sound until the full concert is going on. I do have a more documentary approach, rather than an artistic one.
Sometimes I re-visit the same location for daytime or dusk chorus recording. But most of the recordings turned out to be full of human-made noise. That´s the benefit of a dawn chorus and getting up very early, when it´s still dark.
What would you consider to be the most important thing while field recording?
Be quiet and listen! ;-)
Important to know is: Field recording in general isn´t very complicated. Apart from the technical aspect, you just have to find a good sound, a suitable location, the perfect microphone position and you´re ready to hit the record button and listen.
When you do nature sound recording with binaural microphones you have to find locations that are free of human-made noise. You don't want to hear a dawn chorus in the woods with a highway nearby. And you have to keep in mind that a dummy head microphone is very sensitive and can pick up sounds that are miles away.
So you want a place with nature sounds all around you, like a river, birds, rustling leaves or any other interesting things in your soundscape. This will help to certain extent to masquerade unwanted noise on your recording.
Professional recording equipment also helps a lot to get satisfying results. But you have to learn how to use its full potential. And you have to have the right equipment for the situation. It all depends on what you´re aiming for and what you can afford.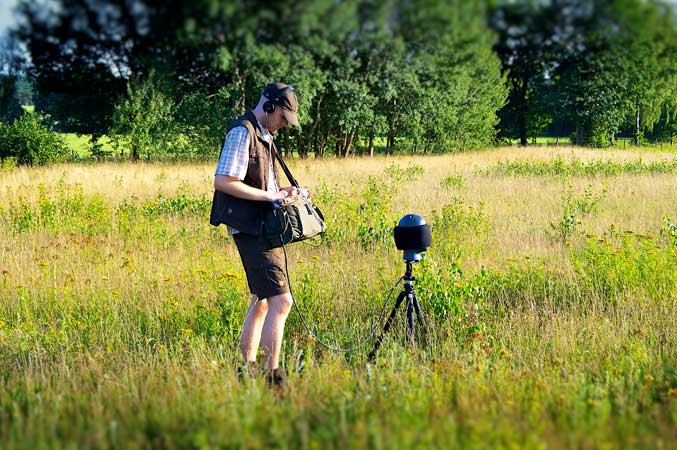 And the most important part: Nature doesn't care if you are out there to record wonderful sounds on a specific day. Weather conditions can often change dramatically, birds won't sing or are too far away from your position,…
You have to deal with those situations, and often it´s trial and error. But sometimes you win, when you´re in the right place, at the right time. And then you´ll have this wonderful recording afterwards. This is a great feeling.
What's in your bag all the time and what is your favorite piece of equipment?
As I´ve mentioned earlier, whenever possible I usually stick with my main rig (SD722 and KU81i), because I do binaural nature recordings most of the time. For recording in nature I do recommend to not only bring your technical equipment. Be sure to wear suitable outdoor clothing and put some basics in your backpack like a rain poncho, a small folding chair, some food and water, binoculars and a fully charged mobile phone.
Do you have a favorite anecdote while recording?
Sometimes you have strange or funny situations while running through nature with a dummy head on a tripod. For example, when you sit in the total darkness of the woods at 4 am and suddenly a jogger greets you while passing by. He must have been wondering what I was doing there. But most of the time I only meet wild animals like birds, stags, roebucks, hares, sometimes boars. If you stay calm and silent, they don´t really care about you and pass by, just a few meters away. That´s so wonderful to experience.
You also run a website called FieldRecording.de. How did you get the idea for the site?
Though my research in field recording I found out that there are a lot websites that are dedicated to sound design or music. There are just a few blogs about field recording, but in a more personal context.
I thought to myself: What if there was a website that is dedicated to field recording, offers news, reviews, knowledge and links to all these blogs and websites from other recordists, labels and organizations.
I realized that there is no online magazine in Germany that´s dedicated to field recording at all. With the idea in mind a few months later the specialist magazine FieldRecording.de was born. This was in 2013.
What's next for FieldRecording.de?
I want to do more interviews and reviews. There´s a lot of content in the pipeline. And I want to revive the podcast. We don´t have full-time professional editors at the moment. But we´re all passionate field recordists and love what we do. This is the reason we don´t have new content on daily base.
It´s an ever-developing project and we´re still looking for hobby editors that want to contribute articles, reviews, be part of the podcast and support us.
This one is for the gear heads. Would you mind, telling us a bit about your technical setup and the gear you're using (Hardware, Software)?
Like almost every field recordist I do have a lot of other nice stuff like contact and underwater microphones, coil pickups, stereo microphones, blimps, a parabolic dish and a Sony PCM D-100 portable recorder, which is very nice for spontaneous recordings, or when I cannot bring my full gear. For basic editing I use iZotope RX5 Advanced. But mostly for cleaning, some filtering and fades. I prefer a clean and realistic sound. No compression, no limiting, no enhancing or mashup.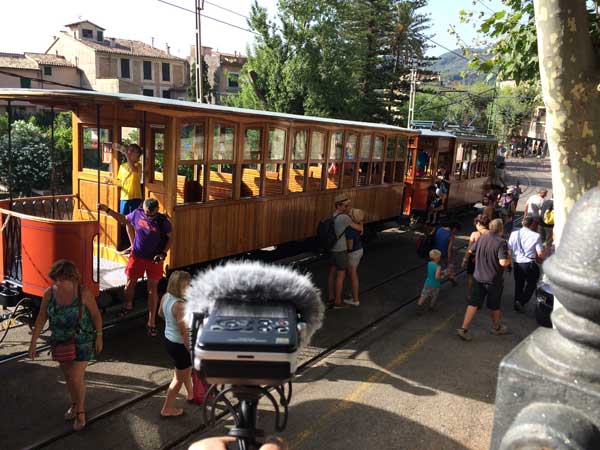 I do have other tools on my Mac like Logic Pro X, a few other wave file editors, analyzing software and of course too much plug-ins, that I don´t use anymore. I´m constantly looking for new software and the perfect audio editor, but so far RX5 Advanced is all I need at the moment to deliver or publish my files. My monitoring situation is very simple. During editing I use a pair of Beyerdynamic DT 770 Pro headphones to hear every subtle detail. Sometimes I also listen to my recordings through a pair of cheap studio monitor speakers.
Do you have any tips for aspiring field recordist and sound designers?
There´s nothing more creative and relaxing than getting out in the nature by yourself and record your own sounds. The cool thing is, no matter if you're male or female, young or old, no matter where you live, you always can be a field recordist. You just have to have an idea, a source for your sound, a recorder and headphones.
And when you´re out there, be sure to listen and learn from nature. It´s the best place to be and record wonderful sounds.
More sound designer interviews here.