There is no doubt that Hans Zimmer is one of the biggest, if not the biggest, name in the film scoring world. Spitfire has teamed up with this already legendary film composer, who is well known for his epic percussion sound, to produce a sample library featuring instruments Hans Zimmer uses in his iconic film scores. The library was produced alongside his GRAMMY Award-winning team (including engineer Geoff Foster) to capture the highest quality recordings in the same studio with the same players, all mixed and produced by the man himself.
This all sounds great on paper, but does this library really deliver what we expect? Let's find out!
Content and sound
The library was recorded, as most Spitfire libraries and many of Hans' scores, at Air Studios in London. The Spitfire team sais: "96 rarefied microphones into Neve Montserrat preamps, into the world's biggest Neve 88R desk (which was exhaustively re-gained at every dynamic layer for optimum signal quality), via a dual chain to HDX and Prism converters running at 192k." They recorded 9 round-robins at 6 dynamic levels per hit, which made for a whopping 30TB of raw material!
The list of percussions available is quite impressive:
Low Booms, Low Boom Gallery, Taiko Ensemble, Tamtam Ensemble, Boobams Ensemble, Hi Taiko Solo, Low Taiko Solo, Large Taiko Solo, Bass Drum Gallery Solo, Gong Drum Gallery Solo, Surdu Ensemble, Dohl Ensemble, Tombek Ensemble, Bombo Ensemble, Buckets & Snares Ensemble, Buckets & Crushers Ensemble, Bucket Top & Darbuka, Paper Djun, Piatti, Anvils, Timpani Ensemble. The full list of the available instruments and articulations can be found at Spitfire's website:
The library consists of close, room and ambient perspectives mixed by Hans Zimmer himself.
If I had to describe the sound of the library in two words, they would be BIG and EPIC. You could easily come very close to the sound of the percussions of some of Hans' most iconic soundtracks with this library. The library is also extremely playable, since it had been recorded with so much detail, dynamic levels and round robins. It is pure joy for to play around with all available instruments. The close microphones give you very nice detail, while dialing in the tree and ambient microphones deliver great space and depth of the Air Studios hall. Last but not least the library is inspiring! It calls for you to write some great music and I think that is a very important fact to take into consideration!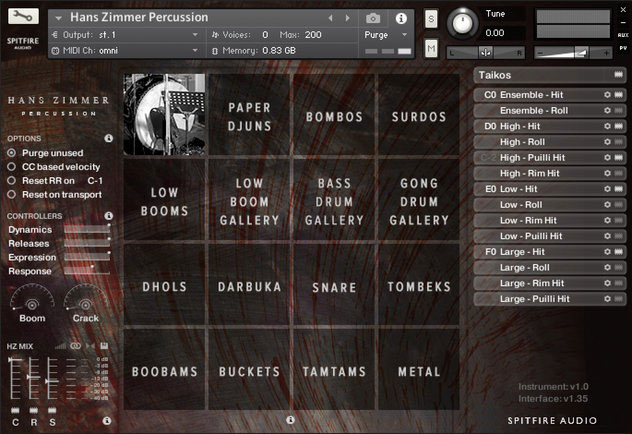 Graphical interface
The graphic user interface is very easy to use. There is only one window in which you can select your instrument or instruments and map the articulations to your desired keys. You can even easily layer multiple articulations to the same key by clicking the articulation on the left and pressing the wanted note on your midi controller. On the left side of the GUI you can dial in your microphone positions and tweak other settings.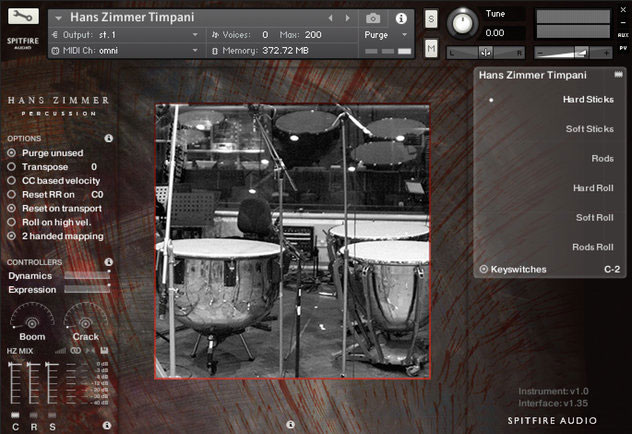 Demo Track
For the test track I used many samples from the Trailer Xpressions library (review), like the hits, riser, downer and sound design elements. Other VSTs used:
Spitfire – Hans Zimmer percussions
Spitfire – Symphonic String Evolutions (review)
U-he – Zebra
Native Instruments – Battery & Massive
Strezov Sampling – Freya (review)
HZ percussion only:

Price performance and conclusion
Spitfire's Hans Zimmer percussions come at 399EUR. I think this is a good price for this awesome instrument. If you are a student or a teacher Spitfire offers a 30% EDU discount!
In conclusion, this is one of the rare libraries I have reviewed where I really have nothing bad to say about. It delivers exactly what it says in the title; pure Hans Zimmer sounding percussions and I think no epic percussion library comes even close to this one.
If you are looking for your first epic percussions library or you are looking to upgrade your arsenal, look no further. You will not regret this buy!
You can find information about our review ethics
here
.
Check out other Audio Spotlight
reviews
Spitfire Audio's Hans Zimmer Percussion review
Content
Versatility
Performance
Sound Quality
Playability
Price performance