Impact Soundworks is one of those developers that you don't hear about often, but when they release something new, it always catches your eyes and/or ears. Their libraries span from ethnic to full-blown hybrid sound design and there's a little bit of everything for everyone in their catalogue. This time we will review Ventus Series – Bansuri library.
OVERVIEW
Bansuri is an ethnic woodwind from Asia, and the one that's sampled here is particularly from India. This is a third release in their Ventus ethnic winds series, with previous ones being Shakuhachi and Tin Whistle. This library features over 4500 24-bit samples recorded through ribbon microphones, close to 350 recorded performances and 14 different playing techniques, true legato and portamento, short articulations and more. This library requires a full version of Kontakt 5.5.2 or higher. It features four instrument patches – Bansuri being the main instrument, Bansuri Phrases, with additional tempo mapped patch, and Sitar and Tambura drones.
GUI
User interface is very simplistic and sleek. I dare to call it elegant to a certain point. For the main instrument patch, there are tabs for main page, FX page and articulations page. Phrases and drones instrument features only main and FX page. There are controls for microphone panning and levels, ADSR, tuning controls, key selection, and really cool controls for dynamics, vibrato, flutter and ornaments in the form of a big knob, which takes the most of left side of GUI.
There are also advanced option for tweaking legato and vibrato. The FX page is featured like a gear rack of your standard audio effects, while the articulation page has the options for setting up various combinations of triggering the articulations.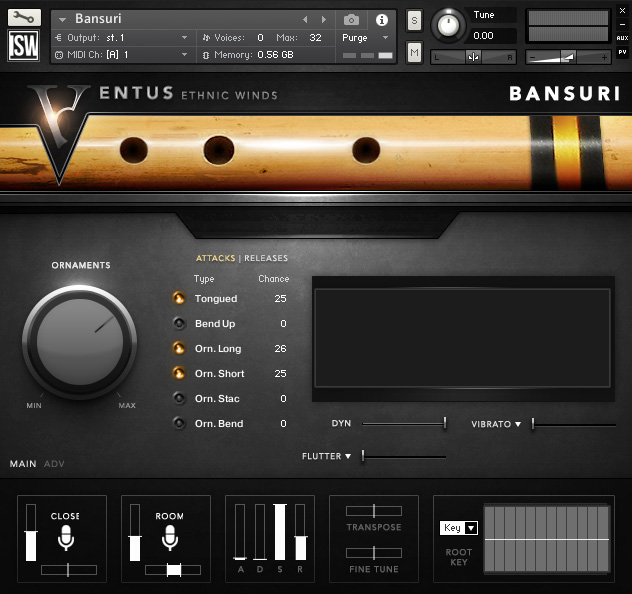 THE SOUND
This library sounds simply superb and it gets very emotional when you try the phrases and place them in a big reverb that comes packed with great sounds straight out of the box. Legatos are very smooth and easy to play. Bansuri by itself is very warm sounding instrument, and I can really imagine scenes from movies like The Jungle Book when playing this instrument, because it has that exotic sound to it. Sitar and Tambura drones are a nice addition to this library, because you can layer them together with Bansuri to create a nice meditative ambiance, and you can even go wild with these drones and create something very gnarly and dark just by tweaking ADSR and tuning options.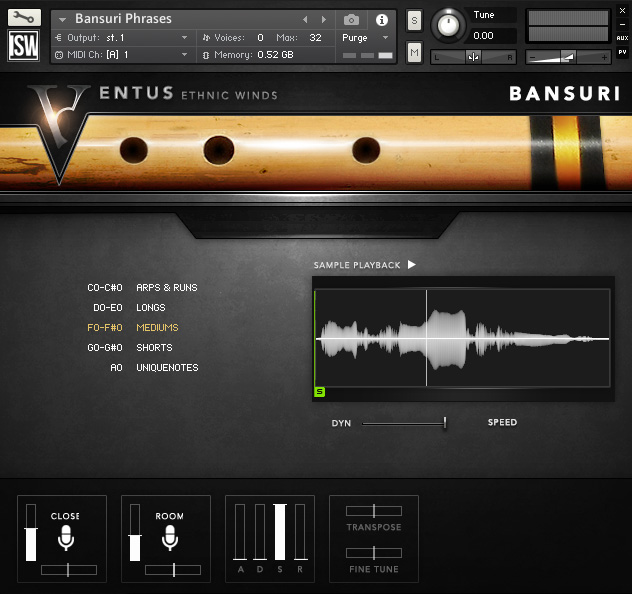 PHRASES
Phrases and looped performances have become somewhat of a standard thing when it comes to modern libraries that feature ethnic instruments and percussion and Ventus Bansuri is no exception. What I like about this particular instrument is that you can set up start and end points on the waveform of the phrase and create your own phrase out of it, which gives you lots of varieties for creation. Keyswitches are being used for changing which types of phrases would you like to play with – arps and runs, longs, mediums, shorts, and unique notes.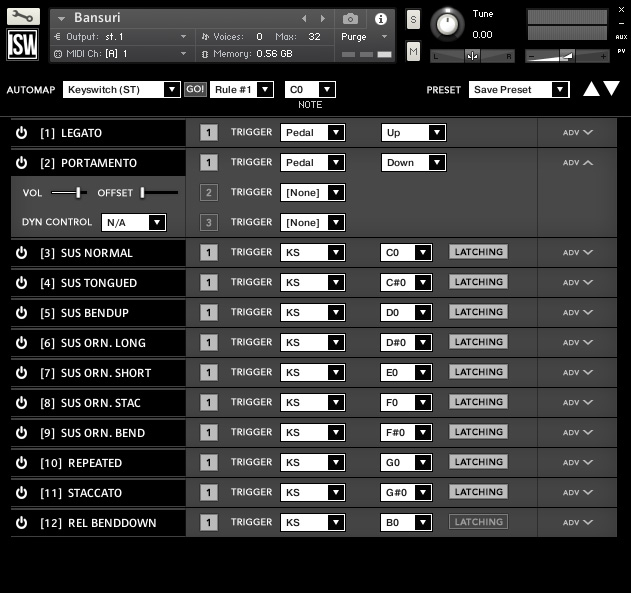 ARTICULATIONS PAGE
This page is rather useful, because it enables you to create your own custom switching of articulations during your performance, and there are a lot of articulations. 14 to be exact. You can switch them via keys, trigger some ornaments via pedal or custom CC, whatever you want, and it is very intuitive and useful to have. Once you're done tweaking your setup, you can save it nicely as a preset and recall it every time you need it.
CONCLUSION
This is a rather refreshing item on Impact Soundworks' catalogue of instruments and it gives a rather new and fresh approach to ethnic woodwinds. It doesn't do much, because it is a single specific instrument, but for what it does, it does it in an amazing way. The greatest thing about it is that it is very affordable!
You can find information about our review ethics
here
.
Impact Soundworks Ventus Series Bansuri Review
Content
Versatility
Performance
Sound Quality
Playability
Price performance
Pros
great sound, easy to use
intuitive articulation setup
price
Cons
More drone sounds for Sitar and Tambura would be nice