After huge successes of Storm Choir and Wotan, Strezov Sampling treats us with a brand new choir library called Freyja, which puts a choir of 20 women into your Kontakt sampler. It is comprised of ten altos and ten sopranos. Compared to Wotan, which brings that nice masculine "oomph" to your choral arrangements, Freyja adds the soft and emotional side of a woman's touch.
OVERVIEW
Even though it seems like it is just another choir library in the sea of many, this one actually brings some new interesting improvements to sampled choirs. What Freyja brings new to our table is a sampling technique called "agile legato", which lets you seamlessly play polyphonic legatos, with every syllable available in the library.
As mentioned in the introduction, the library features separate recordings of 10 altos and 10 sopranos, with additional mixed Women Ensemble, where you have both of these layered across the keyboard. It has 26 different polyphonic legato combinations for syllables, which allows you to play legato chords (in the lack of a better expression) besides regular true legato. Besides that, it also has the traditional Ah, Mm and MmAh recordings, and they also feature polyphonic legato. There are 8 syllables recorded within 3 dynamic layers and you have staccatos and sustains at your disposal to use with syllables. You also have whispers that are available for syllables.
On the technical side, it features a mixer, which allows you to blend three mic positions (close, decca, hall) and mix them with custom convolution reverb; a powerful syllabuilder engine and ability load and save your lyrics. What's nice about it is that the guys from Strezov Sampling have included the manual into the engine GUI itself.
GUI
I was always a fan od Strezov's GUIs, because they are so eye catching and just plain wonderful to look at, besides being super easy to use. The Syllabuilder takes the central place of the graphical interface. On its left side, you see a list of eight syllables to choose from, and that's one thing I don't like about it. I kind of feel being constricted with just 8 syllables. The developers have invested so much time into building this engine, and I feel let down without the chance to use it with a large variety of syllables. I hope for more samples in the future updates.
On the right side of the Syllabuilder there are controls for the syllables, where you get to choose between Staccato and Sustain articulations, the choice of legato speed (fast, medium, slow), and rhythmic options to select the duration of the notes. Below Syllable control panel, there are controls for attack and release time of the samples, overall sound level and offset selection for syllables.
On the upper left side of Syllabuilder there are Keyswitches to help you manually switch between syllables, instead of relying on automatic sequential playback. On the upper right side, there are various options for creating, saving, and loading your syllable presets, copying and deleting them, and there is a button for mixer in the form of cogwheel, which takes you to mix window, where you get to balance your three mic positions and use more custom controls for the overall sound.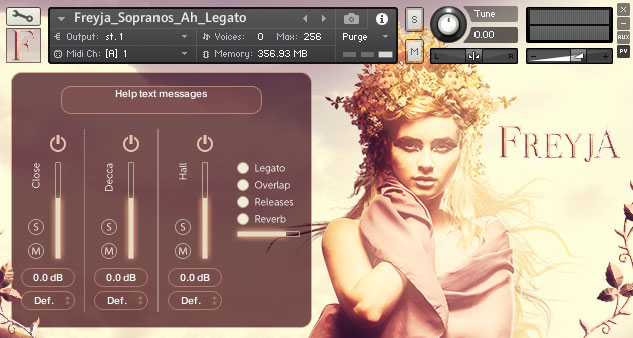 THE SOUND
Freyja really sounds amazing. The subtlety of legato transitions and polyphonic legato are really helping in creating a very realistic choir performance. It really gives you that nice emotional side of pianissimo, but it can also do forte very well.
Although, I get the feeling that I really need to drive my modwheel in order to get it to sing a bit louder when going from pianissimo to piano and to forte from there, while most choral libraries are a bit more sensitive, which makes riding the dynamics easier on other libraries. Other than that, I really have no bad remarks on the quality that this library brings straight out of the box, and how well it implements into any type of genre you put it into.
SYLLABUILDER
Syllabuilder takes the central place of the graphical interface and rightfully so, because it will be your most powerful weapon when you start using this library. I have mentioned before, that I am lacking more syllables, other than the eight that are provided. It is fairly simple to use. Basically, all you need to do is select the syllables you would like to use and create a custom pattern. You can even save it for later use.
When you click on the small circle in between the two syllables, you are connecting them together to perform them sequentially without having to press the keys again. When the circle is not clicked, you have to press the keys again, which gives you some nice variations when making your choral performance. All in all I can see this syllabuilder becoming a standard in the future, only if it had more syllables to choose from.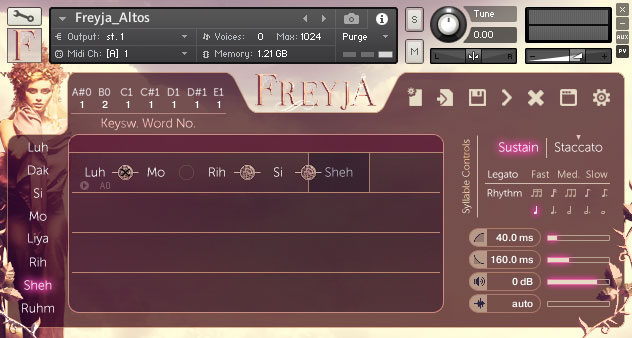 CONCLUSION
Freyja is without a doubt on of the best choir sample libraries on the market right now, and it's going to stay on top of the list for may years to come I am sure. It is subtle, it is gentle, and if you drive it enough, it can get a little dramatic, so I think there is a little bit of everything for everyone here. Watch out for those RAMs if you don't have a powerful computer, because this thing fully loaded will take 2GB of your RAM from your memory. The retail price for Freyja is 329$, which puts it in affordable range for any composer in need of a great choir library and its worth the price.
Strezov Sampling Freyja review
Content
Versatility
Performance
Sound Quality
Playability
Price performance
Pros
Great sound
Easy to use
Agile legato
Cons
Very few syllables compared to some choir libraries
Uses a lot of RAM