Musical Sampling is a new sample developer, that debuted their first sample library Soaring String in January 2016. Its founder, Aaron Sapp, is a well established composer, that is known for his own production of private sample libraries. But it still, seems quite odd, that a new sample developer would come to the sample library makret with yet another string library; and as stated on the Musical Sampling's website: »With so many great legato string libraries out there, why another one?"
So lets find out, if Soaring String has what it takes to become a trademark library, that every composer will want to have in their arsenal.
CONTENT AND SOUND
Musical Sampling recorded a medium size string section (to my ears it sounds like they recorded about 8 violins, 6 violas, 6 cellos, 4 basses). The library was recorded on a scoring stage, but there is not much more info about where this scoring stage is and what microphones were used with the recording process. Soaring Strings contains individual legato and sustain patches for every string section (violins, violas, cellos, double basses) and also ensemble sustain patches. The samples were recorded in 24bit/48khz quality and the whole library takes 4,04 gigabytes of space on your drive. The sample library works in Kontakt 5.5.1 or above.
The legatos were recorded in four dynamic levels (p -> FFF), while the sustains come in five (pp -> FFF). Throughout the dynamic range they recorded a »molto espressivo« vibrato playing style, which gives the library a unique sound, that is very suitable for emotional, »romantic« type music. The Section registers are: Violins (G3-C6) Violas (C3-G5) Cellos (C2-C5) Basses (C1-C3). I often found myself wanting a few more higher notes in the violins and cellos.
As soon as I started playing with the library, I immediately felt inspired and for some reason also very emotional. The playability of the library is just flawless. The sound quality is very professional. It is also quite dry which is great for users, that like to add their own reverbs to their mixes. This is also great, because this means, that with a little mixing Soaring Strings will blend with practically any other orchestral sample library. You will surely be able to find a spot for it in your orchestral template.
Patches:
Legato Violins
Legato Violas
Legato Cellos
Legato Basses
Violins Sustains (Full)
Violins Sustains (Soft)
Violas Sustains (Full)
Violas Sustains (Soft)
Cellos Sustains (Full)
Cellos Sustains (Soft)
Basses Sustains (Full)
Basses Sustains (Soft)
All Strings Sustains (Full)
All Strings Sustains (Soft)
Legatos
These are one of the most inspiring and playable legato strings I have ever tested. The molto espressivo playing style gives them a very lush and rich sound, that is often missed in other sample libraries. On the other hand, this is also a down side, since this playing style might not be suitable for many genres. The legatos perform really great in playing slow – medium tempo lines, but as many other string sample libraries, they start struggling with faster passages. The legato transitions sound extremely natural. If my ears work correctly, I also feel like they slightly change with the tempo in which you are playing at. Soaring Strings also comes with a really cool »repetitions« feature, which triggers a bow change legato on repeated notes and makes creating realistic melodies really easy. The four dynamic levels of the legatos are quite adequate and the cross-fade transitions between them are very smooth. The loudest FFF dynamic level really cries emotion. You can almost feel the recorded musicians giving it their very best.
Both legatos and sustains come with a »to silence« feature, which makes CC1 (modulation) fade out to complete silence. This is a useful feature, if you are working fast and do not have time to tweak CC11 (expression) or CC7 (volume) simultaneously, to create your complete fade-outs.
Sustains
Sustain patches are often overlooked in string samples libraries, but I think Musical Sampling did a great job with the sustains in Soaring Strings. All the sustains come in »soft« and »full« patches. The »full« patches have all the 5 dynamic levels, while the »soft« patches only have the lower three dynamic levels. The soft sustain patches have a feeling of »con sordino« style strings and are great for calm chord accompaniment. I was utterly surprised by how much realism I was able to achieve with only using a soft sustain patch and a violins legato patch from Soaring Strings! The softest »pp« dynamic level in the sustains is lovely and is a great addition to the library.
My favorites are the legato violas and my least favorite are the legato and sustain double basses, since they are too bright for my taste and lack warmth and depth.
Graphic interface
This is one of the most straight-forward GUI's you will ever come upon. In the GUI you will find the Soaring Strings logo written in gold on a dark-brown background. The only things you can select or deselect are the repetitions feature, to silence feature and change your dynamics CC, that is by default set to CC1.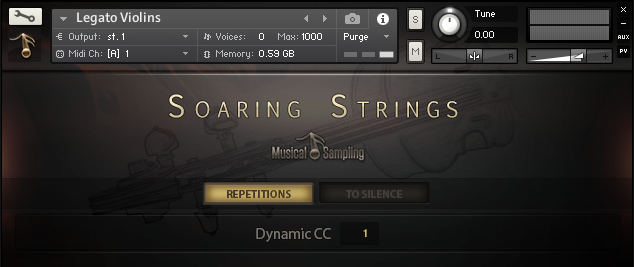 For users, that like to delve deep into their sample libraries and tweak the setting, the lack of settings in Soaring Strings will be a minus, but if you are someone, that just wants to load up a patch and immediately start composing, the lack of settings will be a huge plus.
Price performance
The price of Soaring Strings is 248$ (223EUR, 173£) without added tax. I would say that the price is quite in the »Goldilocks« zone; not to cheep and not too expensive. The amount of content is not huge, but what you get for the price sounds and plays on a professional level not matched by many of the already »household« sample developers, that have been on the marked for years.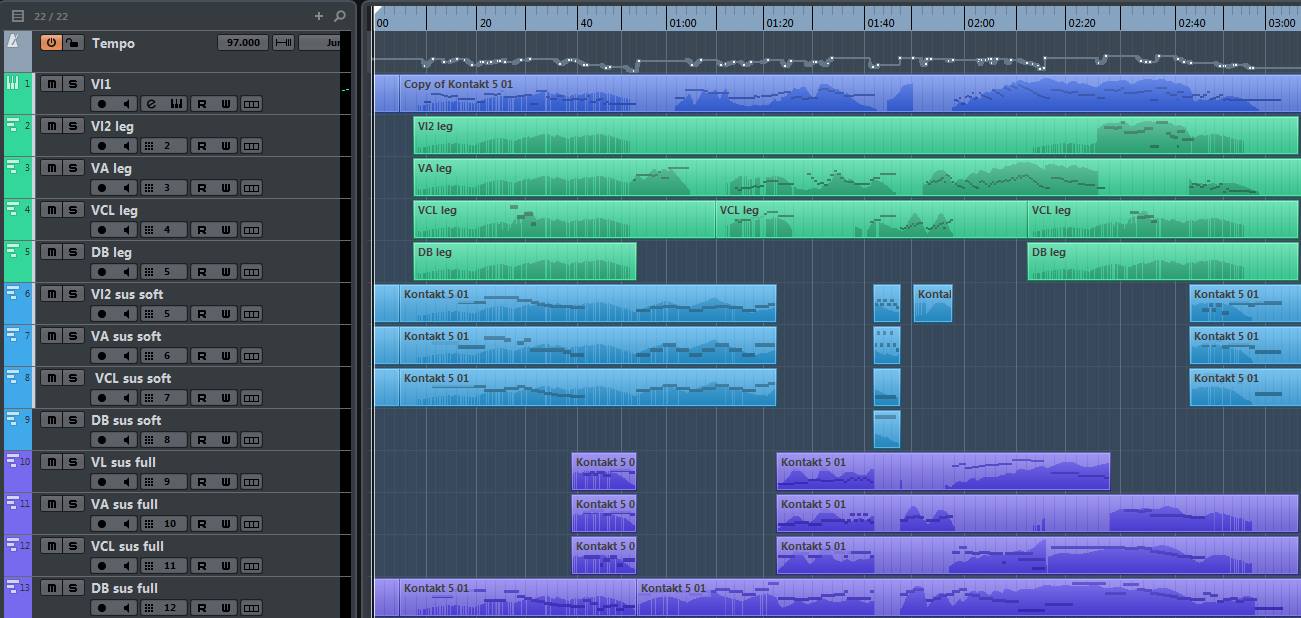 Conclusion
The library delivers exactly what the name suggests. In my opinion the library will find home with professional composers, that are searching for a more emotional, espressivo, soaring and lush legato strings sounds, that they have not found in other sample libraries. One could only wish, that Musical Sampling will come out with additional content with additional playing techniques for this library in the future. As I have stated at the beginning, I was immediately inspired and enchanted by the playability and the sound of the library. To put things into perspective, I composed the 3 minute demo track, that I have created for the purpose of testing the library, in about two and a half hours. I simply played in all the legato and sustain lines and tweaked the dynamics. The library really does not need any huge tinkering; just add a nice reverb and you are set.
Soaring strings review
Content
Versatility
PERFORMANCE
SOUND QUALITY
PLAYABILITY
PLAYABILITY
Pros
Superb sound out of the box
Great playability
Inspiaring legatos
Cons
Lack of settings
Lack of additional playing styles