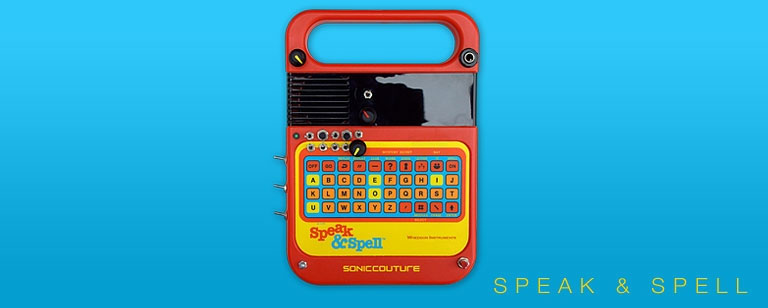 A much-loved and ubiquitous toy from the 1970s and 80s, Texas Instruments Speak & Spell has found a new lease of life in electronica in the last few years. People discovered that if you tinker with its circuits and voice chips, glitching, looping, and other interesting effects can be achieved. 'Circuit Bending', as this is known, is said to have begun in the late 1960s, and its invention is attributed to one Reed Ghazala, after a fortuitous accident with a toy amplifier.
Today Circuit Bending has reached the levels of an Art-form, with its leading practitioners going ever further with increasingly unlikely toys and devices, in search of sonic chaos. In addition to toys, Digital musical instruments such as synths and drum machines make excellent circuit bending subjects for musicians, as a visit to Circuitbenders.co.uk website shows.
The SC Speak & Spell was created by Andy Wheddon, a keen bender from Brighton, UK. It has various trigger and loop controls, as well as a pitch control knob and the all-important jack-output. In use, the results of a circuit bent S&S are far from predictable. The best technique tends to be to let the machine go into a random pattern of words and glitches which can then be looped or manipulated, albeit barely, with the modified controls. From Soniccouture. Note: Full version of Kontakt required.
Features:
24 Bit 44.1 Samples
Speak 'n' Shred KSP Processor
Full Alphabet + Word Sets
Randomised Loops
Kontakt EXS24 + Live!