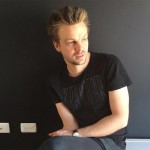 Find more about Sage Lewis @
Official website
Facebook
Twitter
Soundcloud
Brief list of credits
Surrogate, Dark Lords of War, Google Cloud, Maiyet, Operator,
Hi Sage, thank you for taking time to do this interview. Let us start with the basic questions first. Tell us a little bit about yourself and how did you get your start as a composer?
I started playing piano when I was five and as a teenager I had a jazz ensemble that was influenced by many international styles of music. We'd rehearse at the drummer's house every Sunday, usually all day long. We gave concerts in Minneapolis and recorded our own record. I started hearing songs in my head and communicating the ideas to the band. I was writing music without knowing what composing was. I made a promise to myself to compose and play music for the rest of my life. It was kind of like falling in love. I felt that I would suffer immensely if I ever parted ways with writing music.
The Surrogate is a narrative Virtual Reality experience that melds 360 video and a computer-generated explorable environment using an innovative technique called Immersive Hemispheres. The contemporary story, written by Katherine Satorius, is set in the near future and melds form and content through its exploration of a world that is rich with visual information and sensory stimuli.
When the viewer puts on the VR headset, they are immersed in the consciousness of a female protagonist, Juliana Bach, whose point of view they control as they explore the passageways that snake behind the walls of a modern house. The photo-realistic passageways, designed by Agnieszka Szostakowska, are constructed of sleek plywood with glowing, recessed lighting. The viewer can see into the rooms of the house through a series of portals in which live action hemispherical videos offer an immersive vantage point. The viewer is able to choose how they experience the narrative by moving through the passageways autonomously, deciding how they follow the action, and which rooms they look into at any given time.
Since the Surrogate uses quite a new technology, how did you overcome any obstacles (if there were any) to make the game/film feel more real or immersive music wise?
Creating VR films is a longer process than creating normal films. It requires extensive beta testing through many phases of design until the work is complete. Each testing phase involves a programmer to make the music function inside of the game engine. There are almost always technical errors that slow the process down. It usually feels like the technical trouble-shooting is 90% of the work.
Creatively it is similar to writing music for theater, the composer has to compose away from the material and work off of notes and a vision in his/her mind of how it will all come together when all the pieces are put into place. The timing of the action will vary so you can't sync the music to a locked timeline. So it's different from film scoring in this way. With traditional movies you can score directly to picture and everything will happen in exactly the same way each time. So the artists have less control over the experience when designing interactive content.
You also worked as a sound designer on Dark Lords of War. Could you tell us how you approached sound and how did that influence music you scored for the same game?
Each technology brings its own technical rules and limitations that the music must be composed into. This video game was made for iPhone and so it had to be a very small file size because people don't like carrying around large apps that take up lots of hard drive space on their phones. So in this case the music had to be a few very short loops in mono in order to be as economical as possible. The music would be played over and over without driving you crazy. It also needed to create a world of fantasy, magic, adventure, danger, and triumph. I was also the sound designer for this project so the sound effects were another way I could evoke this medieval world and expand the sonic palette. The music loops combined with the sounds of the foes, spells, injuries, failures, and victories became enough material to work with to keep the experience sounding dynamic with minimal resources. It becomes all about finding a few elements that make the largest range of permutations.
Let's talk about your other projects in advertising. What was your role on Google Cloud advertisement?
I scored the music for a video that Google made to show how their Cloud product is helping small businesses in South Africa become more efficient through generating opportunities for hi tech entrepreneurship and innovation. They asked for music that feels good and would inspire the viewer. But it also had to sound both contemporary and South African.
There are two themes that seem to keep reoccurring in the projects that I am asked to write music for: One is technology and the other is international music. Beyond writing the music for technology brands and sci-fi narratives about how technology is changing our human relationships, I've also scored films that take place in Tehran, Pakistan, Cuba, Saudi Arabia, and Haiti. Sometimes directors and producers seek me out to write music that sonically reflects the region that it is filmed in without being too "ethnic" or traditional sounding. I like writing music that draws from a certain cultural tradition but uses a universal language that sounds fresh and unique. This is the music today in my opinion because we're all so influenced by each other regardless of our geographic location. The relationship between what we encounter in our local physical world and our international virtual world is relatively new. It's a territory that allows new possibilities in music. The ways that technology puts us in many places at once has defined my generation.
I like composing music that reflects this and the Google projects were an interesting example of it. I scored another video for Google Cardboard about how Crow Indian children are using virtual reality to experience and learn about their cultural traditions by being digitally immersed in a pow wow. So it's not just about putting someone in two places at once but also bringing the past and the future together. It's a fascinating new intersection of our time.
Based on your credits, you seem to have a nice relationship with Maiyet company. How did you get involved with them and do you have any tips for composers who would like to do advertisement music?
Maiyet is a game changing hi-end woman's fashion brand. They use some of NYC fashion's best creative directors to design clothing, bags, and jewelry that is built by master artisans in the developing world. Instead of exploiting these people and economies like most brands do, Maiyet pays them as professionals and builds them state-of-the-art workspaces. They hire filmmakers to produce short videos showing their beautiful craftsmanship around the world. It's eye candy with high aesthetic value and so it easily inspires musical ideas. I watch the artisans work and listen to the backgrounds and pretty quickly come up with a type of music that brings the different concepts together in a pleasurable way.
This one is for the gearheads. What tools and technology are you currently using and why?
The traditional acoustic piano is where I need to start. It's hard to get new ideas with samples. After getting an original idea from the piano I move over to the computer. I prefer composing in Ableton Live but I also use Logic and ProTools. Ableton Live is well designed by young people in Berlin and it encourages my creativity and flow while I work. Other software interfaces impede a natural music making process. I also like to use outboard analogue gear because it sounds so much better however it is very slow and frustrating to link into the digital audio workflow.
When you are feeling creatively blocked, what do you do to get back in the creative flow?
Fortunately I don't usually get creatively blocked. I do get creatively exhausted though. After composing a lot of music I feel drained and need to rest or do something else until I have more juice to give to the next project. So it's nice to work hard and then take breaks. I have work that takes me to Havana a lot and this is perfect because when I return to Los Angeles I am so excited to get back into my studio and play.
What was your favorite moment so far and what do you consider being the best work you have done so far?
I think my music has been getting better every year. I'm really excited about the soundtrack I just wrote for the film Operator. I hope to do a version of it for vinyl and release it this year.
What are you working on right now and can you tell us more about that project?
There is a record of piano and analogue synthesizer duets that I finished composing a couple years ago but I haven't produced it yet so that it can be released. It inspired the work I did on the score for Operator. I hope to have some time and resources to record, mix, and release it soon.
Any hints, tips or motivational speeches for the readers?
You just need to be patient because things don't happen over night. They take a long time. Hard and steady work pays off—not immediately but eventually. Writing music is about finding truth so you need to be really honest about everything. Indian tabla and sitar masters always inspired me because they have such radical forms of discipline that start at a young age and don't expect to reach mastery until the middle of their lives. This doesn't work for me because I need to have diverse influences, experiment, and take breaks. But their patience is what gives me inspiration, humility, and perspective.