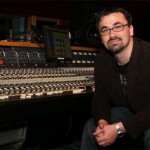 Find Howard @
Official website
Twitter
Soundcloud
Brief list of credits
Planetary Annihilation, Demigod, Supreme Commander 2, Space Siege
Tell us a little about yourself and what you do for a living.
It's kinda funny. My life has always revolved around two things: video games and music. I never thought I'd be able to blend my passions and actually create music and sound for games. When I first started out in sound, I didn't feel like game audio was an option. I went the traditional route academically, and ended up working at a recording studio as an intern. I worked my way up from coffee-fetcher to engineering and producing bands and doing post-production work.
Over this time, we started getting more and more requests for game audio. I went with it and made some incredible connections. Now, I'm the Audio Director at Uber Entertainment, an independent game developer based in Seattle. I'm responsible for all the sound, in all its various forms, across our games. I create all the music, sound effects, and implementation. I also direct voice-over. It's pretty cool.
What is your niche or specialty that makes you stand out from other audio professionals?
I'm a big picture guy. I can take a designer or director's vision of a game or film and create an overall aesthetic that amplifies the emotional intent of the media. I enjoy the process of creating a sonic palette and making games come alive.
To be truly stellar, video games have to feel like a coherent whole. Music and sound that matches the tone, intensity, emotion of a given action or scene is integral to creating something that actually feels like a world.
Can you give us a brief summary of the equipment you use regularly?
I use Pro Tools for mixing, sound effects, and voice-over. For composing, I use Digital Performer.
What are your go-to plug-ins and software?
VEP Pro, VSL, Eastwest, Waves, NI, Soundminer — really, I use a mix of everything. It just depends on what I'm making.
When do you find you are the most creative?
I love creating sound effects and working voice-overs in the morning. For music? I'm a night owl, so after midnight is the best for me. I think it goes back to all those late nights I spend in front of a gamepad as a kid.
What is your usual processor for creation audio content for games, folks, etc?
I like to start with getting placeholder sounds first. By doing this, I can see what tech is needed and talk with programmers to get the support we'll need. Placeholders also help me get a better idea of pacing — how fast things are firing, how quickly notifications need to pop up, and that sort of thing. Then, I flesh out those placeholders over time.
Are there any particular secrets to your creativity?
I need to find a way to emotionally connect with whatever media I'm doing sound for. Sometimes, it's hard because you don't always see the finished assets until much later. You have to imagine and dig into the soul of the production materials. Occasionally, when an early project is really tough, I'll create a movie or slide-show of whatever I need to make sound for and use it as an inspirational guide.
Do you have any audio creation techniques that resulted in something interesting?
I love to experiment. Sometimes, it's just using a plug-in or content in a different way that it was intended. Sometimes, I create sounds by hacking the game I'm working on as an instrument. I've even made sound effects through this process.
Any specific "lessons learned" on a project you could share?
Big moments need big sound. In Planetary Annihilation, players don't just blow up units — they blow up entire worlds. Moments that jaw-droppingly awesome need music and sound that not only matches them, but amplifies them. Courtesy our awesome Kickstarter backers, we were able to accomplish this with an original orchestral score, which gave the game epic sound in addition to range. Big moments feel big, and I'm pretty stoked about that.
Any tips, hints, or motivational speeches for the readers?
To me, hard work is way more important than talent. I know lots of talented people that just don't have follow-through. If there's something you want, don't stop working for it. In fact, prepare for it. And stay flexible when opportunities present themselves.