With Splash, a water sound library, the developers Neon & Landa aka Wobblophones add another unique and certainly unusual library to their list of exceptional products. Just as former released products like the Ferrophone or PriZm, Splash is built for Kontakt (v5.5.2 or above) and is available on their online store for a reasonable price. I'm very happy to take you on a tour for now – let's see if this library has the potential to float your boat.
Content and Sound
For Splash, Neon & Landa precisely captured and sampled three octaves of tuned falling drops and streams of water. The library provides 2 patches, both of them have their distinct options and functions – Splash & Nebulon Splash:
Splash
You'll be presented a nice looking user interface with a prominent tube of water right in the middle. To the left and right you got 2 controls in form of knobs – Splashes and Bubbles. (Yes, you can actually control the amount of bubbles in the water, how cool is that?)
The interface also reacts to your adjustments which I find to be a nice little gimmick. As hinted above, the Splash instrument has three octaves of chromatically tuned drops and streams. You can actually play a melody with streams of water, which is a thing that at least I have never heard before.
The controls don't stop there though, as you can dig deeper by pushing the fine tune button beneath the water tube. You'll be given a lot of more options here like ADSR adjustments, equalization, a filter for the bubbles, delay, reverb, density and a Timbre knob that lets you manipulate the overall sound from "clear" to "murky". Especially the delay is a superb tool and can bring out one of the ultimate strengths of the library – creating patterns.
Just a hint: When playing around with the library, I found out that it's a great tool to design clock – like sounds if you use the filters in a certain way. As we all know, those sounds are highly popular in modern film scoring and with Splash you get the chance to design your own, very unique sounding ticks and tocks.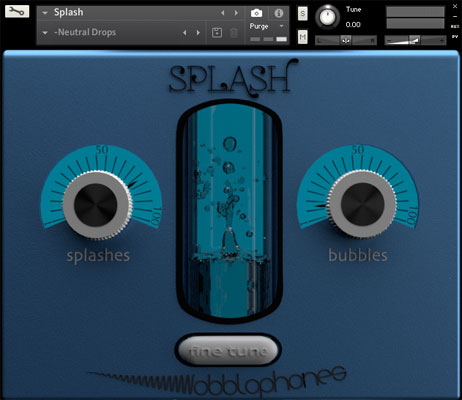 Nebulon Splash
As if Splash wasn't funny enough, this patch releases the full power of the library in my opinion and again exceeds your options to manipulate sounds. Nebulon Splash is an actual granular sample player that splits all water samples into small grains (think of Soundtoys Crystallizer!).
It's an ideal tool to assemble pads, textures and vivid, atmospheric soundings. Since the Nebulon Splash has its own sequencer, you'll be able to experiment not only with the sounds of Splash, but an extra collection of high-quality recorded water sounds for creating aquatic rhythmical patterns. Besides the sequencer, Nebulon Splash gives you even more parameters to experiment with, such as LFOs, detailed tuning parameters, and an inbuilt compressor. Splash, when installed, takes 480 MB of hard drive space which is very reasonable when you think of how many different sounds and soundscapes you can get out of it.
All water drops samples have 5 round robins. The drops were sampled at 44.1 kHz, 24bit, whereas the additional effects and extra water samples have been recorded at 96kHz, 24bit. To get you started, Splash comes with 57 pre-built snapshots which are very fun and inspiring to play.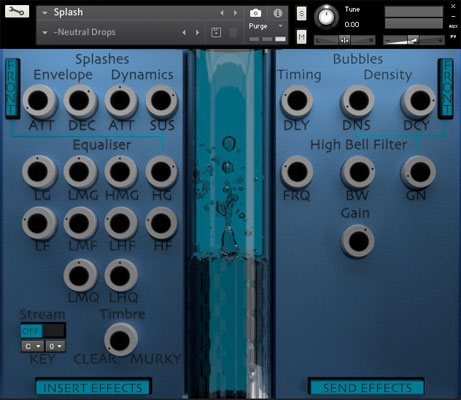 Price, performance, and conclusion
Splash could be yours for $46.75 until the 20th of October. After the introductory sale has ended, the price will increase to $55.00 which is still a reasonable price for what you will get, I must say.
What I liked in particular about the library was the fact that I could really spend a lot of time within the library itself, never feeling the urge to get out and use 3rd party what often interrupts your creative flow. You can just lose yourself in the soundings, getting inspired by starting with one of the pre-built patches and also getting constantly surprised or amazed by the outcome. Being able to manipulate the patches, especially with Nebulon Splash, lends the library its versatility! A downside of the product is the somewhat "old school" looking GUI.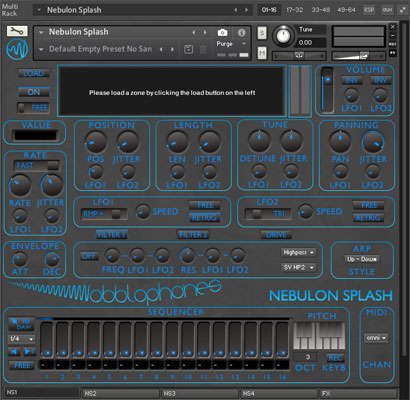 The fact that it is interactive and responds to your adjustments does not really make up the somewhat hard to read blue text on blue background. Also the fonts and buttons look outdated for a library released in 2017 – at least in my eyes.
All in all – Splash is incredibly fun to play and not just a toy you get to use every other month for certain projects with special needs.
I incorporated the patch in my general template and cannot wait to design further pads and textures for my soundtracks.
You can find information about our review ethics
here
.
Check out other Audio Spotlight
reviews
Wobblophone's Splash review
Content
Versatility
Performance
Sound Quality
Playability
Price performance