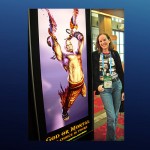 Find Winifred @
Official website
Twitter
Facebook
Blog
A composer`s guide to game music
Brief list of credits
God of War, LittleBigPlanet franchise, Assassin's Creed III: Liberation
Tell us a little about yourself and how did you get into game audio?
I'm a game composer – I've been writing game music for over 10 years now, starting in 2004 with my first project, God of War. Since then I've created music for two other well known franchises, Assassin's Creed and LittleBigPlanet, as well as a lot of other very successful games for Electronic Arts, Warner Bros. Interactive, Activision, 2K Games, etc. Before I became a game composer, I worked for 10 years as a composer for a radio drama series for National Public Radio.
You are the author of "A Composer's Guide to Game Music" book. Can you briefly tell us how the project started, how was the writing process and what readers can gain from reading the book?
I'd just finished work on music for LittleBigPlanet PS Vita, and my music producer Winnie Waldron suggested that I should write a book about my work as a game composer. At first I didn't take the idea seriously, but she suggested that I look over the game audio books I already owned and see if I had anything I could add to what had already been said there. It turned out that I had a lot I wanted to say, and that's when I started to get serious about writing the book. I worked on "A Composer's Guide to Game Music" for about two years. At the same time, I was composing music for several game projects, so I would alternate my work schedule between music composition and writing. It worked out very well, because I was able to incorporate things I learned from those game projects into the book – including my experiences writing the music of Assassin's Creed Liberation. To answer your question about what readers may gain from my book… it depends on who the reader is, I suppose. I hope that game music fans will gain insight into the creative process and technical demands of a game composer's profession. I also hope that aspiring game composers will find helpful information and encouragement, and that experienced game composers will enjoy some of the unique perspectives and useful tips I included in the book.
In "A Composer's Guide to Game Music," you write a lot about game development as a whole. How important do you think it is for a composer to understand game development process following with the understanding of the popular middleware available?
It's incredibly important that a game composer understands how the game development process unfolds, because our interaction with the team will be much more productive if we understand their point-of-view. They have their own driving concerns, and these rise from the tasks they're asked to perform and the pressures of their day-to-day working lives. As members of the development team, we'll do our best work if we collaborate smoothly and productively with the team, so it is very important that we understand them and integrate our efforts into their process. Regarding middleware – it is helpful to understand it, and to have some experience working with it. Not every development team will want the composer to be involved in the audio implementation side of things, but a few might. Understanding middleware is useful in those cases.
Let us talk about your past and present projects now. In a huge project like God of War, what would you consider to be the most valuable thing you have learned?
In huge projects, the development teams are immense. Good communication is very important, as well as a sensitivity to the needs of the team and a desire to exceed their expectations.
What was the brief for 'Little Big Planet 2' like? Care to share some insights of your process for this project?
The music brief for the LittleBigPlanet games is incredibly unique. The LittleBigPlanet music system is very interactive, so the franchise's music brief stresses the structure and components of the interactive music model, and how the composer can create music that works best in the system. When I started work on LittleBigPlanet 2, I'd already composed music for a similar interactive system for The Maw, from Twisted Pixel Games. While The Maw's music system wasn't as complicated, it shared a lot of common traits, so that experience helped me to not be intimidated by the technical requirements of the LittleBigPlanet series… but it was still very challenging work.
How did you end up working on a Assassin's Creed Liberation project?
Ubisoft contacted me and asked me to participate in a competitive pitch for the project, wherein I competed with a highly-select group of game composers for the job. Ubisoft thought my music was the best fit with the project, so they hired me. It was a great experience!
When do you find you are most creative and are there any particular secrets to your creativity?
I find that I'm most creative when I'm involved in a project that the team is really excited about, and everyone is working at the peak of their abilities. That kind of shared creative energy is incredibly contagious. I find that I'll do my best work when I'm collaborating with a really passionate team.
What projects have you been working on recently?
I'm currently wrapping up a couple of projects – one is a AAA console game from a well-known franchise, and the other is a AAA PC game (again from a series that everyone knows). Unfortunately, I'm not allowed to talk about either project just yet.
You have quite an impressive portfolio under your belt and based on your book you didn`t have it easy especially in the beginning. What would you consider the most inspiring moment in your career?
The enormous outpouring of support and enthusiasm for my Assassin's Creed Liberation music was immensely inspiring to me – it connected me to a wonderful community of game music enthusiasts and really charged my personal enthusiasm for my profession. I feel privileged to work as a game composer.
Any specific "lessons learned" on a project that you could share?
I share a lot of these lessons in "A Composer's Guide to Game Music." For instance, during the Assassin's Creed Liberation project, I learned a lot about the use of musical themes and motifs within a video game framework, and it was great to explore that topic in the book. I learned a lot about interactive music from the LittleBigPlanet games, and it was great to write about that. Each of my projects taught me something invaluable, and I tried to share as many of these lessons in the book as I could.
Any tips, hints or motivational speeches for the readers?
The biggest tip I can offer is to try to learn as much as you can, and to not be discouraged. To use a gamer metaphor, you can't beat the game if you rage quit. Talent is important, and passion is crucial, but I think that persistence is really the key to success.