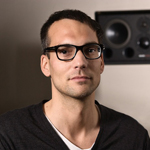 Find Walter @
Official website
Soundcloud
Brief list of credits:
Killzone: Mercenary, The List, Empire: Total War
Tell us a little about yourself and what you do for a living?
From an early age on I played classical instruments but it wasn't until I started playing the piano that I developed my interest in writing music. I took some lessons to improve my skills before I bought my first synthesizer, a Korg MS20, followed by a Korg Workstation to cover more 'basic' sounds and an Akai 1000 sampler to start recording my own instruments. Software sequencers were very limited at that time and I recorded a lot of sounds into the hardware sampler and triggered these phrases via Midi. This was a very experimental and hands-on approach that made me learn a lot about programming synths. It was when I went to the University of Vienna to study music composition that I got a much more detailed understanding of how to write music for orchestra. I received my master's degree in composition for moving pictures at the University of Salzburg where I learned to write music for film and TV. I then joined Herold & Besser Studios in Frankfurt where I worked on my first movies. I wrote additional music for 'Alone in the Dark' but also got to see the entire sound post including an amazing ADR session with Christian Slater and Tara Reid. From that moment on I was absolutely certain about wanting to write music for movies. After a few films I moved to London to set up my own sound studio in Soho. My first jobs were commercials like Mercedes and Levi's, before my music was licensed for the 'Grand Theft Auto' series. Since then I have mostly been working on movies and video games.
What is your niche or speciality, that makes you stand out from rest of the audio professionals?
I started producing electronic music long before I went to study classical composition. This allows me to approach my music from two very different angles; sometimes I create electronic soundscapes or enrich them with manipulating real world sounds and instruments to create musical themes and soundscapes.
On the other hand, I can start with an orchestral layout, record an epic live orchestra and choir and then tweak the recording and mix-in electronic elements or run certain parts through effect processors and manipulate the sound of the overall recording or specific instruments.
An example for a more electronica soundtrack is the movie 'The List' (the film is due for release soon, starring Sienna Guillory who plays Jill Valentine in the 'Resident Evil' movies). The total opposite is the music for SEGA's title 'Viking: Battle for Asgard' which features an 85-piece orchestra and 40-piece choir. My music is often a hybrid of both the classic and electronic music. 'Killzone: Mercenary' was the perfect opportunity for creating a blend of synths, orchestra and instruments that were custom-built for this job and other instruments that were heavily treated with effects to create a more unique sound world for 'Killzone.'
Regardless of the score being orchestral or electronic, I always strive to produce a very distinctive soundtrack by layering, combining and treating instruments in unusual ways.
Can you give us a brief summary of the equipment you use regularly?
My main setup is based on 2 Mac Pros, both maxed out on RAM with one running Logic Pro, my main DAW, and the other Mac running VSL Ensemble Pro. My orchestral template is spread evenly across both Macs with the Logic machine also running more contemporary instruments whilst the other Mac hosts the CPU and RAM heavier orchestral instruments. Most of my film and game projects can have a track count of more than 300 and it is crucial to see what is going on in the arrangement at all times. I therefore use 2x 23" Apple Cinema Displays and a 46" Sony Bravia TV for video output. The iPad is now also an inherent part of my studio setup running Lemur to control Logic Pro.
My audio interface is an Apogee Symphony I/O. When working on "Killzone" I noticed a lack of transparency in the bottom frequency range of my monitors, which is why I got a new pair of Focal SM9 speakers. These have an extremely tight bass response and clearly defined mids. For smaller recording sessions in my studio I use an Avalon VT-737 mic preamp with a Neumann U87 microphone. Even though there are great sounding soft synths I also use a selection of hardware synths including Moog Voyager, Korg MS-20, Access Virus TI2 Polar, Clavia Nord Modular G2, etc. To keep things playful and to vary the sound I run most synths through hardware effects from the likes of Eventide, Korg, Doepfer, Alesis, etc.
What are your go-to plug-ins and software? (virtual instruments, audio processing etc.)
I use a quite comprehensive sample library covering full orchestral libraries such as Hollywood Strings+Brass+Woodwinds, LASS, Cinesamples, Symphobia 1+2, Truestrike 1+2, VSL Cube. To create more contemporary sounding instruments I use U-He Diva & Zebra, Spectrasonics Omnisphere + Trillian, and the collection of amazing sounding libraries by 8dio, Soundiron, Heavyocity and Sample Logic.
When it comes to creating dense soundscapes and tension beds, libraries like Sample Logic's Morphestra, Cyclone and Cinematic guitars 1&2 are great fun to work with. Many of my pulsing synth sounds come from Rob Papen but I also used sounds by Heavyocity's AEON and Hybrid Two Project Alpha.
Ensemble Pro 5 is the tool for synching my Mac Pros. It allows me to run a large orchestral template across multiple computers. I use different Logic templates for different jobs or build one from scratch when I work on a movie or video game. The instruments I use might therefore vary but the mastering chain and most of the bus structure stays the same. My main reverb is Altiverb by Audio Ease and for mastering I use a combination of plug-ins including Ozone, Universal Audio UAD2.
There are lots of really creative tools and sound manglers out there which I use on a daily bases. These include the plug-in packs by the likes of Soundtoys, FabFilter, Ozone – especially Trash 2 and Stutter Edit.
When do you find you are most creative?
There are these different stages of creativity that I find myself responding to quite well. First there is this stage when you have just been given the brief and it is down to me to define the sound for this upcoming game/movie. This is when I need enough time to create initial soundscapes, program sounds and layer them with all sorts of soft and hardware instruments. You can't rush this stage as it defines the sound for an entire project. But when we come to the next stage, the process of writing the actual music, I find milestones and deadlines quite helpful to not get lost and work towards a specific target. Time-wise I am definitely more creative from the afternoon onwards but it is a different type of creativity. I usually record live instruments in the mornings but find it easier to write music later in the day.
What is your usual process for creating audio content for games, films etc.?
It always starts with meetings and conversations with the director/producer/music supervisor to see where they are coming from, and their vision for the music. Once I have a good idea what they want to achieve with the music, when to trigger which emotions, or maybe have the music go entirely against the events in the picture, I would then lock myself in the studio and start experimenting with instruments and sounds. This is the stage where there is no right or wrong. It is about the composer interpreting the creative brief and to come up with its own sound creations. Sometimes these can be as little as soundscapes that catch the overall emotion of the film or I often find myself writing an entire suite for a movie. This suite contains a possible main theme with textures and other elements we could extract at a later time and turn into a theme on its own, or use it as an undercurrent in specific scenes. I find communication with directors/producers a lot easier when there is a track that was specifically written for this project that we can then use to talk about music in greater detail. For me there is not a massive difference when it comes to writing music for games and films. Both require an overall distinctive sound with one or more themes.
Are there any particular secrets to your creativity?
Not trying to think too hard in the beginning… seriously, the calmer you are the better you can focus on the more essential parts of the story and the characters. These all carry their own emotional baggage, e.g. I once worked on a movie with the main character being a neurotic girl who is extremely clever but very insecure, and she tries to hide away but plays a very powerful role in the movie. The first step to write a theme for her was to distil the fragile character and to identify the layers of emotions of her personality. I then started experimenting with sounds and instruments to musically interpret each of these emotional layers. Put simply, the girl's anxiety would be described by a pulsing synth bass that comes in and out (cutoff, EQ, distortion, etc.) as and when she encounters difficulties. Her level of high intelligence is being represented by bright and light sounds. To create these I experimented with cymbals and metal percussion instruments and especially tuned percussion such as glockenspiel and celeste. I wanted to use these instruments in a less literal way and had them played with a cello bow and smaller metal pipes. These sounds were then treated with an array of effects and synths (Moog Voyager, MS20). I would then merge these and other layers of the girl's personality together. The result was a very unique sounding soundscape. Later on I added a motif played with a piano on top. The soundscape on its own was that strong that it even worked without the piano. By just hearing this soundscape the audience would think of the girl and we used it as an undercurrent in several scenes throughout the film.
For me the main principle of creativity is to come up with genuine sounds and not to use presets of software/hardware instruments. It is too easy and everyone does it, and so do I, but only at a later stage once the overall sound for a project has been determined.
Do you have any audio creation techniques that resulted in something interesting?
I am always experimenting with sounds and instruments, recording techniques and layering instruments to produce unique sounds that help the game/movie to set it apart from other titles in a similar genre. For 'Killzone' I was given a very open brief to re-boot this extremely successful franchise. In order to define a new core sound for the game, I recorded many instruments including violin, double bass and countless percussive instruments. Looking for the more obscure and unusual I decided to use extended playing techniques to produce more uncommon sounds. These would range from playing cymbals with a cello bow, to stuffing metal/wooden objects into bass drums in order to create a more distorted sound. Many of these single recordings would then be treated with analog and digital effects. Percussive sounds were mapped into Kontakt (Native Instruments) so I could play them like real instruments. The most extraordinary sound was produced by a modified cello. I drilled holes into the corpus of a cello and put metal tubes through them. These were hollow on the inside and filled with objects such as shrapnel and other metal parts. When played back, the cello produced these amazing overtone heavy resonances you wouldn't normally get. Played with the wooden side of the bow instead of the horsehair, the instrument sounded even more abstract whilst still maintaining its original and organic colour.
Any specific "lessons learned" on a project that you could share?
A few years ago I co-wrote the soundtrack for a sci-fi movie. The soundtrack was recorded in Los Angeles at Sony Pictures Scoring Stage and I was never meant to physically be present at this recording session. Whilst my LA-based composer buddy prepared the session with his orchestrator and the orchestral contractor, I was already working on a few more clips that the director required music for on a last minute basis. The people handling the recording session were highly skilled and had worked on blockbuster movies for most of their careers. I was joining-in via Skype from my London studio and I knew there were a few rhythmically challenging passages in the music that required my special attention. When we got to this section it was a lot more difficult than it should have been to have them played exactly the way I wanted them to sound. The recording session was a big success nevertheless but I felt I could have improved certain cues had I been physically present. Lesson learned: Always make sure you are on top of your game and taking part of every stage from writing to mixing the final music.
Any tips, hints or motivational speeches for the readers?
There are always challenges in a project, be it a video game or a feature film. The more you know your tools and have an open ear to your client's comments the better you can address potential concerns and overcome obstacles. Be persistent and don't take the first 'no' for an answer when you try to open the first few doors of your career.