Vir2 Instruments, the creator of such sample libraries as Mojo: Horn Section, Electri6ity, Violence and Q has entered the cinematic guitar ring with a new contender named Apollo. But instead of trying to compete with the likes of Cinematic Guitars from Sample Logic, Vir2 has decided to focus on the more Ambient and Textural side of guitars and provide a highly usable set of sounds that don't necessarily fall into any specific genre.
What is Apollo?
Apollo is a Kontakt based virtual guitar instrument aimed at modern composers who are looking for simple guitar based cinematic sounds that mostly still sound like guitars, or aren't too radically twisted around at least and that don't necessarily fall into any specific genre. The overall feel is quite ambient, underscore'ish at times and highly usable due to the ambient nature of even the more effected sounds ranging from lush to minimal guitar tones.
The focus is on textural soundscapes with pads, swells and other ambient sounds created with high quality guitars and effect chains using a variety of pedals and amps. Apollo also covers a good range of regular multi-sampled guitars and loop phrases.
Content
Apollo is a 13 GB (compressed) virtual instrument created for the free Kontakt Player. The library is divided into five main categories, Swells, Pads, Instruments, Ambient Designer and Phrase Builder. With each category you also get a good range of parameters to adjust in order to tweak the sounds. Most prominent of these is the specialized effects selector with a number of internal effect units to choose from.
Swells
There are over a hundred different swell patches that come in chords and single notes. The Swells are actually just regular recorded strummed or plucked chords and single notes and the actual swelling of the sound is created inside the Kontakt interface rather than being pre-recorded using a volume pedal. This enables the user to adjust the manner of the swelling to their liking using the Swell Speed dial which is basically your Attack knob. If you adjust the Swell Speed to 0.0ms, you hear the whole recorded sample including the plucking/strumming of the player. So you can use the Swell patches as either swells or just normal plucked/strummed sounds.
With each chord patch you are provided with major and minor chords with low and high iterations to choose from. But you are never limited to only pre-recorded chords as all the chord patches include recorded single notes as well. So if you like the sound of the pre-recorded chord but wish to play your own, just click the "Chords" text on the interface itself and it will turn to "Notes" providing you with the single notes.
The categories for the swells are Reverb, Distorted, Pedal Board, Abstract and Basic. There isn't a huge difference between these categories except of course the Distorted being all distorted sounds and the Abstract being a bit more out there having a more extreme pre-recorded effects chain. But within each category there is nice variation with sounds from heavenly majestic to minimal and lonely.
Also worth mentioning is that all the patches come with two versions, Wet and Dry. The Wet version of a patch is the guitar sound ran through a custom effects chain (hardware pedals & amps) when recorded so some of these Wet versions may have delay effects and whatnot on them recorded in the sample itself and you won't be able to sync that to your DAW tempo. In these cases, if the sound has a noticeable rhythmic effect to it, you can load the Dry version and it will have the same guitar with the same tone recorded but without any pre-recorded hardware pedal effects. Then you can add your own using either the built-in effects on the interface or your own plugins.
I personally enjoy the swelling guitar sound for it's dynamic and soft nature. Obviously there's nothing revolutionary in renaming the attack knob as Swell Speed and thus have swell guitar sounds, but somehow all the guitar sounds in the Swell patches in Apollo just sounded really fitting to be played in this swelling manner that it made the library easy and fun to use, not to mention quick.
Pads
The Pads interface lets you combine and mix two of any of the available 70 pad sounds to create a more unique pad of your own. Both selected pad sounds have their own parameters such as overall volume, envelope and modulation controls, panning and tuning. You can browse through all the pad sounds within the interface or just click the little arrows to switch the sounds quickly. The categories for the pad sounds are Basic, Calm, Distorted, Motion, Tension and Uplift. There's great variation between the sounds and having the possibility to combine two sounds quickly gives you even more variation.
Provided also are 86 ready-made presets using this two sound combining + internal effects method. The presets are divided into similar categories as the individual pad sounds.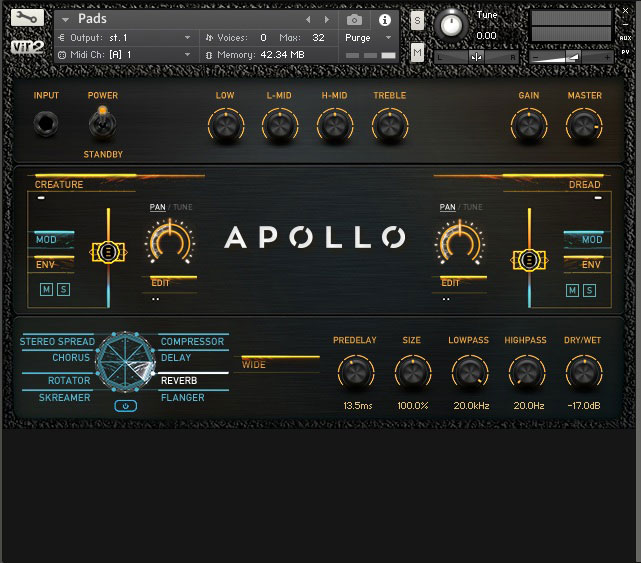 The pad sounds differ from the swell sounds by sounding less guitar and more effected, but don't get me wrong, they're still organic sounding and don't come off as too synthesized. Just more ambient and wet. Again you have sounds from majestic, lush and brooding to superbly desolate, sad and melancholic. Some are very clean and soft while others distorted and rough. But we're still talking about moody pads, nothing very aggressive or too accented. So maybe not the guitar library for those epic action chase scenes. Some minor exceptions in patches with heavier LFO modulation added from inside the interface. Still, think more like Apollo for the aftermath of that movie chase scene.
Ambient Designer
Now, the Ambient Designer is something to get excited about. The interface gives you six groups with identifying colors. These groups are laid across six octaves on the keyboard, each group taking up one octave. For each group you assign a set of sounds that again are laid across it's respective octave on the keyboard. The sound sets come in many. There are anything from calmly played ambient major and minor chords, bowed sounds and tape noise to simple sustained notes, miscellaneous slides, swells, improvised phrases, reverse sounds, ambient loops, tremolos and a lot more. Each of these sets can have up to 12 different sounds mapped on the one octave.
It depends entirely on the set how many sound variations there are, some have only one but still there are tons of different ambient sounds available. Usually all the sounds at least inside one set are highly compatible amongst themselves but they have seen great effort to have as many of the sound sets as possible to sound good together as well.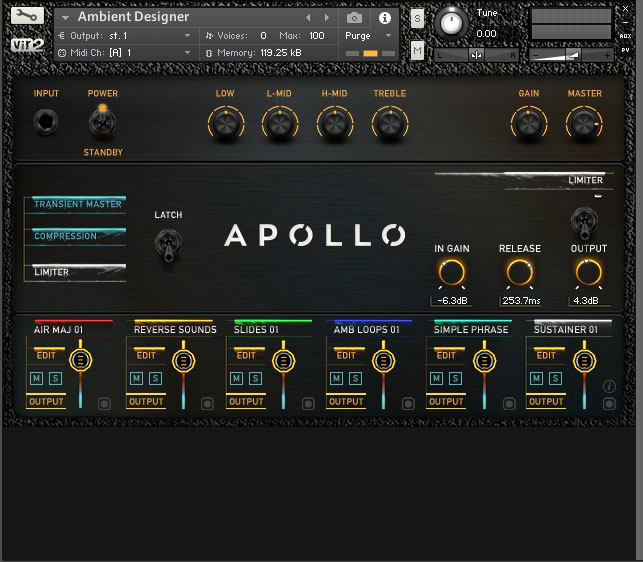 So after you've selected your sound sets for the groups, you can start experimenting. The idea of this tool is to let you create an ambient bed or an underscore texture using all these available miscellaneous ambient guitar sounds in any random manner you wish. On the interface there is a switch called Latch. Having Latch on, you can just start pressing keys on your keyboard, triggering different sounds from your groups and the sounds keep looping forever until you press the same key again.
After you have been playing for a while and think you have a long enough ambient bed ready, just click the Latch switch off and now when you press the C7 key on your keyboard, the Ambient Designer plays back exactly what you played in your session just a moment ago when having the Latch on. Basically the instrument was recording your actions when you were triggering the sounds up until Latch was switched off.
Now you can either draw a long C7 midi block on your DAW timeline to have the recorded session play in your project or just create a session without the Latch function using midi blocks in your DAW's piano roll. However you want. I found the Latch/recording function fun and quick, everything could be done within the Kontakt interface on the go.
If the vast selection of sounds isn't enough for you, you can also add any of the built-in effects to any individual group and adjust the levels of each sound within that group. As a special and very cool feature you can also reverse any of the individual sounds within a group to create those awesome reverse ambient guitar sounds.
For me this Ambient Designer tool is one of the coolest features of Apollo. Highly inspirational.
Phrase Builder
Apollo also comes with ready pre-recorded guitar phrases mostly recorded clean. If not clean, then with slight distortion. But no reverb or delay as far as I could hear. Nearly all were recorded in 90 bpm but everything is tempo-synced to DAW tempo anyway.
You get 26 patches with several different play styles in each patch. The phrases are rather usable as they cover some very basic styles from single strums and repeated two note pickings to a few more note melodies and arpeggios. Each patch has all of these styles of playing laid across the keyboard and each style has at least a few alternative melody versions. So you load up a patch and it can have for example four different chords or notes per play style laid across the keyboard and you can trigger them in any order creating simple chord progressions or just dynamic playing of a few notes to back your track. Some loops are longer than others so at times you may run into too obviously looping phrases, mainly a problem with some shorter arpeggios or ostinatos.
But all in all the loops are crafted good and will mix well into a track I'm sure, especially if you add a little modulation and delay and don't necessarily have them play solo.
Instruments
The last category of Apollo are the Instruments. Included are multi-sampled guitars such as Acoustic Guitar Harmonics, Acoustic Guitar, Air Harmonics, Electric Bass, Clean Electric Guitar, Driven Electric Guitar, Electric Guitar Harmonics and a Sitar. Each of these guitars come with several different preset patches which have one of the built-in effects enabled. No pre-recorded effects chains are used on the Instruments patches, so they are all clean signal.
The Instruments have up to 3 velocity layers and 5 round robins. Thankfully Vir2 saw the effort to record them at least in that depth making them actually usable as opposed to some other libraries that include the basic guitars in their otherwise sound designy guitar libraries, but don't give you any velocity layers or round robins making them very unappealing to use at all.
The Sound & Conclusion
I really liked Apollo's sound, it has a clear focus, that is Ambient and slower soundscapes and textures. The library will be a great addition to my palette of sounds for giving tracks some nice background glue or interesting ambient textures and relaxing sounds to spice up a moody scene with the Ambient Designer. In my opinion it's a good thing that a library clearly has a focus and the creators set out to build something specific for a specific purpose and didn't lose their way as opposed to try to create a Swiss army knife and not excel in anything but just be OK at everything. The only thing I can think of that could be a problem for some is the pricing. I feel at $399.95 (~350€) it's just a bit too much considering the content. On the other hand a higher price will keep the bigger crowd at bay and thus the sounds will stay more fresh for longer. Take it as you will. I recommend Apollo if you have the extra cash laying around. Maybe not an essential part of everyone's toolkit, but a nice addition nevertheless.
Vir2 Instruments Apollo review
Content
Versatility
Performance
Sound Quality
Playability
Price performance