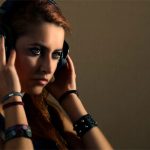 Find more about Vicky Fysika @
Soundcloud
Facebook
Twitter
C.O.D.E
Brief list of credits
Goo Saga, Darkfall Unholy Wars, The Bait
Hi Vicky, thank you for taking time to do this interview. Tell us a little bit about yourself and how did you get your start as a composer?
Hello and thank you for having me!
I started learning to play the piano at five and very soon I wrote my first piece of music! I remember calling it "The little Moon". That was the moment I decided to be a composer. I took music theory lessons and graduated from a Music High School. During that time, I was influenced by a lot of different musical styles and learned to play more instruments, got involved with many music genres, singing… I graduated from the Music Technology and Acoustics University, where I discovered and entered the digital audio production realm. This gave me new means of production, which helped my music composition and sound design workflow, which are my main line of work up to this day.
When did you get into game audio?
If my memory serves me well, it was around 2010, when I met my current associate Nick Larin … in a hair salon. I was writing soundtracks for documentaries and short films at that time and when he mentioned that he was a game designer I almost jumped with joy because this was something I really wanted to try. I remember myself saying that it was one of my dreams to write music for videogames. We started working on a game called "Darkverse", a sci-fi Action/RPG game. It was a great experience for me and I discovered that sci-fi is one of my favorite themes to compose music for, so Nick and I are in the same team until today. Also we still go to the same hair salon :).
Could you tell us a little bit about the C.O.D.E band and when was the group formed?
The band came together when I was studying. We were all attending the same University and decided to blend our influences and create music that expressed us. It was my first collaboration with other composers, which I found very refreshing but also a demanding task. We still write music together until today. I am the lead singer of the band, which is something I really enjoy especially during live performances. We have released 1 full album, 2 EPs and a single. Culture Of Digital Elegance is a very big and important part of my music career and life and generally is something that will always drive me.
Let's talk about your current project Goo Saga for a bit. How did you get involved with the game?
My team has been working as Toka Loka Games for the last year. We were all in the team that developed Darkfall, an MMORPG game so we all knew each other. At first we released a mini game called "The Bait" so we could gain experience in development for mobile devices since this was new for some members of the team. "Goo Saga" is our second release. We are very happy with the result because we invested a lot of love and hard work during development. The feedback has been overwhelming so we must have done something right.
Goo Saga is a platform adventure game where the player guides an elastic creature named Goo in a perilous journey to find his creator – and with him, the mysterious purpose of his own creation.
What kind of vibe were you going for in the game?
The game is very atmospheric, with beautiful graphics, but also has a lot of energy! It is nostalgic, has mystery but is also adventurous, so I wanted to combine all of these contradicting elements in the music. For the main sound and mood reference of the music I used the piano. It was composed and processed in order to have a sort of an unearthly sound so it puts you in a particular mood. Of course I used drones and atmospheric synth pads so I could accommodate the under water theme of the game. I generally create a lot of layering to achieve my final sound. Something I loved when working on this game was the liberty I was given. I really like to combine natural instruments with lead synths and arpeggiators and I had no limits for Goo Saga. I just did whatever felt right without restrictions.
Where did you get the inspiration for the score?
Well, the game's story takes place in a mysterious lab in the bottom of the sea… what more can someone ask for to get inspired? I have always loved undersea levels in games, I really enjoy the atmosphere of the seabed. Also Goo being the scientist's greatest achievement, that is suddenly abandoned, searching for his creator-father and overcoming all these obstacles and weird enemies in order to find him are plenty of things that one can be inspired by.
Considering the game was made by a small team. Did you have any other roles during the production of the game?
Our team consists of 6 persons so everybody is involved in many areas of production and promotion. My job is to write music and do the sound design. I am also the video editor, I used to run the social media and of course like everyone else I help with the QA.
This one is for the gear heads. What tools and technology are you currently using and why?
I use Cubase 8 as my workstation for arranging the music and for doing the sound design. For the production monitoring I use the Focal Spirit Pro headphones, which I wear practically all day since we share an open plan office with the team. For the mix we used Pro Tools with Slate Digital and Softube plugins and monitored through a pair of Focal CMS 65 studio monitors. On a final note I am a huge fan of the Absynth by Native Instruments!
What are you working on right now and can you tell us more about that project?
At the moment we are working on Goo Saga's PC version, updates for the mobile versions and we are brainstorming for our next project.
Any hints, tips or motivational speeches for the readers?
Don't set limits. If you do make sure you surpass them. Be spontaneous, a lot of "thought" can sometimes "hurt" creativity.