Universal Sampling Euphoria review
Content
Universal Sampling's Euphoria comes in a 7.1 GB (4 GB compressed) bundle of atonal, melodic and percussive loops for Kontakt 4. In this bundle you will find everything you need for composing hybrid orchestra or electronic music.
Besides atonal and percussive loops, melodic loops are recorded in the key of D and for the most part they sound very similar to each other which allows you to seamlessly mix them to each other. There are also a few effect patches which comprise of various screamers, reverse effects, impacts and piano staccatos.
Overall Euphoria is full of interesting content. I have to say that the percussive loops sound very professional and you can easily compare them to any "big" libraries out there. Having said that, there is one thing I would have preferred concerning the Euphoria bundle. Considering that Euphoria costs around $250, I would have liked the option of buying samples individually. A sort of "buy what you need", instead of getting the full bundle. That, of course is completely personal preference.
Content breakdown:
Atonals (x2)
Atonals Individ. (x3)
Broken
CymbalFX
DrumKit-Organic
DrumKit-Destroyed
Frozen Piano
Impacts
LowBooms (x3)
MegaToms
MelodicTonals (x3)
MelodicTonals Individ. (x4)
MultiPercLoop (x2)
MultiPercLoop Individ. (x4)
PianoStac
Reversed
SingPercLoop (x2)
Skreamerz
TomCrescRolls
Sound
Euphoria sounds great, especially those percussive loops I keep going on about (by now you should realize that I am very impressed with them). The sound is very clean and recorded to a high standard – all the samples are recorded at 48Khz, 24bit, providing the best possible quality. Loops are also well cut and synced to your host so they match the tempo you are working at.
You can listen to how Euphoria sounds in the demo that I wrote, which only uses patches found in this library, or visit Universal Sampling's official website.
Graphic interface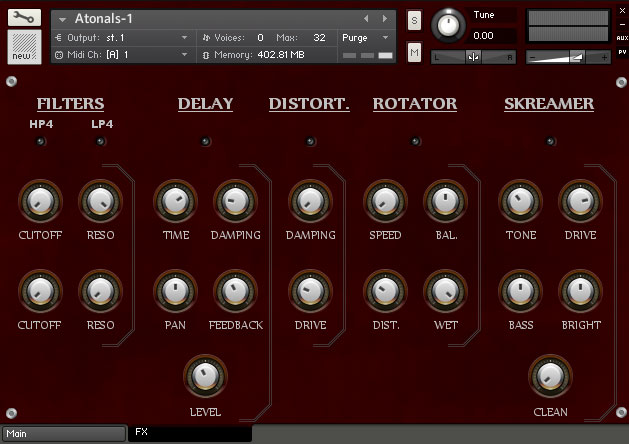 Euphoria comes with a nice custom GUI that has all of the effects you will probably need. The front panel has a 3 band EQ in the centre, master controls in the right and convolution reverb in the right side of the panel. In the second tab you will find most of the stock effects (Filters, delay, distortion, screamer, etc…) that come with Kontakt 4 (also works without any issues in Kontakt 5).
Ease of use
Euphoria is an extremely good sounding library and with all of the effects in the GUI you will find it is also very easy to use. Like with all Kontakt libraries, Euphoria is plug and play so one can get started very quickly.
Price/Value
This library will set you back approximately $250 which might be a turn off for some, and to some extent I would agree. Having said that, Euphoria does deserve a try as it is easy to use and sounds wonderful.