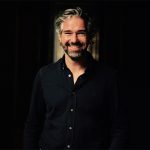 Find more about Tilman Sillescu @
Official website
Dynamedion
Sonuscore raffle
Brief list of credits
Hitman, Mortal Kombat X, Crysis 2, The Hobbit – The Desolation of Smaug (trailer music)
Hi Tilman, thank you for taking time to do this interview. Tell us a little bit about yourself and how did you get your start?
When I was 10 I watched "Once upon a time in the west" and I was fascinated by Ennio Morricone's wonderful soundtrack. I wanted to become a musician and, if possible, a film composer. That was the motivation for me to study classical music at Mainz University and later Jazz in Frankfurt, my hometown. I played in Jazz bands and taught guitar. I took me a while before I composed my first soundtrack for a video game and I just loved the experience so much that I decided to focus on composing soundtracks.
Could you share a story of how you became a creative director at Dynamedion GbR and how does that affect your work as a composer?
Back when I was playing in bands, teaching guitar and day-dreaming of how great my life could have been as a composer, I met Pierre Langer, now my partner at Dynamedion. His enthusiasm and belief in the vision that we could actually be successful in doing what I was just dreaming of was a wake-up call for me. He somehow convinced me to start a game soundtrack studio and go for it! Luckily, his belief in our crazy idea was proven right :)!
Back then, in 2000, we started as a composer duo. As the jobs got bigger and bigger we started collaborating closely with other composers. After a while the team just grew to a size where it got necessary to have someone oversee the whole process, to ensure that the end result functioned as complete whole. I happily took on that new role and now, when I start a new project I put together an explosive team of highly talented people, then we develop the leitmotif together and exchange ideas. Then we delegate who works on what part of the whole composition. As the lead composer it is my job to try to distill the musical identity and style, which of course I always do together with the game developers. When we have come up with something we are excited about I communicate it with my team and we get to work. That's roughly how that works with us ;).
Tell us a little bit about what can a winner of the SONUSCORE raffle expect from you?
The winner can send me their musical sketch or complete work, whatever he or she prefers. I'd love to hear the intentions behind the work, so maybe the winner wants to put together a demo reel or simply wants to hear a piece which stands for itself played by a big orchestra. I can remember when I first heard my music played by 66 instruments, it gave me goose-bumps so I'm really excited to have someone else experience that as well!
I'll listen to their music and afterwards we can call via Skype or, if the winner prefers so, I would give them a personal feedback via mail. Maybe the winner wants to optimize something about the song afterwards or maybe we agree that nothing has to be done to the music at all. Then we move on to talk about the orchestration, I will offer my perspective, whether my experience tells me the way it is likely to work well with the orchestra, or if we need to adjust. If the winner has no experience whatsoever and doesn't want to orchestrate he or she can simply send us an mp3 or MIDI and we will do the work to orchestrate the entire piece according what we think would best support the musical idea.
Once that has been recorded I will help in the post production, also depending on what this actually wanted for. Maybe the winner simply wanted some strings for the background of her Hip-Hop beat or his pop-production. Obviously that would change how we mix and master the orchestra recording.
All in all I am the winner's guide from the idea to the final recording. And I'll do my best to make this a lot of fun for both of us!
Mortal Kombat X is one of my recent favorite games. Could you tell us how did you get involved with the project and what were your main responsibilities?
How cool, glad you dig the game! The team behind Mortal Kombat X also developed "John Woo's Stranglehold" and we had already composed for that game. They liked what we had done there so they trusted our talent and I really think my team delivered on this one. We basically did the music for the cut scenes as well as some of the in game music as well.
What was your approach to the Mortal Kombat X score?
The guys gave me a script at a very early stage in the process which was a huge help in developing the leitmotifs for the characters. These leitmotifs are very important to give the whole game its sonic identity and somehow acts as a musical "face". I thought it was very fitting to combine a large orchestra with electrification and ethnic colorings. When it comes to the fighting, of which there is quite a lot needless to say, I needed big raises, thunderous, dooming percussion. We made use of the whole spectrum to get the proper sound.
It really was a real pleasure for me to work closely with Rich Carle on the cut scenes and I'm really pleased with the results we achieved.
I really liked the tension music in Hitman. How did you approach the score and where do you think were the main obstacles when scoring the game?
Thanks, I'm glad you liked it! Obviously the game lives off of its tension. The challenge lies in putting the listeners on edge without having them fall off, you can't have the tension and dissonance at an ultra-high level constantly. You need to keep the tension bearably unbearable, haha. It's about balance and that is always a very fine line you need to keep, which is definitely also the biggest obstacle. But within that lies the big challenge which is a lot of fun to take on!
If you had two instruments to define Agent 47, what would those instruments be?
A piano string and if that doesn't work, a drum stick ;-).
You are also familiar with scoring films and trailer music. How would you compare scoring between games, films and trailer music? Which one do you find to be the easiest in terms of production?
I find trailers harder, because they always need to be so over-the-top mindblowingly ultra-big. With trailers I feel as if the sound is more important than the composition. Having said that of course the composition also counts a lot and it is challenging, because everything is distilled into such a short time. It basically is a sonic poster, the hook needs to catch you immediately. Game or film music is subtler than that and helps you to dive into the whole experience and offers more depth. Music is a time-bound medium, so with more time we get more broadband and depth we can achieve.
This one is for the gearheads. What tools and technology are you currently using and why?
I work with Logic and I have a ton or two of libraries: EastWest, CineSamples, the Berlin-series from Orchestra Tools and I still actually like to work with singular Symphobia-Patches now and again. My favorite of course are our very own, fantastic Sonuscore libraries such as Action Strings, Emotive Strings, Action Strikes and the other great libraries we have made. You can check them out here www.sonuscore.com
What are you working on right now and can you tell us more about that project?
I'm biting my tongue: I'd love to tell you, but I am under a non-disclosure agreement right now: if I told you I'd either have to kill you immediately afterwards or myself ;-). I can say this much: we are working on an insanely huge project in a very cool, incredibly crazy setting and bullets are flying around my ears non-stop.
Any hints, tips or motivational speeches for the readers?
Yes: if you compose, do everything to get a natural sound. Practice recording real musicians or if possible whole orchestras, there is no better way to create those big feelings! Oh, and if you want quick to use, ultra accessible tools to augment your creativity: buy our libraries! :-)