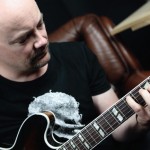 Find Thomas E. Rouch @
Official website
Soundcloud
Twitter
Facebook

Brief list of credits
The Reckoning, Key, Fallen Dreams
Tell us a little about yourself and what you do for a living?
I am an Australian film and tv composer, I moved into composing about 5 years ago after working as a producer and session guitarist. A friend of mine was working on a short film and he asked me to write some music for it, this was a bit of a light bulb moment for me and it awakened a latent desire to compose for film that I think had been in me since I first watched Star Wars as a little boy! Since then I've been fortunate to work on some great short and feature length films, my most recent film score to the crime thriller The Reckoning won Best Music at this years British Independent Film Festival. I have recently started working in tv including some of Australia's highest rating shows like My Kitchen Rules and Amazing Race Australia.
What is your niche or speciality, that makes you stand out from rest of the audio professionals?
I love working with stories, I work hard to make sure my music connects with the story on a conceptual level as well as the functional. I'm also working hard to develop my own sound, I've worked on quite a few genre films but I think you can listen to my work and start to hear a sonic signature come through.
Can you give us a brief summary of the equipment you use regularly?
I recently built a new studio so am really enjoying my work space at the moment! Coming from a production background I find that working in a great acoustic space helps not just the mixing aspect but helps get me in a great creative zone. I use Logic on a Mac Pro and have a pc as a slave that runs my orchestral template. I also have a great bit of software called video slave which plays all my video out of a Macbook Pro, it syncs via MTC over ethernet. Also loving my Focal twins as monitors. I have a range of guitars and amps with my go-to being a Takemine NP-17C for acoustic and a Gibson ES-345 for electric.
What are your go-to plug-ins and software? (virtual instruments, audio processing etc.)
I've being using Logic Pro since it was logic 4 so don't see myself changing that anytime soon. Vienna Ensemble Pro handles all the samples both on my slave and the main computer, it handles resources much better than Logic. Probably not enough space to list all the sample libraries I use, safe to say I have all the main ones but I will give a shout out to LA Scoring Strings as being an amazing product, sonically perhaps falling behind some of the others but its features make writing very enjoyable and easy to get realistic string lines. Another plugin I'm really enjoying right now is the Exponential Audio Phoenix Verb, absolutely amazing for surround mixing.
When do you find you are most creative?
I find that mornings and evenings are best for creativity. The afternoon is great for napping! I think the Spanish have got the right idea with the Siesta!!
What is your usual process for creating audio content for games, films etc.?
For Film I have two main processes that help me get started. Firstly I like to just sit and think about the underlying details and concepts of the story and just let the percolate in my mind. Secondly I like to find my way in by experimenting, whether its a melody or harmonic approach or working on soundscapes. After a while I find that the mental and the musical will start converging and themes will come through that just sound like they belong in the word of the film. Once I have that then I will start scoring to picture and really get into the nuts and bolts of it all.
Are there any particular secrets to your creativity?
I don't think there are any secrets really, it mostly comes down to focus, hard work and an open mind. It pays to really hone your technique so when you have good ideas you have the chops to execute them well, but for me I find the harder I work the more my creativity flows, it's a bit like a muscle, if I have an extended break from composing I struggle a bit until I get some work into it then the ideas come quickly.
Do you have any audio creation techniques that resulted in something interesting?
I've spent many hours just playing with soft synths and different plugin chains etc to get new sounds but lately I have doing more work with sounds in the real world, using found objects or musical instruments in novel ways and recording them.
Any specific "lessons learned" on a project that you could share?
You can never be too organised! It's not something that comes naturally to me but the big projects need great organisation, dealing with multiple edits, versions of cues etc. If you can get a good system going to stay on top of it then it means your focus can stay on the creative.
Any tips, hints or motivational speeches for the readers?
Well I might steal one from a boyhood idol of mine, guitarist Steve Vai. To paraphrase – Work on your strengths not your weaknesses. You might improve your weak spots to become average or better but if you work really hard on your strengths you can become a master!
I think this also serves to mentally prime yourself to appreciate your own skills and be able to evaluate yourself in a balanced way.