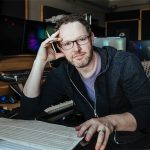 Find more about Gordy Haab @
Official website
IMDB
Facebook
Twitter
Brief list of credits
Star Wars: Battlefront II, Halo Wars 2, Star Wars: Battlefront, Star Wars: The Old Republic.
Hi Gordy, thank you for taking time and doing this interview. Let's start by introducing yourself and telling us a little bit about your background in music?
I'm Gordy Haab – composer, orchestrator and self-proclaimed 'Star Wars' geek from Mechanicsville, Virginia. I've been interested and involved in music since the day I saw 'E.T.' in the theaters at the age of six. The music in the film had such a huge emotional impact on me that I became obsessed with it, and eventually with all types of music. I studied music composition at Virginia Commonwealth University, and music for film at University of Southern California. Which is what brought me to Los Angeles to pursue my dream of composing for visual media.
Let's talk about Star Wars Battlefront II. How did you get involved with the project?
I also scored 'Star Wars: Battlefront', which lead to my chance to work on scoring 'Battlefront II'. But I had initially been given the opportunity to score BF1 after being contacted by DICE and EA and asked to write about 10 minutes of music as an "audition". There were other composers doing the same as well – some with much larger accolades than my own. But, I gave it my all, and fortunately made a strong impression and was offered the job!
How do you prepare for projects of this scope?
A lot of study, a lot of organization, and team building. From the musical side of things, I dug deep into the music of the 'Star Wars' universe and learned the "language". So, when I began to write my own music, speaking this language was second nature. But it was equally as important to organize myself and my process. There is over two and a half hours of music in 'Star Wars: Battlefront II', and my schedule was relatively short for such a tall order. So I needed to schedule out exactly how much music I needed to write per day in order to hit the deadline. I'm also very fortunate to have an amazing team working with me around the clock. In all, I had more than 10 people at my side helping with the day-to-day tasks, so I could focus on writing. There are two people in particular who were right there in the trenches for every step of the process, from helping with orchestration, creating synthesized mockups, managing spreadsheets, researching character themes and so on. My two partners in crime are Sam Smythe and Marco Antonini.
Can we get a little bit of the insight of your creative process while you worked on Star Wars Battlefront II?
I begin by conceiving all of my music while sitting at the piano with pencil and paper. It's a bit old fashioned, but it forces me to develop musical ideas in my "mind's ear", without the luxury of trial and error. I feel the end result from music I compose this way always sounds more thoughtful and crafted. I say this not to discredit the use of technology, because it also plays a major role in my process. But a piano, a blank page, and a pencil – and no screens glowing in my face – has a way of quieting my soul and allowing me to just, write. Once I have a solid sketch, I pass it off to a team member to create a synthesized mockup. This is what is then passed along to EA, DICE, Lucasfilm, Disney, and…John Williams for approval. Once approved, then I jump onto the computer and finalize my orchestration – which is then passed on to a team of copyists and Black Ribbon who prepare all of the individual parts for the recording session.
How would you say is the score different from the first game?
The inclusion of a single player campaign is a major difference. And this changed my musical approach quite a bit. Because new characters were introduced into the Star Wars canon via this campaign, I had the opportunity to compose many new character themes. And numerous variations of each – often times intertwining with each other. My approach to scoring the campaign was much more like scoring a narrative film. It gave me the chance to stretch out a bit musically and really put my own stamp on the universe. Another big difference was the inclusion of all eras from the 'Star Wars' universe in the multiplayer side of the game – rather than just the original trilogy, on which 'Battlefront I' focused heavily. Opening up the 'Star Wars' world so widely really gave me a chance to contribute my own voice. And it also allowed me to draw inspiration from all of Williams' great scores from the 'Star Wars' films.
What do you think was the most difficult part of making the score for the Battlefront series?
Fan pressure and studio pressure. The bigger a franchise is, the more oversight it will inevitably have from the studios. As mentioned before, for Battlefront, every note that I wrote was reviewed by teams at DICE, EA, Lucasfilm, Disney, and by John Williams. But the scariest part is knowing that I have to please the literally billions of 'Star Wars' fans, who will judge my work alongside the great scores John Williams wrote for the films. And last, I hold my own personal goal in just as high of regard. And that is, creating something that is uniquely my voice. My stamp on the sound of the 'Star Wars' world. Sure, it has to sound like it comes from the 'Star Wars; universe – but for me to feel I've really done my job well, it also needs to be original within those parameters. That is always my #1 goal.
Did the new female character in the game Iden Versio played by Janina Gavankar get her own theme and could you share more thoughts on how you made the theme?
Yes she did! And it's probably the most important musical theme in the game. Although she's an Imperial soldier, she's also a very dynamic character who grows throughout the campaign. So her theme, albeit dark, heavy, and militant, needed to have an upward reaching arc. Her theme continuously climbs, ascending to a peak, both harmonically and melodically, much like she does as a character.
Where was the score for the Battefront II performed?
It was recorded at Abbey Road Studios by the London Symphony Orchestra and the London Voices Choir.

Image credit: Gordy Haab facebook
Switching the subject for a moment. What tools and technology are you currently using and why?
As I mentioned before, my process leaned heavily on writing the score manuscript. But once that process graduated to the next step, we used Cubase for creating mockups and Finale for orchestrating scores and creating parts. Everything was recorded and edited in ProTools.
If you had any advice for composers starting off in the business what would it be?
Be true to yourself and to your process. I have been told many times that composing pencil to paper is "wrong" in today's industry. But it works for me. So I found a way to keep it as a big part of my process. There is no wrong way to create music. Find what works for you, stick with it, and never stop learning and growing. The second you do, another composer just surpassed you. Always remain humble and be a student of music.
What are you working on right now and can you tell us more about that project?
'Star Wars" Battlefront' continues on and I'll be working on more music for upcoming expansions. The video game industry is highly secretive, but there are other exciting projects on deck that I can't wait to talk more about!
More composer interviews here.