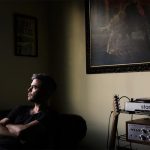 Find more about Jason Gallagher @
Official website
Twitter
Soundcloud
Brief list of credits
Z Nation, Universal Soldier: Day of Reckoning
Tell us a little bit and how you got your start as a composer?
I got my start in music playing in a band called Leroy Justice for years in New York City. During that time I was also an editor for film and TV. My friend John Hyams directed a couple music videos for the band, and I worked with him on some of his films. When he was brought on to direct the Z Nation pilot, he suggested I audition to score the show. Now here we are, 3 seasons deep!
What programs do you find yourself using most with Z Nation?
I score the show mostly in Pro Tools, but I'll switch over to Logic for drums and beats, there are just so many options in there. I love Eastwest's libraries of sounds, and I just got into Heavyocity's Gravity this season, it's got that grinding, metal sound that sounds right in Z Nation.
Each season do you come up with a completely new palate of sounds for the show or have any of the themes become reoccurring?
I try to draw inspiration from music I'm listening to or movies I'm watching, and I make an effort to use some new toys every season. But every season you'll hear something we call the "Z Nation guitar" that kind of moans in the distance. Very post-apocalyptic!
When a new character comes on the show, like the Big Bad character in season 3, where do you start with creating their theme?
Sometimes the editors will beat me to the punch and find some amazing temp sound or song that the director falls in love with, then I'm charged with recreating the same vibe. I dig that because we don't have to use words to try to get the right vibe, it's a sonic vocabulary.
What has surprised you most about Z Nation?
This season it's been the storylines. It's really off the rails, more than ever before, and I love that about the show.
What has been the most challenging part of Z Nation?
It's definitely turning around each episode in a ridiculously short amount of time. It's like making an album every week for 15 weeks straight. It's part of what makes it so rewarding. It's like surviving my own apocalypse.
What other types of genres would you enjoy scoring?
I've been wanting to score a comedy for a while now. I see shows like Love on HBO or Flaked and see that the music can be such a cool, interesting part of the show. I want in!
You are a guitar player, which type do you like playing most?
My favorite is my '73 Fender Strat. The pickups are rusty and it's all beat up. It just feels right. But I'll play anything, and I especially love switching it up because I think every guitar inspires you to play it a little differently.
What advice do you have for someone looking to get in the business?
Keep making music. Keep sharing it. Download videos off the internet and score them. Give music to people, create songs for people. It'll make you better, and doing it a lot is the only way to get better. When you're good enough, you won't have to look hard to find work, it'll come to you.