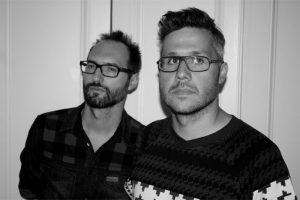 Find more about Tom Hodge and Franz Kirmann @
Official website (Tom Hodge)
Official website (Franz Kirmann)
Facebook (Tom Hodge)
Twitter (Tom Hodge)
Facebook (Franz Kirmann)
Twitter (Franz Kirmann)
Instagram (Franz Kirmann)
Hi Tom and Franz and thank you for taking time and doing this interview. Let's start by introducing yourself and telling us a little bit about your background in music?
Tom: Hi I'm Tom Hodge, I fell into writing music for media when I landed a job making tea at a post-production studio called Grand Central specialising in sound for commercials. I kept being called in to help out on music briefs and would go home and write the pieces after my day of running tapes around Soho! A few years later I took a Masters in Composition for the the Screen at the Royal College of Music in London. Franz and I started making music together about 8 years ago- at first for media and then subsequently records and live concerts, and now McMafia.
Franz: Hi I'm Franz Kirmann, I started putting records out around 2006 / 2007 with various projects. I come from the indie and dance music scene really, making records, gigging, Djing I run a label called Days Of Being Wild. Tom and I met in the early 2000's but only started collaborating musically a good few years after that and joined our musical experiences, making 3 albums together as Piano Interrupted and touring around Europe with a band.
How did you get involved with the latest BBC series McMafia and what were your main responsibilities?
Franz: The producer Paul Ritchie is a friend and really like the music Tom and I make. He then did a great job of convincing the rest of the team we were right for the job!
Tom: Our one and only responsibility was to write the score, and deliver it on time! There were around 130 cues spread over 8 episodes. The show has about 4 hours of our music in it.
How did you prepare for the project and what would you say was the most difficult part of making the score?
Tom: We had a good bit of thinking time before it all kicked off and the deadlines started coming hard! So that was very important really- we read Hoss' script, visited James on set, had many chats with the editors. All of these things were very important to get a sense of the shape of things to come. A good number of the pieces we wrote then, landed in the series in one iteration or another.
Franz: We were lucky really to get involved early as a lot of the creative decisions were made then. To me the most difficult part was the sheer volume of music we had to make and to keep it consistently good and engaging.
Tom: I am well used to brutal deadlines from all the commercials work over the years, but the scale of the project was unprecedented. It was also very challenging mentally working on multiple episodes simultaneously- spotting one, writing one, revising another, mixing another! There were maybe 60 or 70 cues 'live' at any one time.
Did you make the theme song for the main protagonist Alex Godman and could you share more about the process of making the character theme?
Tom: The main theme tries to capture the tragic weight of the series- Alex's path is of course one key part of this. It's scored for 20 strings plus a separate quartet sitting within it, piano, voice, low brass, clarinet.
Franz: Yes, I don't think we approach it specifically for Alex, it was more the greater arc of the story and that monstrous global world of crime that we wanted to express. That's why it is slightly different from the rest of the score. It is quite grand and tragic as Tom says. With a theme tune like that you actually want something quite timeless. We wanted it to be recognizable, convey the world of McMafia aka tragedy and not to be dated in 6 months!
Tom: There are some other themes more directly connected to Alex- a falling piano figure to gently reflect his turmoil, a kind of rolling woozy bass and strings piece when he deliberately puts himself in harm's way.
Franz: We also processed a West African instrument called balafon to express the cognitive dissonance within Alex's mind. It just like a mad tick in his head, like a bomb is about to explode!
Tell us a little bit about the Piano Interrupted? How did it begin and where can we hear more about the Piano Interrupted?
Tom: Piano Interrupted was actually the name of our first record together. I played some piano, Franz interrupted it! We then turned it into a project name, especially when we realised we wanted to share the project live in concert. We have three records under this moniker on experimental German record label Denovali- Two By Four, The Unified Field and Landscapes Of The Unfinished. Although one can never say never, we have no plans to make any more Piano Interrupted records- there is just too much going on in our individual worlds!
Franz: It started as a studio based project and then we took it on the road and had various musicians playing with us through the years, cello, percussion, double bass.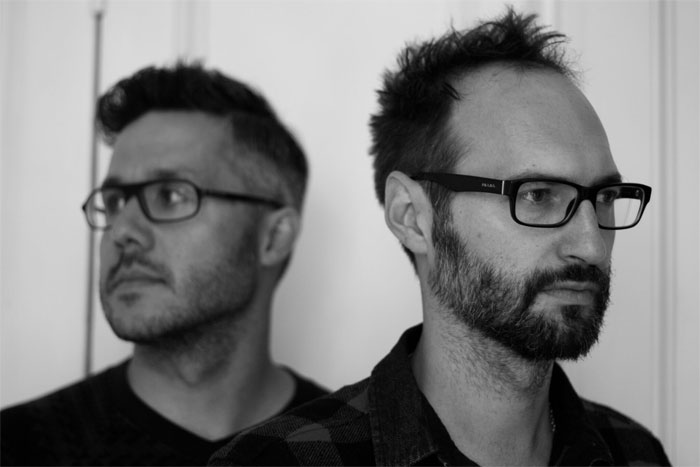 This one is for the gearheads. What tools and technology are you currently using and why?
Tom: I am continually distilling down my scoring setup to try to maximise the speed from brain to playback! I write in Logic, use UAD interfaces, (Apollo Twin and Apollo 16) for plugins the core stuff is Native Instruments Komplete, a lot of Spitfire libraries, Soundtoys, Slate Digital. Currently I am recording with Sontronics microphones. I also have a Strymon Big Sky and an Arturia MicroBrute on my desk at the moment for some analog adventures- but this changes periodically.
Franz: I have roughly the same set up as Tom, we needed to be in sync with tools for McMafia! I don't have the UAD stuff, I use also the GRM suite of plugins, they are quite esoteric but they are incredible tools to manipulate sounds. I use Omnisphere as well and have some analog synths, Prophet 6 , Juno 106, Poly61, although we didn't use those on McMafia.
What are you working on right now and can you tell us more about that project?
Tom: I am about to release a record with a fabulous Czech producer called Floex. It's called A Portrait of John Doe. We have been working away on it for a few years, when we've both had the time to get together. It took a dramatic turn when the Prague Radio Symphony Orchestra came on board as well and suddenly it was not just a blend of piano, clarinet and electronics but also full symphony orchestra too. I'm very excited by the blend of sounds! Bicycle spokes and kitchen pots played a key role also.
Franz: We are putting finishing touches on the soundtrack to a documentary called "The man behind the microphone". I'm also working on a few things for my label Days Of Being Wild. Too early to tell what they will lead to!
If you had any advice for composers starting off in the business what would it be?
Tom: You need to be ready to take your chance when it comes- so educating yourself about all aspects of your craft is of course vital, whilst constantly working on finding something unique to say musically. But it is easy to think that this is enough, safety in education almost, whereas actually this is the tip of the iceberg. Then it is about working hard, being personable, meeting people, seeking out film makers for yourself, anything and everything that connects you into the industry.
Franz: Yes I couldn't really say it better than Tom. It's super hard and it takes time. You have to be resilient and someone people want to work with! I have also found that surrounding yourself with people you trust and you can rely on is important. That means you have to be such a person yourself too. On McMafia there was so much to do, we had to hire our own team to help with orchestration, mixing, prepping stems etc… that was done in one afternoon because we knew the right people for the job. Your network is crucial.
Tom: Yes that was a comfort, but also a product of many many years of preparation! Everyone we brought on board I had worked with on multiple jobs already- nothing like the McMafia scale of course- but I felt fairly confident the system would work!
More composer interviews here.