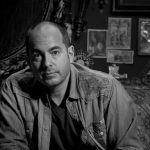 Find more about Marc Vanocur @
Official website
Twitter
IMDB

Brief list of credits
Dead Awake, American Dresser, Let There Be Light
Tell us a little about yourself and what you do for a living?
I'm a long time post-production executive returning to my creative roots. I own a studio (Shout Softly) in Burbank that specializes in Scoring (music composition) and color-correction for independent features, documentaries, and episodic.
What is your niche or specialty, that makes you stand out from rest of the audio professionals?
I started as a sound designer and supervising sound editor/mixer in the early 90s. Working in that world gave me a great insight into how music and sound collaborate to create the emotional tapestry that underscores the visuals. I am a fan of all genres of music, but I especially love music from other cultures. I studied classical guitar at a very young age, and most of that music is rooted in Spain. To date, flamenco guitar is still my most preferred music.
Tell us about "Dead Awake" – what can we expect musically?
Dead Awake is a hybrid score that has elements of a synth/percussive component for the non-horror sequences, and then it switches to an orchestral horror score for the scary interactions with the night hag. It's one of my first horror scores since I was supervising sound on Tales from the Crypt 25 years ago. I had a blast!
Can you give us a brief summary of the equipment you use regularly?
I own a small collection of hardware synths (Nord, Korg, and Access Virus) but nowhere near my contemporaries. I've always been an admirer of composers that can navigate a room full of analog modular synths. The bulk of my work is done using a couple of DAW's and a vast library of virtual instruments.
What are your go-to plug-ins and software? (virtual instruments, audio processing, etc.)
I use Logic Pro and ProTools extensively. My workflow has simplified over the years. I now write, record and mix in Logic. From there I've developed a series of templates that have grown and shrunk over the last few years that include my favorite mixing plug-ins. I mix down my cues in either stereo or surround in Logic and place everything in ProTools for the re-recording mixers. Regarding software, 90% of my library comes from Spitfire Audio out of London; it's a remarkable company on so many levels. For the more esoteric/synth scores, I'll use, Zero G, Sonic Couture, and of course Native Instruments. Almost everything is run in the Native Instruments, Kontakt sampler.
For processing and mixing, I default to UAD software for their great emulations of Manley, UAD and Neve hardware. I also use Waves for mastering and EQ.
When do you find you are most creative?
It varies a lot. Since having my child, my time no longer belongs to me. I used to love the late nights. I still have a small version of my studio at home for those 2 am unexpected moments of inspiration. From my home setup, I can also remote into my studio and control a lot of the more mundane tasks. On average I'm in the studio from about 9 am to 6 pm every day. Honestly, the inspiration is different depending on the type of project I work on.
What is your usual process for creating audio content for games, films, etc.?
I approach everything with an open mind;I I clear my mind and make sure its a blank page. I have many conversations with the director, but I've noticed most recently that my favorite approach is working with the picture editor at early versions of the cut and providing a temp score that will ultimately become a final. This achieves an outcome that doesn't tie the score to becoming a version of someone else's temp score. It can become tough to detach from a temp, and it can often stifle creativity when you're asked to duplicate someone else's work no matter how great it is!
Are there any particular secrets to your creativity?
Listen. Listen to many types of music, listen to the directors, picture editors, and producers. All of these people have opinions. Many times, those opinions differ from ours, but we are all here in service of the project and not our egos. The important thing is to make your passion your priority and focus on achieving the end goal. It's a hard thing to fake. If you love creating music, no matter what you do or who you work with, your creativity will show.
Do you have any audio creation techniques that resulted in something interesting?
I'm a guitarist by trade, but Piano is where I write my music. This may lead to played 'mistakes,' but sometimes those mistakes spark exciting directions that can turn into gems.
Any specific "lessons learned" on a project that you could share?
What I have learned is important is to try to get outside of what you like. Its hard, I know, I still struggle with this. I tend to want to write things that I feel are beautiful and I enjoy, but they don't always fit the scene. No matter what director I'm working with, I make it my priority to bring their vision to life. So I fight the urge to write cues that work for me and concentrate on creating cues that work for the scene. There's always a struggle.
What other projects do you have in the works?
I'm working on multiple films at the moment; I just finished the score for a faith based film called Let There Be Light, which will be premiering at the end of the year. I'm completing my second horror score for Philip Guzman, "200 Hours. I'm also working with Director, Carmine Cangialosi's on the adventure/drama 'American Dresser.' It's like 'Easy Rider' meets 'Crazy Heart.'
Any tips, hints or motivational speeches for the readers?
I was fortunate to have many good years as an executive in the business handling the financial side of our business. I saw the good and the bad, but there are reasons we have budgets, and they need to be adhered to and respected. Another lesson is to make sure to stand up for yourself, don't let yourself get taken advantage of by anyone.
There are projects that will tell you: 'if you do this one for free there are plenty more down the road,' or 'when we sell it you'll be well rewarded.' You have value, never forget that. Talented directors and filmmakers work with professionals in this industry; it's because we all provide not just a craft, but an insight.
Films are created by people with a story to tell and a level of emotional intelligence to support the creation of that story. To do that, insight, input, and other points of view are needed to get there. We are not just Directors, DP's, Editors, Composers, Sound Editors, Writers and on and on, we are all filmmakers with a story to tell. Writing music is telling a story. So, don't be conned into working for free. You can, however, do favors for projects that have significant meaning to you or for people that are close and important to you. I have a minimum composer's fee for all projects. I remind myself if they are unwilling to pay, then they aren't invested in their projects. What I discovered over all these years is that those that choose not to pay, never really appreciate the work you do anyway.
More composer interviews here.
More sound designer interviews here.