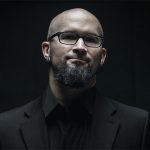 Find more about Kevin Riepl @
Official website
Facebook
Twitter
Soundcloud
Brief list of credits
Justice League Action, ATROPA, Batman Unlimited, Battleborn, Gears of War
Hi Kevin, thank you for taking time to do this interview. Let us start with the basic questions first. Tell us a little bit about yourself and how did you get your start as a composer?
It's my pleasure. Well, to clarify, there really is no "start" to being a working composer. It is a very long and gradual process that happens over time, with studying, persistence, honing your craft and most importantly, nurturing relationships. The key thing is to write. "ABW" Always Be Writing. Whether it's for a gig or not. So, doing all of the above puts you in certain positions and opportunities to shine. I was just making sure I was doing all that, all the time and the opportunities that presented themselves over time gradually got bigger.
Let's talk about Cabin Fever reboot. How did you get involved with the project?
Travis Z, the director, saw a short film online that I scored and really liked the end credit's cue. He brought it to the attention of the producer Evan Astrowsky. Evan, having worked with me on Cabin Fever: Patient Zero, knew who I was and they got in touch with me.
In your opinion, how does the score compare to the original Angelo Badalamenti's Cabin Fever (2002) score?
In my opinion, they're two different animals. For the reboot, they wanted a bigger sound which incorporated electronics and full orchestra. Badalamenti and Barr's score for the original was a little more eclectic with Barr's string arrangements and small ensemble along with Badalamenti's signature sound.
You have also worked on numerous games and animated series. How did you get involved with Batman Unlimited TV series?
The Batman Unlimited work was mainly direct-to-video features and along with that came a series of shorts for each feature I worked on. Getting involved in that was having the right material on my reel at the right time with the right person hearing it. : )
How would you compare scoring between games, films and TV series?
The main difference between all three, are the production schedules and deadlines. I've worked on certain games for more than a year, sometimes even up to 3 years. Movies range from one to three months turnaround time, and TV is the tightest where you're on an episode for one week and the next week it repeats and so on.
This is for someone who would like to start composing for films. In your opinion, how much music does one have to write in order to cover a fully featured film?
The amount of music varies on the film, of course. On any film I have been on so far in my career I haven't had to write more than 100 minutes of music. There are movies that call for 2 hours of music to be written. All of that music doesn't end up in the film, but sometimes you find yourself writing A LOT of music for films.
This one is for the gearheads. What tools and technology are you currently using and why?
I use mainly MAC for my DAW which is Digital Performer. The Windows computer I have is a sample workhorse. I honestly do everything in the box. I have some outboard gear for mixing, but nothing too crazy, an Obsidian compressor, a summing mixer, etc.
What do you think was the most memorable moment in your scoring career so far?
Being nominated for an Annie Award (Outstanding Achievement, Music in an Animated Feature) in 2016 for my work on Batman Unlimited: Monster Mayhem.
What are you working on right now and can you tell us more about that project?
I am currently working on a new animated series for Warner Bros. Animation, Justice League Action. I believe the premiere will be sometime this October 2016. Also I am finishing up work on a 7-episode sci-fi series called ATROPA. You can actually view the pilot (proof of concept) over at Vimeo if you search ATROPA. The third project I am on is a live-action pilot for Adult Swim, hopefully to be announced soon.
Any hints, tips or motivational speeches for the readers?
Don't get discouraged. It is a long journey and you have to be in it 150%. There are so many talented composers out there in the field at all levels of success. Also, two words come to mind, persistence and kindness. You must be determined to succeed but at the same time being super easy to work with and easy get along with. Lose the composer ego. Yes, you work alone most of the time in your studio creating your cues that you think are great, but film, tv and games are a collaborative effort. If you can't take criticism from the people you're working with, you are doomed. Nurture every relationship you create in the business. Musical talent can get you in the door but it definitely doesn't keep you there. If you have a style, by all means, run with it. Be YOU. Enjoy the journey and don't look for or expect the destination.
More composer interviews here.