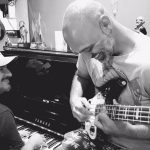 Find more about Reza Safinia and H. Scott Salinas @
Reza website: http://musicandtexture.com/
Scott website: https://www.hscottsalinas.com/
Reza IMDB: http://www.imdb.com/name/nm3252210/
Scott IMDB: http://www.imdb.com/name/nm1242185/
Reza Twitter: @reztexture
Scott Twitter: @hssalinas

H. Scott Salinas Brief List of Credits
Birth of the Dragon (UNIVERSAL), Cartel Land (A&E), City of Ghosts (AMAZON), The Ivory Game (NETFLIX), Murder in the First (TNT)
Reza Safinia Brief List of Credits
Birth of the Dragon (UNIVERSAL), Vital Signs (APPLE), Nude (STARZ), The Trust (SABAN FILMS), Mercy (UNIVERSAL PICTURES HOME ENTERTAINMENT)
Hi Reza and Scott, thank you for taking time and doing this interview. Let's start by introducing yourself and telling us a little bit about your background in music?
SCOTT: Thanks! I grew up in the U.S. Virgin Islands who I must mention sadly just got completely pummeled by multiple hurricanes this summer, bringing back all kinds of dark childhood memories. I taught myself to play the guitar at age 12 and by 14 I was playing lead guitar in reggae bands. At 17, I went to Princeton University and majored in music composition and that was my first guitar lesson as well as counterpoint and all the typical classical conservatory courses. For my thesis I scored a student film and I caught the scoring bug. I then followed up my education at Berklee College of Music in Boston and got a certificate in film scoring. And I've spent the last 20 years trying to unlearn all that stuff and just create freely but that's another conversation. My "big break" came at 26 when I won the Turner Classic Movies Young Film Composers Competition. The grand prize was they gave you a silent film from the 1920's and an orchestra and let you do whatever you wanted. So I got to write eighty minutes of wall to wall music to "Laugh, Clown, Laugh", (1928) starring Loretta Young and Lon Chaney, and my only boss was myself as everyone else who worked on the film was long since deceased and TCM gave me complete creative freedom. The best part was that my music became the official score of the film. That job got me my first agent, and then I was off to the races.
REZA: Hi thank you! – I've always played in bands since I was at school, and all types of music… My childhood obsession was Prince and I guess that's where I got my love of blending genres from. I got my professional start as a sound engineer where I worked with some of the most amazing hip hop artists of our time, and from there I got into producing pop music. I did that for a while, working with people like Kylie Minogue, but all the while I also made underground hip hop music. Then I got obsessed with classical music and decided to score films where I could use every aspect of my musical palette.
How did you get involved with the movie Birth of the Dragon?
REZA: I noticed the film on imdb, because I'm a martial arts fan and totally crazy for anything Bruce Lee. I noticed that Scott had worked with the director and editor before, so I called him to see what he knew about it, and we got talking about doing it together. We started off as music consultants on the film, cheekily temping it mostly with our own stuff! – so it worked out when everybody got temp love!
Can we get a little bit of the insight of your creative process while you worked on Birth of the Dragon?
SCOTT: First off, it was FAST! We had about three weeks to score the film from top to bottom and record orchestra and we spent every waking minute doing just that. George Nolfi would come to the studio at around 10 PM and stay till the we hours of the morning and Reza and I would show him themes and scenes – sometimes composing them with him in the room, and it was all very compressed but also very tight-knit. There wasn't time to be shy so we dove right in and didn't look back until it was done. Very hands-on and intense but also very effective.
How did you decide on who scores which part during the scoring process?
REZA: We did most of it together… we wrote all the main themes together at the start, and then at a certain point we had to divide the work to get through it under the deadline. We basically made a list of everything that needed to be done and we each picked the ones we were the most inspired to do, or the ones that were the quickest because they were based on ideas we already had sketched out.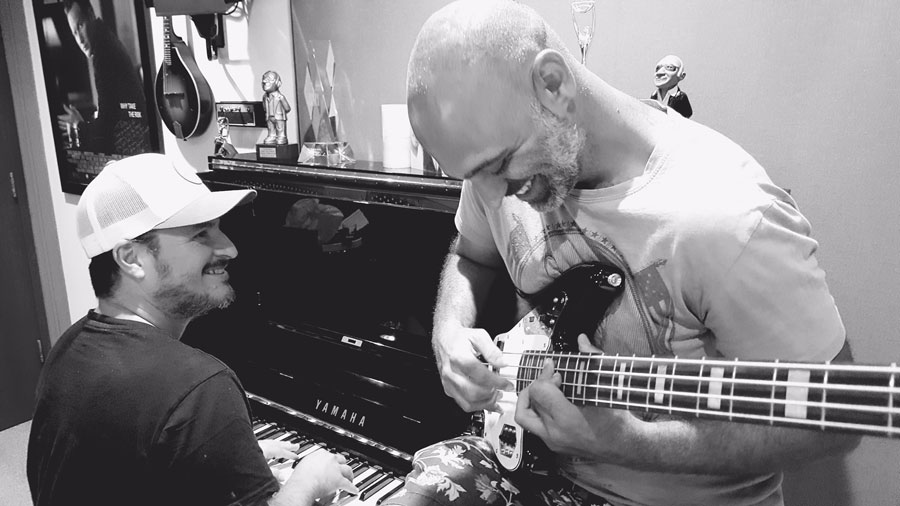 The fight scene between Bruce Lee and Wong Jack Man probably needed special attention. How did you approach the fight scene and what would you say were the key elements that made up the score?
SCOTT: Reza and I started working on that fight scene literally on day one and probably spent the better part of the entire scoring process constantly working on it. So the secret was to immediately dive into it and also break it up into sections and those individual sections had their own beats. It's about 12-15 minutes of straight score that has all these ups and downs and twists and turns so we just had to really break it up and map it out and attack it almost like building a house. First the detailed plans then the foundation then you start building from there.
The key elements of the score are
1) Giant drums of all kinds including western rock drums, western orchestral drums, eastern traditional drums, and all kinds of electronic processing of these three.
2) Big orchestra with strings and brass
3) Rock band elements, guitars, basses etc.
4) Chinese classical instruments, erhu and flutes.
Young Bruce we always thought of as rock & roll – visceral, powerful, masculine, but not fully developed yet. And Wong we thought of as ancient, wise, and sophisticated. His theme is often played with Chinese flutes or cellos and is very melodic and developed like the flowing water in a stream. You can hear the contrast between the two main characters throughout the score and the fight itself is a small microcosm of the entire score so it runs the gambit stylistically and thematically.
What would you say was the most challenging part of making the score?
REZA: The most challenging part was the timescale. We had three weeks, including traveling to Bratislava to record the orchestra. So really we had two weeks to write everything, and there was about 80 minutes of music! Fortunately we had each other. As far as creative challenges, the trick was to marry many different styles, action, electronic, orchestral, contemplative, Chinese, Erhu, flute, Drums, and do it all in a way that sounded like one seamless score. Scott and I work really well together, we have similar tastes in music but with different emphasis, and different specializations, so we both bring our own things to the table and both love hearing what the other brings, and that kind of turns the challenge into fun play.
This one is for the gearheads. What tools and technology are you currently using and why?
REZA: We're both using Strikeforce for killer drums. We used it in BOTD – our friends at Laboratory Audio created it and it is by leaps and bounds the most impressive and playable percussion library for Kontakt. I'm a real minimalist with gear these days, but I do love messing around with Reaktor and getting some really tweaky sounds out of it.
SCOTT: Srikeforce is an absolute game changer as Reza mentioned. This will become one of the biggest percussion libraries and we were lucky enough to be in early on it when they were still beta testing. We also did a tremendous amount of recording or musicians including ourselves and that became the real core of the sound of the score, whether it was giant drums, or orchestra, or guitars, or flutes, we almost always used an organic acoustic source for all our sounds even the most processed ones. So I guess you could say "humans" were the tools. I think I just called us tools. Oh well.
What do you think was the most memorable moment in your scoring career so far?
SCOTT: This year I won the Jerry Goldsmith Composer of the Year Award in Malaga, Spain, and that as an incredible honor, not just to be lauded but to have my name uttered in the same sentence with Jerry Goldsmith and not a sentence like, "Scott, why can't you just be more like Jerry Goldsmith". (LOL).
REZA: Recording the Hollywood scoring orchestra at Sony for the project I'm doing with Dr. Dre was definitely the apex for me. It was amazing to work with these incredible musicians for such an incredible project with someone I grew up idolizing sitting next to me in the control booth.
What are you working on right now and can you tell us more about that project?
REZA: I've just finished it, but I was working on a new TV show that was the created by Dr Dre. I can't say too much more about it right now, but it is listed on imdb….
SCOTT: In November I have a TV movie called "The Lost Wife of Robert Durst", starring Katharine Mcphee and Daniel Gillies that super dark and creepy and was really fun to score featuring lots of woodwinds which I feel are often neglected these days. And also in December, I have a very cool western distributed by A24 coming out called, "The Ballad of Lefty Brown" which stars Bill Pullman as the unlikeliest of heroes. This score is super gritty but also breaks into lush string melodies with real full orchestral recordings.
If you had any advice for composers starting off in the business what would it be?
SCOTT: The only way to become a film composer is to compose for films. So if you don't have any work, find a film, strip out the music, and do your own score. Keep working on your craft even if it's a pretend job. I have a friend, Matthew Atticus Berger, who scored "No Country for Old Men" which you will notice has no score. He had some downtime between jobs so he just sat down and scored the entire thing and took it very seriously and played it for his friends and family and even rented out a theater to do it and it was awesome and it's a calling card that he now has available. Practice by doing so when it's time to do you feel like you are prepared and understand the technology, the musical vocabulary, how to compose and develop a theme, and maybe start to understand what really makes you tick artistically.
REZA: There's no magic way, you kind of have to figure it out as you go along, so I'd say it helps to be persistent, authentic to yourself, and if you can make money doing other stuff in the beginning it'll free you up to make more artistic choices about your career that will pay off later. But if you can't that's OK too – bills need paying! – but I've always found that the jobs that benefited me the most in the long run didn't pay me the most at the start.
More composer interviews here.