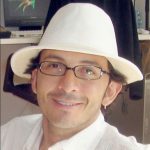 Find more about Michel Marchant @
Official website
Facebook

Brief list of credits
T.E.R.A / Video Game / Creature Sound Design, Army of Two 40th Day / Video Game / Additional sound design Co-op version and Additional Cinematic Sound Design, LeBron James Striving for Greatness, Nomads: Sea Gypsies, Cirque du Soleil Dreams of 'O'
Hi Michel, thank you for taking time and doing this interview. Let's start by introducing yourself and telling us a little bit about your background in sound?
Hello Zdravko, thanks for inviting me for this interview.
My name is Michel Marchant, I'm a Chilean / Canadian sound designer that has been creating and recording sounds for more than 20 years.
I started my career doing post-production sound for Television, mostly advertising, in Chile and then in Mexico. At that time I started using a software called "Sound Designer" where you have only 2 tracks and the editing was done using regions and a playlist, also I used the first Fairlight MFX3 that arrived to South America in those years. Then we started using first versions of Pro Tools, we had the luxury of 4 tracks!
After 10 years of doing Television I decided to move to Montreal, Canada, with my family and I did 10 years of sound design for video games. I had the luck to work for many different projects from MMORPG's, to FPS, lots of iOS games for children, etc. My first recorder was an Edirol R-09 that we bought at the company.
Then I did 2 years of sound field recording and sound design for Virtual Reality experiences for Felix & Paul Studios through the audio department at Headspace Studio. There I had the luck to work alongside VR audio pioneer Jean-Pascal Beaudoin. I learn a lot at Headspace during my 2 years with them.
This year (2017) I have decided (for personal reasons), to spend more time doing sound libraries for my company BONSON, and to work as a freelancer.
Let's talk about your recently released sound effects library called STOMPS. How did you come up with the idea and could you share more information on how you planned the library?
I think "STOMPS, Creature Footsteps" was a natural continuation of WINGS. ( We have the Wings, now we need the Foots. ) It took me nearly 2 years to find the time and energy to start producing this new library. I think I saw the potential in having a creature oriented footsteps sounds pack, and I like to challenge myself with new original sound libraries.
How much time did you spend recording and editing sounds for Stomps?
I spent 4 full days of Foley recording, 3 at the studio and 1 in the forest. We had a lot of fun with my friends and close collaborators Jo Caron ( Foley Mixer that has more credits that I can remember ) and Guy Francoeur ( Foley Artist ).
I have been working with Jo for a long time now and it is always a pleasure to work and to have his many years of experience at my side, same thing for Guy.
The editing took more time than I expected, around 4 months of part-time editing, plus 2 months of full time editing. The amount of material we recorded was huge, with multi microphones and several variations. I spent a lot of time cleaning the forest recordings and hearing track by track the best options and keeping everything organized and well edited, just the way I like it.
How important do you think was the microphone choice for recording the source sounds?
We tried many different microphones, mostly Sennheiser mics. Jo Caron knows very well his microphones and I know very well mine. We try all of them and we keep the ones that worked better for the props we were recording. I tried my Aquarian Hydrophones several times using it like contact mics or buried into the ground, but I ended up not using them too much. I keep a lot of recordings with my lovely Sennheiser MKH 8040, it is a great mic that gets lots of lows, but is also stellar on the highs.
Do you have any interesting stories that happened during the recording?
A friend of Jo Caron lent us his magnificent chalet close to a lake and we moved there very early with all our portable gear to start the recordings. Jo was always telling Guy to use his "Saftey Glasses" because in some cases we were hitting wood and rocks and lots of debris were all around.
Just at the end of the day, probably the last takes we did for wood, Guy was torturing a big tree trunk and Jo got close and said something like "Let me try this one" and grabbed the trunk and suddenly it broke and a second after Jo had something that looked like a big wood splinter that was piercing his closed eye, directly under his eyebrows though his eyelid. Blood began to spill.
Guy and I told Jo "DON'T MOVE", Guy run to the car and took a first aid kit and started checking how bad was the thing. FORTUNATELY the splinter did not enter into Jo's eye, it was some millimeters up, and Guy was brave enough to take it out and put some bandages in his eye.
We all learned the lesson. We were so exited recording that we completely forgot the security for just one second, this could be a really bad thing, thanks God we finished the day happy with our recordings and happy nobody got badly injured.
"Wings" is another of your popular libraries. What do you think was the most difficult part of recording and editing sounds for Wings?
WINGS was my first library and I had no idea what to expect. I just knew that I wanted something especial and very original and at the highest quality possible. At the time my references were BOOM Library and SoundMorph for the quality I was aiming at.
The recordings were not special difficult, but time consuming, because we were testing lot of props to see what worked and what not. Once we found a good prop, we started finding the right microphone and the right position, then we started playing with the prop and trying to get interesting and evocative sounds from that prop.
Because we did so many takes and we tried so many props, the amount of material was huge and I spent lots of time choosing the sounds that worked best. Editing is always the most time-consuming part and I spent lots of hours cleaning, and trying to get the best of our recordings, I was alone doing this.
After I was done with the editing, it was time for Metadata, this is a very important part of the process and luckily I could count on a friend who is a sound effects editor and I call him my "Metadata Master", his name is Paul Col. We discuss in advance what we like and what should be the structure of the names for WINGS, we did the same thing for STOMPS.
This one is for the gear heads. Would you mind, telling us a bit about your technical setup and the gear you're using (Hardware, Software)?
My technical setup is like follows:
MS System:
Sennheiser MKH 8040
Sennheiser MKH 30
Rycote Windshield Kit AE
Shotgun System:
Sennheiser MKH 416
Hydrophones: 3 Aquarian Hydrophones H2a-XLR ( 9 Meter cable )
Binaural Microphones: Soundman OKM II Classic Studio Solo omnidirectional electret binaural in-ear microphones.
Sound Professionals MS-TFB–2 binaural in-ear microphones.
Recorders:
Sound Devices 702T
Sony PCM-M10
Backpack:
Think Tank Airport Commuter
Software-wise I'm using the following:
REAPER, Battery, Isotope RX, Waves GOLD, Soundminer, and several other plug-ins.
Do you have any tips for aspiring field recordist and sound designers?
I would recommend to them to start recording as soon as possible your own sfx library. Buy a portable recorder ( SONY M-10 is great for the price ) and start building your own sonic kingdom. The better you know your own sounds, the better you will be able to find them and to work fast and efficiently and to have your our sonic signature.
Know very well your DAW, and keep learning new tricks and best ways to do things. I personally use REAPER ( I was a Pro Tools User for about 20 years ) and I have to say that I could not be happier. Pro Tools is great for certain things, but for sound design and sound effect editing I think REAPER is a game changer.
The quantity of things you can do with it is overwhelmingly impressive. Just to mention some ( item randomization, aligning items instantly, instant normalization, organize items by length, organize items by RMS, instant pitch down or pitch up, ability to have multiple sessions open at the same time, video editing options with zoom In, zoom out, etc. ) Add to this the growing community of people creating scripts to expand the functionality of REAPER and you get a beast for sound design.
Also there are many great resources in the internet to keep learning new things, like for example the excellent REAPER Blog, ruled by Jon Tidey and the many instructive tutorials done by Kenny Gioia, just to name some.
Do things for the pleasure of learning, money comes as a consequence of this.
More sound designer interviews here.