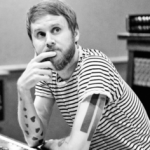 Find more about Ben Lovett @
Official website

Brief list of credits
The Ritual, Black Rock, The Signal, Synchronicity
Hi Ben, thank you for taking time and doing this interview. Let's start by introducing yourself and telling us a little bit about your background in music?
Sure, I grew up in a small town in middle Georgia and was about 17 before ever picking up a guitar and trying to figure out how it worked. I didn't grow up around musicians and didn't met anyone who played an instrument until I got to high school. I discovered punk rock around the same time which probably resulted in the eventual epiphany that when you don't have a teacher, teach yourself. I moved to Athens, GA in the late 90's to attend the University of Georgia and became increasingly obsessed with sound and recording techniques. I started spending my tuition money on recording equipment and microphones and would skip class to record bands around town. No one was recording on computers at that time yet so if you had the gear generally speaking people assumed you knew what you were doing with it. I did not of course, but it was an entry point into everything going on there and it became the basis of my education in how to record and produce music. I wound up scoring my first film in Athens and through that experience was introduced to an ambitious young filmmaker named David Bruckner.
How did you get involved with the movie The Ritual which was directed by David Bruckner?
David sent me the script when he first came onboard the project. It's been 10 years since we collaborated on "The Signal" and we've both wanted to saddle up on another feature together ever since. The production was based in the UK and David didn't have the authority to hire anyone but he told Andy Serkis and the other producers at The Imaginarium that he really wanted me on the project, which he figured would at least get me a meeting. A few months later I happened to be passing through London on my way to the World Soundtrack Awards in Belgium when I got the call about that meeting. I was nominated for one of the awards so those were pretty good circumstances to be passing through town I guess. Timing is everything. The meeting went great, I laid out my ideas for the score and after a few more phone interviews I eventually got the call to pack my bags and head to England.
Can we get a little bit of the insight of your creative process while you worked on The Ritual?
I did the entire thing in London, which had a significant impact on the process. I didn't have a familiar network of musicians or studios there so I had to figure out the logistics of creating the score at the same time I was trying to unwrap it creatively. Between meetings with David or the producers I would be in the studio writing or beating the street checking out studios, meeting arrangers, musicians, engineers, etc. One of the first things David and I discussed musically was a need to establish the presence of something else out there with them, well before it's ever onscreen. Crew members shaking tree limbs off-camera only gets you so far and he knew this was where the score would need to carry that aspect of the story early on. I started bringing musicians into the little studio I was renting to woodshed some ideas and cooked up a series of free-form pieces exploring different ideas for what would be our "stalker" theme. David instantly latched onto something he heard in one of them and that was our starting point. We've known each other 20 years so there's a short-hand to our communication – he trusts I'll understand what he wants without having to explain it too much. We have a common intuition about storytelling and he mostly encouraged me to just run with my instincts.
What would you say is the most important thing when making a horror score?
Stick to the story. Understand that you're ultimately making a movie about emotions. Regardless of how scary your monster is, or how much violence or gore you throw at the audience, they won't care if they aren't invested in the characters. And you don't always need the music to describe what's happening onscreen. In any genre, score is a way to communicate something relevant to the story that can't really be written, spoken or filmed.
A lot of the movie is happening in the forest. How did you decide what instruments to use to create that eerie environment?
Yeah the landscape plays a big role in the story. Nearly every shot is external so that gave me some direction right from the start. Bruckner really manages to get more on camera that just what's in front of it. He and (cinematographer) Andrew Shulkind did a phenomenal job invoking a specific feeling in the image. I wanted to draw that feeling out and it felt natural that we would focus primarily on an acoustic palette of instruments. The only time synthesizers are used are in the dream sequences and the recurring theme surrounding the death of their friend. It was just an effective way to keep those threads on a different emotional plane from everything else that goes on in the physical environment of the woods. I knew it all needed to be organic, but I think organic is more in the way music feels than sounds.
What would you say was the most challenging part of making the score?
London in the Winter. This project was definitely an endurance test for me, and in many ways it was the most challenging of my career. It was a brutal amount of material to tackle in the time provided and I was thousands of miles from anything or anyone familiar. At that point I guess you make a choice whether you're going to measure expectations and protect your own personal well-being, or run screaming into the fire and try to make it out alive. I never really feel like that's a choice because I only know one way to work – no matter what the time or resources it's always full throttle, hells bells, work as hard as you can until they take it away from you. It was essentially weeks of sleep deprivation compounding into a general state of constant panic and schedule-induced anxieties and all of that absolutely informed the music. In a horror/thriller you hope to try and channel that anxiety into the work, but really, you can't keep it out.
This one is for the gearheads. What tools and technology are you currently using and why?
I use whatever I can get my hands on. I try not to be too reliant on any specific tool or get too caught up in gear. That said, I probably would not have a career doing this without Pro Tools, I've been using it since version 2 and it's like a second language to me. Everything starts there and winds up there. "The Ritual" is mostly orchestral so I was using Kontakt libraries to write and reference with, then charted that stuff up for the orchestra to recut. I also tinkered around in Ableton Live for the first time on this score, just experimenting with it as a writing and arrangement tool, bouncing things back forth to Pro Tools. Curiosity has always been an effective motivator, so I try to add one element like that to the process that's unfamiliar to me so there's an unknown, a wild card.
What do you think was the most memorable moment in your scoring career so far?
Well I'm 20 years in at this point so it's hard to remember them all. I can tell you the most memorable moment on this project was going into British Grove studios and recording the score with the London Contemporary Orchestra. They're exceptional musicians and once they came onboard I knew we had a chance to get lightning in a bottle. The LCO has a unique voice and they really elevated the material. Recording with them was a fantastic experience and one of the great privileges of my career.
What are you working on right now and can you tell us more about that project?
I just wrapped "Tommy", an ESPN 30 for 30 documentary about late heavyweight boxing champion Tommy Morrison and his battle with HIV. It's my first feature-length documentary and the story is full of twists and turns that are inspiring, frustrating, entertaining and heartbreaking. I also scored a narrative feature called "American Folk" that follows two characters trying to get across the country in the days after 9/11. I'm on a thriller now called "The Dark Red" then jump right onto a documentary called "Stuffed" that explores the strange and unique world of taxidermists.
"Tommy" airs September 27th at 8pm ET on ESPN2 and is available now on the ESPN streaming app; American Folk comes out theatrically on January 26th.
If you had any advice for composers starting off in the business what would it be?
It's a business of relationships, make as many as you can. Don't chase perfection, in terms of your career it's more valuable to finish things than to get them right. Don't try to be good at everything, nobody is. Figure out what you like then make things you want to hear, and put them out there for people to find. Because contrary to popular belief, it's not who you know, it's who knows you.
More composer interviews here.