After the success of Strezov Sampling's (SS from here on forward) Storm Choir 1, SS decided to go back to the studio and do a sequal to the library. They asked their fans for help and raised 16566$ on Indigogo for the production of the library. This is one of the first libraries out there, that was produced with the help of crowdfunding.
Here is what SS say about Strom Choir 2 (SC2 from here on forward):
"Storm Choir 2 is a 12-piece chamber choir with focus on a slavonic molto vibrato tone. Comprised of six men and six women, recorded separately, the ensemble features singers from Bulgaria's finest choirs, including the National Radio, Sofia Philharmonic and the Academic Choir."
SC2 will take 70GB of your disk space and runs in Kontakt 4.2.4 or higher.
CONTENT AND SOUND
Don't be fooled by SS marketing SC2 as a "chamber choir", since the sound is absolutely massive. Storm Choir 2 can more than just compete with similar sample libraries, that have recorded much bigger choirs. You can clearly hear, that SS has taken great care in picking the finest singers for the recording of thier library. Also have in mind, that while they have recorded "only" 16 singers, you will be getting a lot bigger choir while playing chords with the sustain and staccato patches. For example if you will play a 3 note chord with the men's staccato patch you will hear an equivalent of 18 singers (6 singers x 3).
All the patches come with seven mic positions (Close, Section, Decca, Outrigger, Balcony, Rear Overheads, and Mixed). For the demo track I composed (see below) I used the default mix setup.
The downloading of the library is a bit tedious since you have to manually download over 30 .rar parts. But I have been informed, that Strezov Sampling is working to find a better solution for the downloading of their libraries. I had some issues with the downloading process, but the SS support team helped me out in no time. Let's take a look at the individual patches.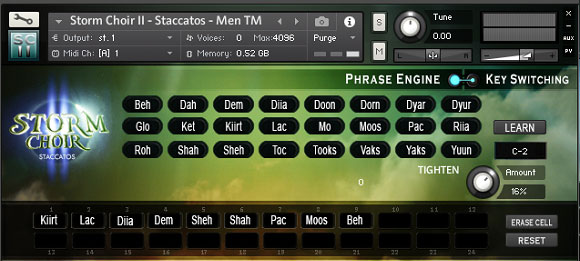 CORE PATCHES:
Men Sustains (Marcatos) PP, MF, FFF & Women Sustains (marcatos) PP, MF, FFF
The sustain patches are generally very nice, but might not be suitable for all kinds of writing. Since the singers they have recorded are opera professionals the sound has a distinct operatic vibrato. This is of course great if you are writing big orchestral compositions or epic trailer music, but might not be the best for lyrical or more emotional music. Even the pianissimo samples have a certain harshness to them because of the intense vibrato of the singers.
You can choose between 24 different Slavic sounding syllables, that are accessible through a phrase builder or through key switches. The syllables are very much to my liking and have a very unique sound, that is quite different from the typical Latin sounding syllables we are used to in most sampled choirs.
Men Staccatos PP, MF, FFF & Women Staccatos PP, MF, FFF
This is where the library really excels! The staccatos are very intense, bright and are perfect for epic orchestral music writing or trailer music productions. If you are still searching for a good staccato sampled choir, you will not be disappointed with the Storm Choir 2 staccatos.
The sustain and staccato patches also have a "tighten" knob, which shortens the samples so the attack is more prominent. This is of course a very useful feature, since every syllable has a slightly different attack. Often you will find yourself shifting your choir staccatos slightly to the left of the beat, to have their attack be in time. The tighten knob helps with getting SC2 in time, but is still not perfect. Even with the use of tightening, I found myself shifting the samples. But this is practically a must with using any syllable sampled choir.
Men Ah Legato MF-FFF & Women Ah Legato MF-FFF & Men Oh Legato MF-FFF & Women Oh Legato MF-FFF (only in expansion)
The legatos are also very nice, but as the sustains, they might not be the best for all type of productions. So, if you are searching for intense wide vibrato legatos, search no further. But if you like your choirs to sound more "angelic", these legatos might not be for you.
EXPANSION PATCHES:
Men Atonal Sustains PP, MF, FFF & Women Atonal Sustains PP, MF, FFF & Men Atonal Staccatos PP, MF, FFF & Women Atonal Staccatos PP, MF, FFF & Men rises and falls & Women rises and falls
Great for creating tension and FX. It is not a very big collection of FX, but the FX, that are in the library are definitely very thought out and can be used in various ways.
24 Men Whispers – 24 Women Whispers
It is always great to have some whispers in your arsenal!
Solo Soprano Ah Legato & Solo Soprano Staccatos & Solo Soprano Sustains & Solo Tenor Staccatos & Solo Tenor Sustains
Both the male and the female soloist legatos and staccatos are a nice addition to the library. They can of course be used as soloists, or can be used as layers with the choir patches to add some depth. Again, the soloists they have recorded both have a strong operatic vocal, that might not be suitable for all types of music, but in the end you can never have enough different solo vocal samples in your personal library collection.
GRAPHIC INTERFACE:
The GUI is nothing special, but on the other hand its sleek and easy to use. In the "performance" tab you will find the phrase builder (with the staccato and sustain patches) and a "tighten" knob. There is also a "reset" and "erase cell" button. Do not be mislead, pressing the reset button does not reset the starting playback position of the phrases, but deletes all the cells. I made this mistake a few times and had to redo all my phrases. I do miss a "reset phrase starting position" button.
In the mixer tab you will be able to mix between all the mix positions. There is also a "stack" button which layers additional samples on played notes. It basically fattens the sound.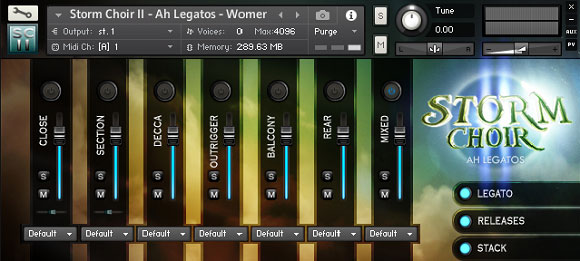 PRICE PERFORMANCE:
The price of the library is $469 (aprox. 426EUR or 303£) which I do not find, that much for a library of 70gb of samples. For the amount of content it actually prices lower then other comparable sample libraries on the market. You can also buy the CORE or the EXPANSION seperately.
CONCLUSION:
For anyone, that is looking for a big and epic choir library, that has a good bite to it, this library surely will not disappoint. The only down side of this library really is, that it lacks the "soft" choir sounds we all enjoy. But truly, this is not the point of Storm Choir 2, since I believe it is aimed towards the creation of more epic music.
Screenshots
Storm Choir 2 Complete review
Content
Versatility
Performance
Sound Quality
Playability
Price performance
Pros
Great sound
7 mic positions
Very easy to use
Cons
Tedious downloading process
Might not be good for writing more emotional or lyrical music