Stomps, creature footsteps as the name suggests is all about the creature footsteps, from small to big from otherworldly to mechanical. The library is split into three categories. First you are presented with the designed sound effects which are in my opinion very well designed but we will get to that later. Second, you get all of the source material that span from metal nail sounds, sponges, rattles, boots to folding wheel chairs, boxing gloves and so on. Quite a remarkable selection of sounds in the source category. Third, you also get texture sounds which serve as sweeteners for the footsteps. Again there are hundreds of sounds here.
One thing to note is that all of these sounds are delivered as single files, so if you prefer multi take files this might disappoint you. The library also comes in two versions (96 kHz and 192 Khz). The difference between them is around 50 bucks.
As far as content goes you surely won't be disappointed.
Sound
Stomps sounds natural as if Bonson recorded creatures themselves. Each material in the source folder was recorded in five sequences (more or less). You will find 2 leg runs, 4 leg gallops, trots and walking sounds. Sounds seem really clean without any noise in the high end or extra muddy areas in the low end. The designed category is fantastically designed and really inspiring. There are several designed creature types. Big monsters have meaty low end with various sweeteners and small creatures have short, tiny and sometimes even comical sound. Textures again sound great and can be used for other things too.
When you listen to the sound effects of Stomps, you get a feeling that it was done by a professional.
Metadata
Another example of where this library shines is its metadata. It's clear, concise and to the point. For example, it starts with the footsteps, followed by type of creature (when browsing designed sounds) and followed by what type of sound it is (Walk, heavy, loose, etc). The source files and textures follow the same pattern with the addition of what kind of sequence it is (single step, 3 step sequence, etc.). Again, the metadata is made the way I like it and since all of this is really subjective, you might feel differently about metadata.
Below are the images from Metadata Touch, Reaper and Soundly. You can then judge for yourself.
Example
In this example I used recorded a small portion of Injustice, Gods Among Us game to show you how the STOMPS sound. Like with previous examples, there was no extra editing beside layering and volume adjustments. For this example, I focused more on big and beefy footsteps.
Bane footsteps – sounds from the designed category along with additional layers from source and textures categories.
Solomon Grundy – Two designed sounds mixed together.
Lobo – Three source files mixed together. Main sound is from ski boots category.
Lex Luthor – Three designed sounds mixed together.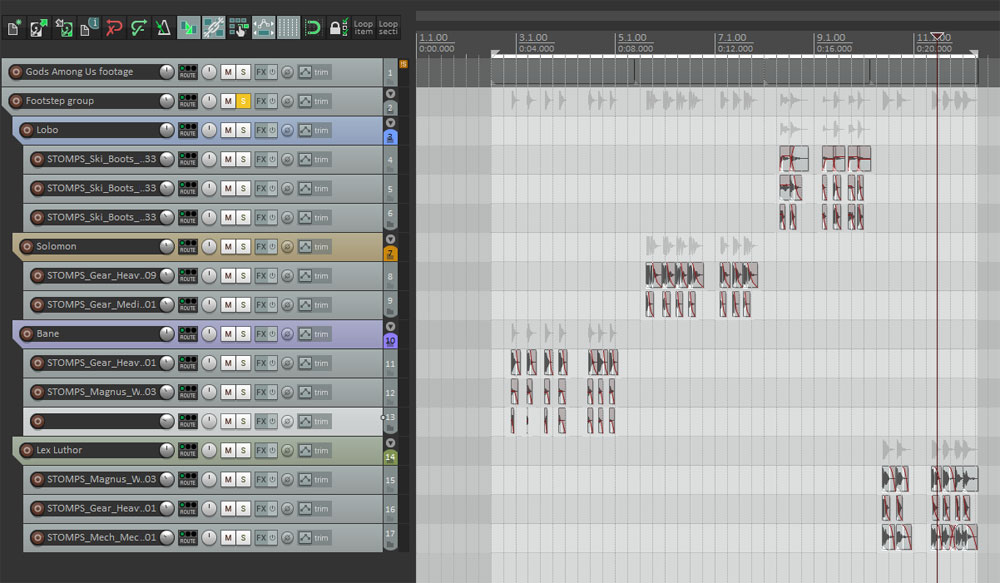 Conclusion
Stomps is one of those rare libraries that just inspires you. It features great variety of well recorded and designed sounds that should keep you going for some time.
The library retails for $299 for the 96 kHz version and $349 for the 192 kHz version. It is a bit steep but based on the amount of content and the way it sounds and is recorded with good metadata, I think it is well justified.
You can find information about our review ethics
here
.
Check out other Audio Spotlight
reviews

Stomps, creature footsteps review
CONTENT
VARIETY OF SOUNDS
SOUND QUALITY
METADATA
VALUE FOR MONEY
Pros
Fantastically designed and recorded sounds
Metadata
Variety of sounds
Cons
Price for the 192 kHz is a bit steep
Some may find single sounds annoying to browse