BML Bone Phalanx are part of the Spitfire BML (British modular library) and Phalanx brass series. This 9.6 GB library consists of an epic choir of 3 tenor, 2 bass and 1 contrabass trombone playing in unison. As most of the Spitfire instruments, Bone Phalanx were recorded at AIR studios (where Hans Zimmer and numerous other top composers record) with superb London musicians. AIR Studios has a really nice & bright almost 3s long reverb. The acoustics of the hall are so iconic, that AIR Studios have never let anyone sample its main studio's Impulse response. The sound of Bone Phalanx trombones can easily match the trombones you hear in Inception or Pirates of the Caribbean.
Content and sound
The library has all your typical (shorts, sustains, legatos, rips, ect.) and less typical articulations (rips, multi-tongue, cuivre, ect.). You are able to mix between several microphone positions, but the Jack Jackson mixes are probably your to-go settings.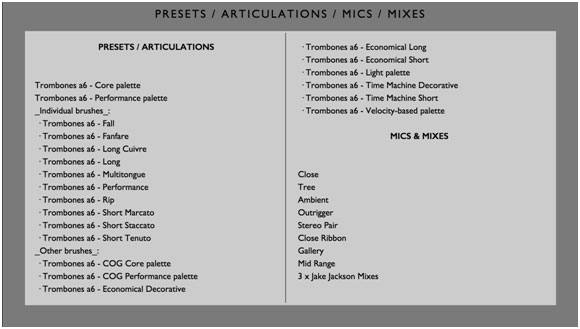 The patche you will probably use the most is the COG Core palette patch, which holds all the main articulations. You can switch between them via keyswitches. The GUI also shows you which articulation you are currently using.

NOTE: I have had quite a few problems with the COG Core palette patch. Although I am running the latest version of Kontakt (5.5.0) and have a behemoth of a PC, this patch caused clicks, pops and even slowed down my DAW. I wrote to Spitfire support and they have responded to my support ticket in 24h. They are aware of the issue and are working on resolving it.

The Performance palettes are also very useful and consists of a legato patch, which works extremely well and is one of the most "live sounding" trombone legato virtual instruments I have ever used. Without much hassle you will be able to record very realistic and powerful lines. In this patch you also have a fanfare articulation that is also very well scripted and usable.

Now lets get to the real deal of this library; The SOUND! It is bright at the high velocities and warm at the low ones. The AIR Studios reverb gives the trombones a unique sound. The velocity layers are consistent through the range of the instrument. It is just pure fun to loud up the staccato patch, which has 8 round-robbins, and play some"zimmeresque"chords. I was immediately inspired when I first loaded up this patch. Although we have 6 trombones playing in unison, they still work great with sustain chords since they do not sound like 18 trombones playing together. The voicing works very well with the sustains (especially with the low velocities).
Graphic interface
The GUI is very intuitive and consists of the main window, settings windows and an additional ostinato and chord builder window. On the main window you can select your desired articulation, adjust the dynamics, expression, tightness (very useful) and release. You also have a quick Room-close mic mixer, which I found pretty redundant and hard to use, since even the slightest adjustment of the fader drastically alters the sound. Luckily you are able to adjust all the mic positions in the settings tab. The ostinato builder is fun to use, but needs time to get the hand of.
Price performance
The price of the instrument is 149£ (208EUR, 232$) without added tax. As we are used with Spitfire, this is quite expensive for most users. But Spitfire products are aimed at professionals. The company also prides itself in creating virtual instruments recorded with the best London musicians in the best possible hall (AIR Studios). If you are still searching for a great trombone library, or you just want to upgrade what you already use & have the money to spend, I really suggest throwing in the bucks for Bone Phalanx. Spitfire also have a BML Epic Brass bundle (Horn Phalanx, Trumpet Phalanx, Bone Phalanx) for 339£ (475EUR, 530$).
Conclusion
I own many brass sample libraries and with no doubt this is the best trombone library I have used till now. Bone Phalanxs one of those virtual instruments you load up and can immediately start composing without spending a lot of time tweaking, eq-ing and learning the ins and outs of itsgui. Just loud->play->get inspired->enjoy-> compose.
Spitfire BML Bone Phalanx review
Pros
Extremely good sound
Great legato & sustains, great staccatos, marcatos, ect
Can achieve a soft & warm sound & massive, big/brassy trombone sound we all love
Cons
Expensive for most potential buyers
9.6GB of disk space required (a lot for one instrument)