When I first saw, that Spitfire is going to release another string library, I thought to myself: "Oh no, why another strings library?". But as soon as I saw the walkthrough video by Spitfire of the product I knew this was something unique.
For this library Spitfire joined forces with the London Contemporary Orchestra which has worked with the likes of Radiohead and Jed Kurzel (Alien: Covenant). Winner of the Ensemble category at the Royal Philharmonic Society Music Awards 2015, the London Contemporary Orchestra has established itself as one of the UK's most innovative and respected ensembles. As you can now see, this is no ordinary string library, since it explores the more contemporary and experimental sounds of string instruments. Let me show you what London Contemporary Strings (LCO from here on forward) have to offer.
Content and sounds
For LCO Spitfire has recorded violin, viola, cello and bass sections at their dry London scoring stage (a big difference from most Spitfire library which have been recorded at Air Studios). The most exciting part of the library is the array of extended string techniques it has to offer. Most string FX libraries I have tried lack playability, but in LCO all the sounds in its pallet are surprisingly playable! The overall sound of the library is very raw and in your face. It sounds surprisingly real as if though the musicians are right in front of you playing. You won't get this experience with most other libraries!
For each articulation, you have:
• 2 mic positions, Close and Room
• 2 individual stereo mixes, Full and Pumped
• 2 additional, printed analogue FX
• Integrated reverb, matched to the room, with control on the GUI
You can check out the full list of articulations here:
• The library is also very useful for sound design! Bellow you can find out how I created a nice Hit with the use of Basses + Celli – Short Percussive Pizzicato and Basses + Celli – Long Slackened patches.
Mixing LCO with other string libraries produces very nice results as well. Listen to the examples bellow. In the first example, you will hear LCO violins longs on their own and then Spitfire Symphonic Strings longs on their own and later combined. In the next example, I will do the same thing but with the short articulations. I used a bit of Slate Digital Verb Suite Classic for the reverb, to blend both libraries together better.
Longs mixing with Spitfire Symphonic Strings test:

Shorts mixing with Spitfire Symphonic Strings test:

Favorite articulations
Short Vivid Spiccatos
The Short Vivid Spiccatos can be found in all the instruments. And yes, this is not really an extended technique, but the vivid shorts spiccatos have become my favorite spiccato samples I own! They are so raw, powerful and aggressive on the high velocities. On the high velocities you also get cool open string sounds playing. This really adds to the realism, since the players really dug into the string while playing these intense dynamic notes!
Vivid Longs
The Vivid Longs can be found in all the sections as well. They are extremely playable and as I mentioned before, they work wonderfully to beef up you existing string legato samples. Their nice close sound really gives you an up and personal feel. Add a pinch of reverb and you are all set!
Long Woozy Vibrato (3 versions: quick pulse, slow pulse, unmeasured)
The Long Woozy Vibratos are just fabulous. The string players played a very wide vibrato on these samples which creates a nice and spooky feeling. The example bellow is taken from my test track (listen to the whole piece on the bottom of the review) where I take the Long Woozy Vibrato slow pulse violins and make them play a high cluster.
Basses + Celli – Short Percussive Pizzicato and Basses + Celli – Long Slackened
The Basses + Celli Short Percussive Pizzicatos are the kings of all Bartok pizzicatos! Bartok pizzicatos are performed in a way where the players lift up the string and then release it so it hits the fingerboard of the instruments, thus creating a percussive sound. I did a nice HIT sample in my test using both of these patches.
I recorded several of these pizzicatos on a low C not and layered them on top of each other. I also layered the Mondo Plucks patch from Spitfire Masse. I then pitch shifted one of the pizzicato samples an octave lower and removed the high frequencies to create a BOOM. I also reversed one of the Short percussive pizzicato samples to create a whoosh. I then added Basses + Celli – Long Slackened too fatten up the whoosh even more. This is what I came up with! I think it's a pretty nice Whoosh Bang HIT.
Graphics Interface
Users of other Spitfire libraries will already be familiar with the GUI and will be able to delve right into it. New users won't have a big problem, since the interface is as straight forward as it can get. On the main page you will be able to select your articulations, tweak the vibrato (on the long articulations), dynamics and reverb of the samples You also have a handy easy mix fader which fades between the close and far mics and also two custom FX channels and two mix channels (Full mix and Pumped mix). By clicking little wrench icon on the left hand side of the GUI you can open up additional settings and adjusted round robins and extra functions. You should also try playing around with the Ostinatum which is not really an arpegiattor and not quite a sequencer. Spitfire says about Ostinatum: "This intuitive device allows you to build up complex patterns that react to your playing to achieve wild systems results tantalising Zimmeresque tension beds or cheeky multi-tonguing effects!" All in all GUIs don't get much more straight forward than this one.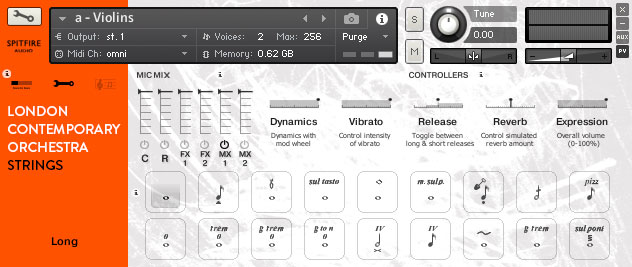 Price performance and conclusion
LCO retails for 359 EUR + VAT and is thus one of the cheapest Spitfire instruments. Spitfire does offers a 30% discount for students and teachers, so they can have a more easily affordable way to buy their products.
I must say, that the price is really nice for the amount of content you get. Not only that, but the library is just superbly produced and offers so much versatility. It is great as a solo product or as a combination to your other string libraries. Sound designers will also come to love this product. I came to this library thinking, that It won't really do the trick for me, but after playing around with it and testing it out, I must say this is one of my favorite libraries at the moment. I think Spitfire did an amazing job with it and have set a new standard in the world of extended techniques sampling, since they made them playable and easy to incorporate into your compositions. Spitfire really hit the ballpark with this one!
Test Track
You can find information about our review ethics
here
.
Spitfire Audio London Contemporary Strings review
Content
Versatility
Performance
Sound Quality
Playability
Price performance
Pros
Amazing array of sounds and samples, Raw and "in your face" sound
Although the library aims at extended string techniques the "normal" long and short articulations are superb
Great of sound desing or mixing with other string libraries