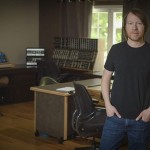 Find Bill Brown @
Official website
Brief list of credits
CSI: NY, Dominion, Layover, Brother's Keeper, The Devil's Tomb
At what moment in your life did you realize you wanted to be a composer and what steps did you take to get to where you are now?
I can't really remember a time when I wasn't doing something with music… I've been creating music most of my life in one form or another. When I saw Star Wars and heard John Williams's music for the first time, I knew that was what I wanted to do! I've been working on music all my life. I practiced writing songs and recording throughout high school, have a degree in film scoring from Berklee College of Music, and spent countless hours (probably even more than the infamous 10,000 hours) throughout my life working on music through the nights for myself and then for friend's projects, and then soon after moving to LA, on triple A games, tv and films. I've always strived to do more, to write an even better theme, to perfect the mix, to connect everything with the perfect sounds. Throughout my life I've been striving for more in everything I do, and I still do to this day. I was reaching for dreams early on, and now it's similar to that, but I'm reaching to take it the next level for myself and for the project. There are still dreams, but it's a different thing when you've had such a wonderful career. I remember saying in past interviews that my most recent cue is usually my favorite, and I'm still happy to say that it's still often the case today.
How did you become the composer for one of the most acclaimed Network franchise dramas ever, CSI: NY?
I specked a Budweiser commercial for a director named Deran Sarafian back in the late 90's, then scored a film for him called "Trapped". Several years after that, in 2004 he called me in to meet with Anthony Zuiker and eventually to score the pilot of CSI: NY… and the rest is history. :)
Any anecdotes or learning experiences from your time working on CSI: NY?
I tried to approach every episode from a fresh perspective with CSI: NY and bring something new to it. I created a "sound" for the show which included a complex, layered style of writing and recording guitar, synths and orchestra that became the signature sound, and I also worked hard to come up with something unique for each new episode as they were often stand-alone procedural mysteries and needed their own musical theme to take them to the next level. That really kept it exciting and interesting for me through the nine seasons. There were some great threads during those nine years where a handful of episodes were connected allowing me to take a big idea and work it through several episodes at a time. It was an incredible opportunity all around and I'm so hugely thankful for all of those experiences.
You are currently composing for Syfy's Dominion, what can you tell us about that? What will you be bringing to the new season?
I am having so much fun with this show! Honestly, like the most fun. It's such an incredible opportunity. The whole crew is so incredible. I'm working with my old friend Deran again finally, and with Vaun Wilmott (the creator of Dominion) who I love. I think the fact that I came into it with so much enthusiasm made a big difference in how the score evolved and where it is now. Right out of the gate, just after meeting with Vaun I woke up the next morning with ideas for three big themes and ran into the studio to get them in. It was insane! Michael's Theme, Alex's Theme (The Chosen One) and Gabriel's early themes all happened that day. And we're having so much fun with it all. There's so much material now. You just have to watch Season 2 to understand. I'm so excited to be writing themes, using modern orchestration concepts, and also recording rock guitars, electric and acoustic cello, ancient winds – everything together connected by these themes. It's just an amazing opportunity. I'm only four episodes in and I'm ready to release a Dominion Season 2 soundtrack already!
You're also known for being a beta tester of new technology, can you elaborate on that? How did that come to be?
I'm beta-testing and demoing a bunch of new orchestral and electronic sample libraries continuously, and that helps keep things on the cutting edge for sure. I've been contacted over the years by most of the sample libraries and synth creators to beta-test, demo or even just check out new products before they're released for a testimonial on the products. It's a great privilege and an honor to help them, and fun for me to play with the newest toys.
Are you currently testing any new equipment?
I'm currently beta-testing several things for 8Dio, Heavyocity and more but have signed NDAs on most of them! I'm just diving into testing a new synth called Oracle which is great, and yet another I can't talk about yet. I've been so busy with Dominion lately I haven't had time to write too many demos, but if you haven't heard them and are interested, you can check out a whole bunch of them in the album I did with RipTide Music a couple years back called FRACTURED.
Are there any tools you simply can't work without? If so what are they and why?
I've used tracks where I just recorded an instrument directly to picture and that was the cue, so I guess the true answer is I need something to record and sync the ideas. The rest is icing on the cake. The idea or the concept/ approach is the key, the rest is technical stuff which experience helps with.
What is the difference in your creative process when creating music for film and TV versus games?
The important thing to remember with scoring games is that players are steering it, like a director, and they might live with the score for longer periods of time as compared to film or television, so you have to create a score that will work for each different scenario. Film and TV are the same each time you watch them back. So as a composer I have the opportunity to get specific to picture. I've always believed the music has to have a soul regardless. It needs to be connected thematically and texturally so it connects with the audience, and then it needs to support the action emotionally and physically.
What tools and technology are you currently using and why?
I'm into any technology that adds something unique and relevant to the music. I'm really into retro-technology at the moment and am having two modular synths custom made for the studio which is super exciting. This week I just put together a custom Moog analog pedal rack and use them with my vintage tape echo and spring reverb machines for effects. I've never had this many vintage synths and effects at my fingertips at once and it's a blast! I've been creating and customizing new ambient and orchestral concepts and sounds for Dominion's second season for a bit now and have a really fresh go-to set up for the show now. My goal is to have the cues feel really organic regardless of where the source material is coming from so I've been digging really deep into the newest technology from many developers to create my own versions of these new sounds, specifically for the way I work.
Do you have any audio creation secrets or tips you could share?
Sometimes less is more, even with things like reverb, EQ, etc. I think one of the most important things is that the audience feels the life of the recording, the sonic dimension and impact of the performance. If you have to cover stuff up, or try to "fix" it in the mix, you've already lost. The easiest way that I know of to achieve this is to record amazing musicians, or work really hard to become one yourself and record you. The rest is again just technical stuff. Unfortunately, these days we all have to know how to compose, arrange, orchestrate, record, mix, master, even promote ourselves and get the gigs all at the same time. It's a lot to juggle, but that's just where the new technology has taken us, for better and worse. I think the musicianship should be the first priority every time regardless. An incredible performance in a simple, clean recording can be magical.. and let's face it, just easier to mix. (This is when I throw the mic down and walk off the stage.. right?) ;)
When you are feeling creatively blocked, what do you do to get back in the creative flow?
I think my tendency is to keep hammering at it which I think can be a good thing. Sometimes when you're working on an idea, struggling to come up with something, all of that hard work leads you to something useful, sometimes even unexpected and surprising which is fun. Taking a break to regroup can be good too depending on the schedule. Having a consistent schedule is a good thing for me. For Dominion Season 2, my goal has been to keep everything thematic which makes it interesting. It's been great fun actually. It just brings the quality of the score way up. For me the big thematic ideas usually happen when I get away from all the noise and have a moment to just be in silence. I think the mind needs that space to present the subconscious ideas. Many themes have actually come to me in dreams, probably for that reason, which is great. But then I can't turn it off sometimes, which is not so great for the sleeping part. But mostly, I'm just thankful for the gift of music. It makes me really happy doing what I do.