After the successful release of their Symphony Series Brass collection, Soundiron published their new Symphony Series Woodwinds. As the brass series the woodwind collection consists of Woodwinds Solo and Woodwinds Ensemble which can be bought as a bundle or separately. The sample library works in Kontakt or Kontakt player. Since Soundiron co-releases this product with Native Instruments, the library is compatible with Komplete Kontrol keyboards, which is a huge plus.
In this review we will be taking a look at the whole collection. With so many great woodwind libraries out there already, does this new product have what it takes, to be part of a standard orchestral template?
Overview
The Woodwind Ensemble consists of a 36-piece woodwind orchestra. You can choose from flutes, oboes, clarinets, bassoons, saxophones and bass winds (contrabassoons and bass clarinets). Just the WW Ensemble will take 57,9 GB of your disk space. And additional 33,4 GB are taken by the WW solo patches. All the instruments come with multiple articulations, which we will take a closer look later.
Content and sound
Soundiron recorded the library at Montclair Church in Oakland, CA, USA, with Neumann studio microphones. In my opinion, recording at a church was not the best of the idea, since you have a lot of reverb embedded into the recording, but luckily there is a workaround for that. When I was writing my composition to test out the library (below), I set the release of the samples (easily set in the GUI) to cca 30%. This made the use of the instruments a lot simpler for me, since I could add my own reverb.
The overall sound of the library is quite good, but sometimes it feels a bit overprocessed. I do not know what kind of processing Soundiron used in the making of the library, but especially the legato sounds a bit strained. Speaking about the legato patches, you can adjust the vibrato rate on the fly in the GUI. This is great feature, but I feel like the vibratos depth (amplitude) is not big enough. Especially in the flute the vibrato sound to flat and quite unnatural. This poses a problem, since you want a nice vibrato for the creation of beautiful espressivo cantabile lines. On the bright side, the legato patches perform great while playing fast scale runs or fast arpeggios. Listen to my track below, where I used quite a lot of impressionistic arpeggios in the flute and oboe. I am quite pleased by how they turned out!
The staccatos are nice and deep and have a nice attack, that have been recorded to up to 8 round robins. There are several staccato articulations to choose from, that can be selected via keyswitch (stac, stac p, stac f, stac. triplets, stac. dbl. tongue, overtone stac. (tongue stop staccatos). The tongue stop staccatos are a really nice addition, since I have not found them in any other library.
The expressions patch has a nice collection of swells, crescendos and sforzandos, that can be selected through keyswitches. With these patches you can create some really realistic performances.
The FX patch is a real gold mine of various sounds the wind instruments can produce.
Ensemble FX: cluster sustains, cluster staccatos p, cluster staccatos f, plunk staccatos, sweep up sustains, sweep up staccatos, valve clicks)
Solo FX: Fall Runs, Flourish Down, Flourish Up, Flourish Long, Sweep Down Flutter, Sweep Up Staccato, Overtone Sforzando, Overtone Swell, Arpeggio Up-Down Major, Valve Clicks, Hole Punks, Jet Whistle Staccato
In my opinion, some of the effects, that are found in this library, cannot be found in any other library, at least not to this extent and precision of recording. My favorites must be the valve clicks (or key clicks). This effect can be used in so many ways. I have used it many times in my compositions. You can listen to my piece for flute quartet Aqua, which uses the valve click effect to produce the sound of rain. What I do miss, are some normal major/minor and chromatic runs.
A nice addition to the library are also the arpeggio patches, that are found only in the ensemble patches. For this patch, Soundiron has recorded major, minor, augmented, diminished and other arpeggiated chords. You can switch from chord to chord via keyswitch, which is quite a hassle. I wish they would have come up with a smart script, where you would just have to press down the correct chord on the keyboard, which would trigger the appropriate arpeggio. I know other sample developers have integrated this kind of approach. But anyhow, this patch is extremely useful for creating backing chordal textures for you music.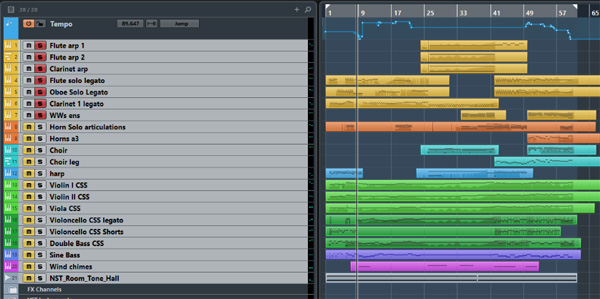 I must also point out the Bass winds patches, which consist of 3 contrabassoons, 2 contrabass clarinets and 1 bass clarinet. These patches truly did not disappoint. They are extremely powerful and blend so well with bass brass instruments. Writing an action cue? Get ready to bring out the beasts of the Bass winds patches of this library!

An honorable mention must also go to the Woodwind ensemble patch, which divides all the woodwinds across your keyboard. The patch is very smartly put together and will come very useful for creating sketches. It sounds great too!

One thing that boggles my mind a bit is, why Soundiron decided to record 6 flutes for the flute ensemble patch and or 6 oboes for the oboes ensemble patch?

In an orchestral setup you rarely need more than 3 flutes and even then, the third flute will usually be a piccolo. Of course you find orchestral literature with more than 4 flutes, like Stracinsky's Rite of Spring, but this really isn't the standard. I wish they would have cut down the ensemble patches to 3 players max (well as I said, the Bass woodwinds patch does sound awesome), since this is the orchestral standard. Instead, they could have added a piccolo to the solo instruments library, but maybe they plan to do that in the future.

The full list of articulations of all the patches can be found here:
Ensemble articulations
Solo articulations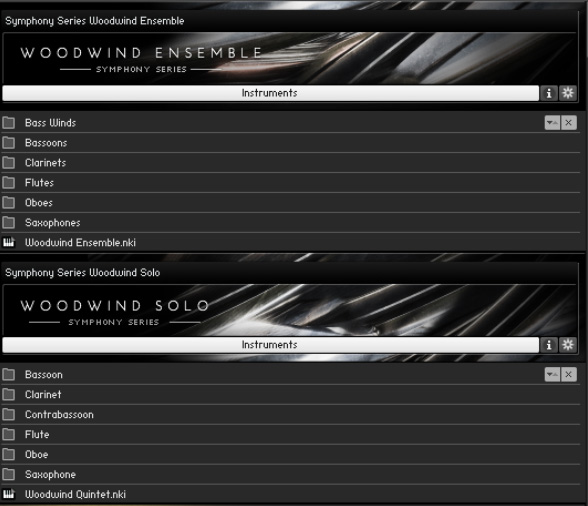 Graphic interface
The GUI is really straightforward and extremely intuitive and easy to use. There is a huge dynamic knob in the middle, that is by default mapped to CC1. Beneath you will find an attack, release, tightness and vibrato knob. I stress this again, be sure to tweak the release down to cca 30% so you will be able to add your own reverb. If you don't do this, you will have a harder time to blend the library with your other sample libraries.
Below these settings you will also be able to select your articulations and see other functionalities depending on the patch you have loaded. A great feature is also the arpeggio functionality, which you let's you…well…arpeggiate your chords. I used it in my test track to create some low woodwind movement.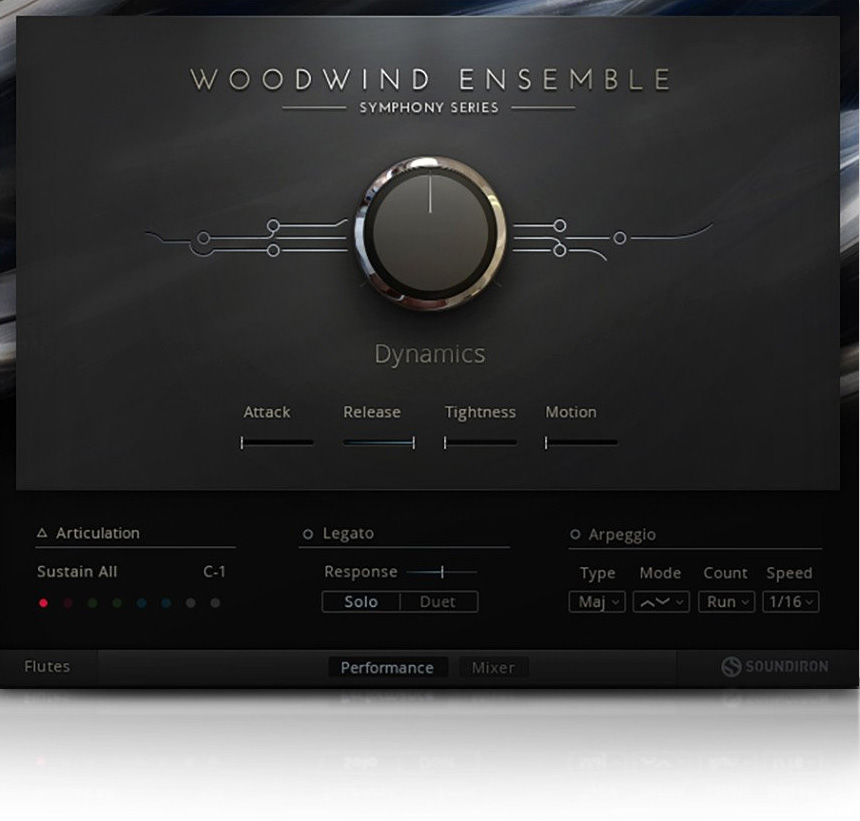 Price performance and conclusion
The Symphony Series Woodwind ensemble costs 399$ and the Woodwind solo library 299$. The whole collection is 499$. For owners of Komplete or Komplete Kontrol Series keyboards, Native instruments is offering a crossgrade price. The price, in my opinion, is quite high, if you buy the libraries separately, but the collection, especially with the NI crossgrade offer, is a good deal.
With that said, if you are still searching for a good woodwinds library, you won't be disappointed with this one, but bear in mind, that this library might not be best for classical type orchestral music, for the reasons I have stated above. On the other hand, if you already own a woodwind library, but you are maybe lacking some FX, or just some additional sounds, you might want to consider, if you need the whole collection or just the solo or the ensemble library. If I were you and I could not decide what library out of the two to buy, I would probably go for the ensemble one, since it offers such great FX and since the Bass woodwinds patch is so damn great!
In conclusion I think the Soundiron team did a great job with this library, but there is of course room for improvement. As an owner of various woodwinds libraries, I can say, that quite a few patches from this library will stay in my orchestral template!
Pros
Big selection of sounds
Great FX patches
Legatos able to play fast lines
Intuitive GUI
Komplete Kontrol integration
Bass Winds ensemble patches are awesome
Cons
Recorded in a church with a long reverb tail
The solo legatos have an unnatural vibrato
If you are not an owner of Komplete or Komplete Kontrol the pricing might be a bit high
Overkill of the number of recorded instruments in the ensemble patches
Video showing the use of Soundiron Symphony Series Woodwind
Patches used:
– Flute legato
– Oboe legato
– Clarinet legato
– Flutes arpeggios
– Clarinet arpeggios
– WWs ensemble
Read our interview with
Soundiron
. Don`t forget to rate the product yourself if you bought it in the "
Reader rating
" tab below!
Click here for more news regarding
Soundiron
.
Soundiron Symphony Series Woodwind Collection review
Content
Versatility
Performance
Sound Quality
Playability
Price performance
Pros
Big selection of sounds
Bass Winds ensemble patches are awesome
Komplete Kontrol integration
Cons
Recorded in the church with a long reverb tail
The solo legatos have an unnatural vibrato
If you are not an owner of Komplete or Komplete Kontrol the pricing might be a bit high