Today we're taking a look at Soundiron's new virtual instrument Apocalypse Percussion Ensemble MICRO (short: A.P.E. Micro). A.P.E. Micro is a compact version of the brand's highly praised cinematic percussion library Apocalypse Percussion Ensemble. The condensed Micro version was designed specifically to gain composers the power of authentic, cinematic percussion on an entry price level. Let's find out together, how much of the original library reamains and how the Micro edition proves itself in the daily working routine of a composer.
OVERVIEW
Included in the A.P.E. Micro Edition are 7 of the original 31 instruments, sampled in various articulations. Each instrument was recorded as an ensemble of 3 to 6 players to achieve an epic and powerful percussion sound. All in all, you'll get:
7 Bass Drum articulations
4 Indian Dhol Drum articulations
3 Turkish Doumbek articulations
1 Bodhrán (frame drum) articulation
2 Riq/Daf Drum articulations
6 Concert Snare Drum articulations
5 Rack Tom articulations
…which makes for a total of 28 articulations.
Each articulation includes between 4 to 12 velocity layers which in turn feature 2 round robins per layer. That should be quite sufficient to achieve rapid and realistic percussion lines.
Like a few other Soundiron libraries, the Apocalypse Drum Ensemble was sampled in a long, A-framed hall based in Oakland, California, which has a very bright and lively color to it. This hall reverb is baked into the samples and contributes a lot to the epic nature of this library's sound.
A.P.E. Micro comes as a downloadable product and has around 500MB in size after unzipping.
INSTALLATION
Since A.P.E. Micro is designed as a Kontakt instrument, the installation process is quite straightforward, however, requires a full retail version of Kontakt 5.5.2 or later in order for the instrument to work. A.P.E Micro won't show up in Kontakt's Libraries tab, so you'll have to drag your desired patch in manually or load it up from the Files tab.
After loading, you're presented with an interface, that's based on the library's bigger brother.
INTERFACE
A.P.E. Micro comes with 3 different patches:
the APE All Preset
the APE Megamixer Preset
the APE Tuned Dual-Layer Preset
The first patch features all of the included instruments and articulations in one big patch, laid out from C0 to G4. The tone of the instruments are reflected in their position on the keyboard – meaning you'll find deep bass drums and toms in the lower area, dhols and doumbeks in the middle and sticks and rims located at the higher keyboard range.
The interface is very easy to use since it's just featuring 7 control knobs, one arpeggiator engine and an FX rack. The labeling of the control knobs is pretty straightforward and doesn't long for a detailed explanation.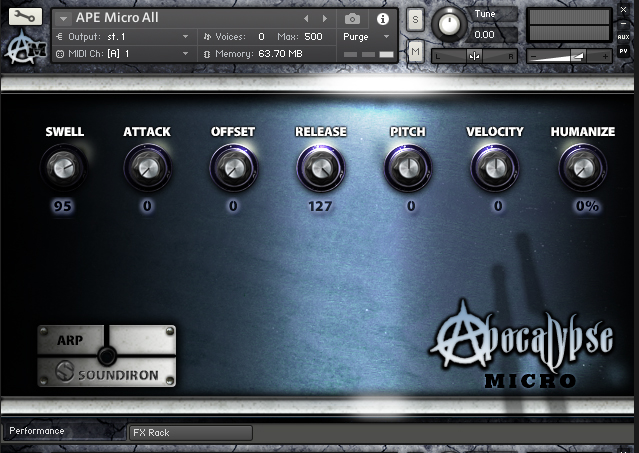 The arpeggiator, which is found in all three patches, however, is a bit more complex. Next to the step editor, in which you can freely draw in steps or load up presets, you'll find various control concerning the rhythm, duration, pitch and mode of the arpeggiator. You can dial in the amount of steps, ranging from 2 to 32, as well as control the note order (when holding down multiple keys), the scale and key.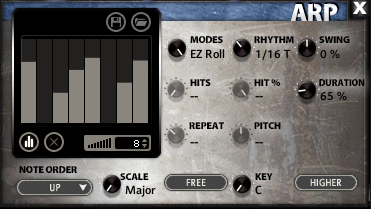 The library's integrated FX rack, accessible from the bottom of the interface, features a wealth of different dynamic, modulation, distortion and reverb effects. You can also load up some pre-made FX presets as well as create and save your own ones.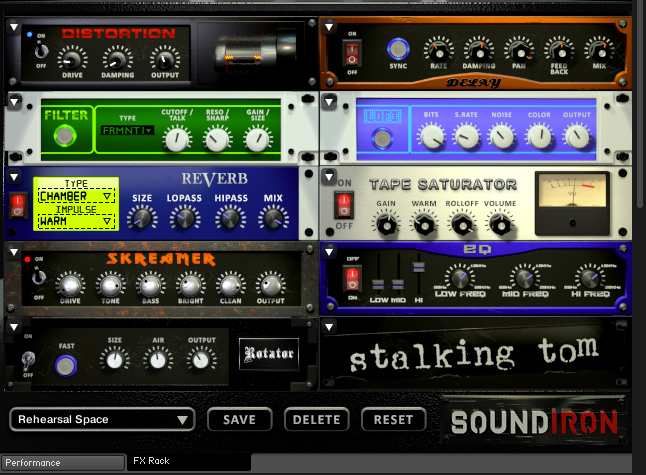 Our next patch, the Megamixer, can be seen as a drum kit which you can assemble on your own. It allows you to build custom ensembles and combinations of instruments while just keeping in the ones, you really need. Therefore, it's quite a good alternative to the All Instruments patch.
The Megamixer features 8 modules or cells in which you can load any instrument you like. You can then control the pitch, panning, attack/release and the key range of any module. Of course, these settings can also be controlled globally, for the whole patch. For each module, you can choose between "untuned" or "tuned". When you select the "tuned" option, the notes of a module get spread chromatically across the keyboard.
I had lots of fun combining and twisting different instruments and coming up with massive percussion hits, which turned out very usable for cinematic trailer music.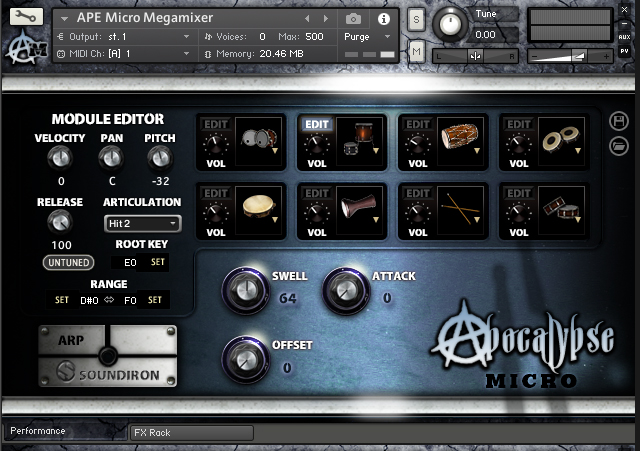 Our last patch is called the Dual-Layer Preset. Similar to the Megamixer, you can load up different instruments – in this case, two – and combine them. What's special about this dual layer patch is, that the instruments are laid out chromatically across the keyboard. You can either combine the instruments or assign keyboard ranges to any of the two, in which they can be played chromatically. This enables you to design more tonal and complex rhythmic patterns.
The assignment of key ranges can be controlled via the "Keys" button on the lower left of the interface.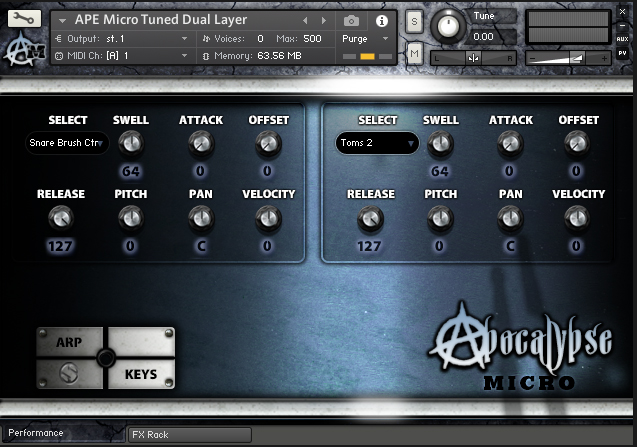 SOUND
Well, if you had a chance to listen to the original Apocalypse Percussion Ensemble library, you'll know that it just sounds absolutely massive. I think that the sounds of this library are some of the most-heard percussion sounds in trailer music – apart from Native Instrument's Damage, of course. Fortunately, despite the heavy reduction of original file size, the Micro edition performs like nothing is missing, really. You get all the essential sounds, from rumbling low bass drum hits, to aggressive snares, characteristic ethnic percussion up to punchy stick sounds. This should be enough to create elaborate and powerful, cinematic rhythm patterns.
Of course, since the condensed edition of the A.P.E. has got quite a few less round robins, you're running into the danger of getting a dreaded machine gun effect when playing really fast repetitions. Depending on the instrument, this is sometimes more, sometimes less apparent. What I found out though, is that as soon as you combine different percussion instruments, the effect gets less and less noticeable, up to the point where there's no machine gun effect perceivable at all.
Another important tip is to keep varying in dynamics, even ever so slightly, since you'll get two round robins for each of the 4 to 12 dynamic layers. This mix of different round robins also contributes to a more realistic sound.
Regarding the tone, the sounds themselves are very well recorded – everything is punchy and defined, no instrument is too muddy. The super-lows are captured really nicely, too. Like I mentioned before, the hall sound that is baked into the samples really is one of the big pros of this library. It seems, that it really breathes life and epicness into the percussion sounds and while sounding quite massive, featured just the right amount of organic vibe.
If you're into sound manipulation, you get loads of options for that with the integrated FX and arpeggiator engine. Definitely check out some of the presets you're given, too!
CONCLUSION
Straight to the point, this library is really a no-brainer. I mean, hey, for $ 19.00, you get a whole battalion of epic percussion to play with, recorded in an awesome space and with various articulations. While having this characteristic, cinematic sound, the instruments still retain much of their organic and natural feel. With the decent manipulation options included, you can either create your completely custom sounds or just go with the library's natural sound and create great sounding rhythmical patterns in practically no time.
If you want to go bigger, meaning more instruments, more articulations and more mic positions, you can upgrade anytime to either the medium sized Elements edition (currently $ 59.00) or straight to the full version of Apocalypse Percussion Ensemble (currently $ 149.00).
Until October 23rd, all of the A.P.E. editions are on sale. Soundiron also offers various cross grade options for existing owners of any of the percussion ensembles.
Soundiron - Apocalypse Percussion Ensemble Micro Review
Content
Versatility
Performance
Sound Quality
Playability
Price Performance