Intro
Hi there. I'm George Vlad, sound designer and recordist based in the UK. I work in game audio and I release sound effects libraries through Mindful Audio.  I'm going to review the recently-released Sound Devices Mixpre 6 recorder from the perspective of a sound guy with an interest in subtle sounds (ambience, Foley), loud sources (vehicles, firearms) and everything in between. I don't do a lot location or voice recording so I won't insist on these aspects.
In my day to day work I use a Sound Devices 633 and a Sony PCM D100, but lately I've been meaning to add a few more channels to my main rig. I've been looking at the Sound Devices Mixpre-D, 302 or the 442 for this purpose. The Mixpre-D and the 302 can only output 2 channels which don't quite fit my needs, while the 442 has the right number of outputs but boy is it heavy.
I was in the Danube Delta discussing exactly this issue with Daan Hendriks when I got an email from Sound Devices notifying me of their new range of recorders. I was skeptical at first, especially after seeing there would be no XLR outputs on either of the new Mixpres.
A lot of discussion and speculation followed, both IRL and on social media. Opinions ranged from "too good to be true" to "Zoom F4/F8 killers" and "selling my 633 and 702!". Even if I wasn't convinced it was the right piece of kit for me, I ordered one last week as soon as they started shipping in the UK. I received it on Wednesday and started testing it right away.
The Mixpre 6 is a "lightweight, high-resolution audio recorder with integrated USB audio streaming that offers world-class sound quality combined with extreme durability – perfect for musicians, sound designers, podcasters, videographers, YouTubers and field recordists". The Mixpre part in its name is a bit misleading though, since the old Mixpre and Mixpre-D devices were field mixers not capable of recording.
How it feels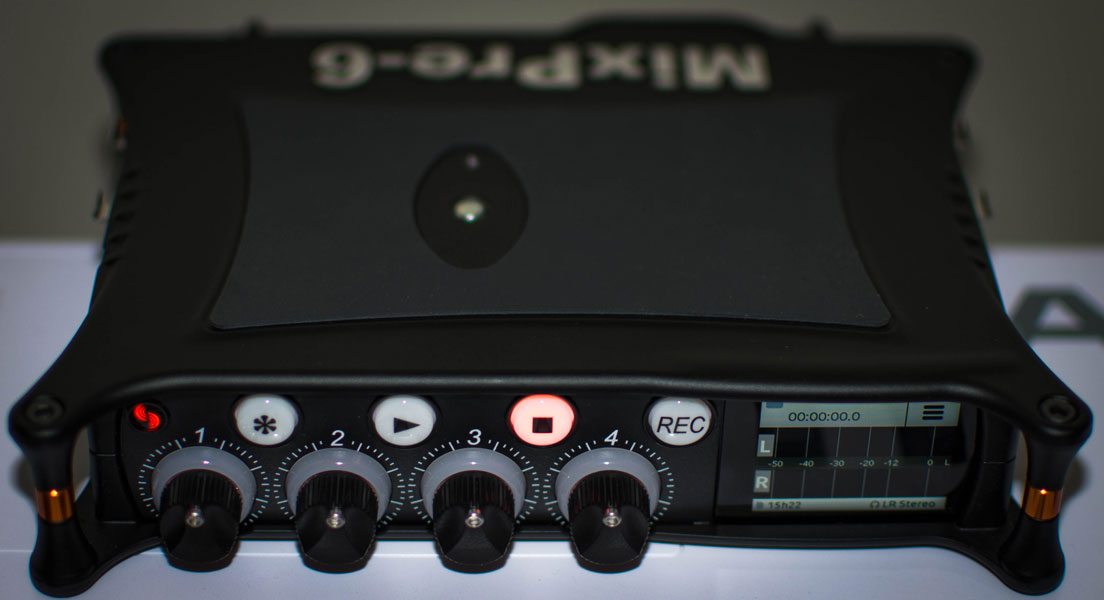 The first thing that struck me was how tiny and light the unit is. It feels like a toy, especially when comparing it to the Sound Devices 633 which I've been using for the past three years. Having said that, it doesn't feel cheap or plasticky. It's well built, with metal where you want to have metal and rubber/plastic where metal is not needed.
Of course, to achieve the small size and low price a series of compromises have been made. For example, the SD card slot is on the back of the unit behind the battery tray. This makes it rather difficult to take out the SD card every time I want to transfer data to a computer. Data transfer can however be done more easily by using a USB-C to USB-A cable. Note here that there's only one SD card slot, so no way to record to two cards simultaneously.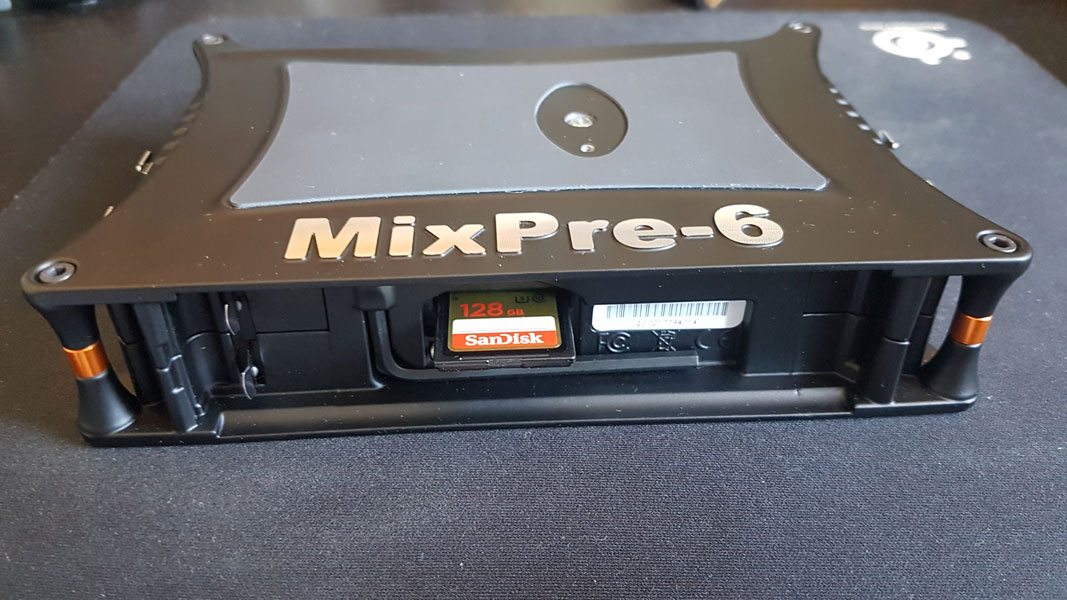 As you can see in the photo above, there are ¼-20 captive threads on the top and bottom of the device to allow for camera mounting. Not something I would use when recording sound effects but very useful for videographers, vloggers etc.
There are two XLR inputs on the left side and two others on the right side of the unit. I don't particularly like this but it is one of the compromises that Sound Devices have had to make in order to achieve the small size.
Powering
The Mixpre 6 comes with a plastic 4xAA battery sled that attaches to the back on top of the SD card slot. (I'm not sure it's the sturdiest part of the device and I think it can break if dropped.) After dimming the LCD and LED lights to 3/10 I managed to record for more than 2 hours until my 2500 mAh Eneloops were depleted. Obviously not the best option for long or overnight recording sessions, but more than adequate for shorter ones.
There are two more battery sleds that you can purchase separately: 8xAA and Sony L-Mount. Their shape is awkward though, making it difficult to keep the device in a small bag with them attached. You can also purchase an AC adaptor if you use the unit indoors a lot.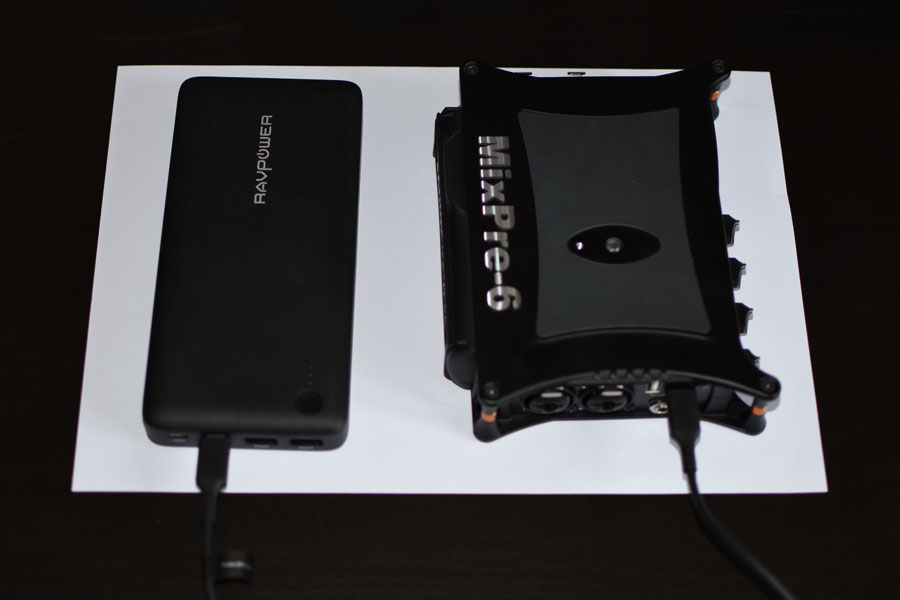 Another powering option is via USB-C. I'm using a 26800 mAh Ravpower battery connected via USB-C but I don't really like it. The cable can easily be disconnected and both the cable connector and the port on the device can get broken. (This will also result in loss of data since audio does not get saved on power loss.) It is worth mentioning that I recorded for more than 9 hours with two phantom-powered mics and the Ravpower battery was only halfway depleted.
I would have very much preferred a Hirose power input which would allow me to use external battery packs. Someone might create a battery sled to Hirose adaptor further down the road but until then this is not an option.
How it works
All the following recordings can be downloaded from Soundcloud. Just click the download button in the player or in the More menu on the website:
The first thing I recorded with it is my car's engine. The purpose of this first test was to make sure there were no huge defects and the device worked properly with relatively loud sources. As you can hear in the recording above, the Mixpre 6 did a decent job of recording the engine idling and revving. Setting up was simple, the menus were fairly easy to navigate and recording is as straightforward as you would expect from a Sound Devices recorder.
After making sure the unit performed as expected I took it out to my backyard for a comparison with the 633. I set up two Sennheiser MKH 8040s on a stereo bar as close as possible to one another and did a 30-minute recording. As you can see/hear in the snippet above, the preamps on the Mixpre 6 stand up to those on the 633 quite well.
Once I made sure the preamps are nice and clean I wanted to test the limiters. Sadly this is where the Mixpre 6 doesn't fare as well as the 633. As can be seen in the recording above, the limiters on the Mixpre are a bit more aggressive and have a longer release time than the ones on the 633. This results in rather hard and drastic limiting on long sounds, and a pumping effect on short loud sounds. Not as useful for recording firearms or explosions, and a bit difficult to use when recording vehicles or engines.
The bad
Fellow sound recordist Richard Youell got a Mixpre 3 last week as well. Apparently the mounting threads on his device were not the advertised size so he had to send the unit back for a replacement. This is probably an isolated incident as I've not seen it come up on JWsoundgroup, Facebook groups or other social media.
A more widespread issue is SD cards larger than 32GB causing an endless bootup loop. This seems to happen regardless of SD card brand or speed class, and the problem seems to come and go with no apparent reason. Sound Devices have advised to format the card inside the unit, but I've already done that and still encountered the dreaded bootup loop with a 128GB Sandisk Extreme card.
Sound Devices are aware of the issue and will hopefully push a firmware update that fixes it sometime soon. As usual their Customer Service were fast to reply and very eager to help. The bootup loop issue however is serious and if the MP6 was my only recorder I could have failed a job because of it.
The annoying
As I mentioned at the start of this review, the Mixpre 6 has had to sacrifice features in order to attain a very low footprint, weight and price. The following are not deal-breakers, but will keep me from using the Mixpre 6 as my main recorder:
Limiters are a bit too hard and release time is too long, as discussed. Only relevant in certain situations though.
No balanced outs. This will be a big issue for many potential buyers.
The device lacks pre-roll of any kind. That can be quite useful when recording wildlife as it gives a few seconds insurance in case something interesting happens and you're not recording.
The whole powering situation is a bit annoying. Loads of powering options but none that is both rock solid and does not result in battery packs protruding to the side.
If you're powering the unit from a USB-A source, you will need to use the Y cable that comes with it. If you only use one USB-A connector there won't be enough power and the Mixpre 6 will work in low power mode. (In low power mode you will only be able to use two of the four preamps, the USB-A and HDMI TC ports will be disabled and the LCD /LED brightness will be dimmed.)
The lack of a second SD or a CF card slot. This would be immensely useful if your first card decides to pack up or malfunctions in any way. Admittedly this has never happened to me but it would be a nice insurance policy in case you're recording something you don't want to lose.
Having the SD card slot on the back behind the battery tray is another aspect that bugs me.
The way that the USB-C port is positioned is a little awkward as it's a little too close to the on/off switch. If I want to connect the Mixpre 6 to my computer and then turn it on I need to do a bit of finger gymnastics in order to get it right.
The downside of the device being small is that it's a bit difficult to operate with my fat fingers. The touchscreen is a bit fiddly and the menus a bit convoluted.
There is no way of controlling gain with the front faders yet. You can switch operating mode to Custom and Gain to basic, but this gives a gain range from -14 to 96 dB and not the regular 6 to 76 dB. A bit weird but hopefully fixable with a future firmware update.
No Timecode generator. Not particularly relevant to the type of work I do but certainly a big minus for others.
The good
Now that we've got the downsides out of the way, let's talk about what makes the Mixpre 6 a good device.
I'm going to mention size and weight again. Even after having seen photos and videos, I was amazed when I first took it out of its box. I can add it to my recorder bag without making too much of a difference to the overall weight (keep in mind I have a huge bag that I don't lug around too much).
Preamps are the usual SD quality. This was probably my biggest worry before I could test it. Happy to say they stand up to expectations and are on par with the ones on the 633.
Gain range is from 6 to 76 dB, as opposed to 22 to 72 dB on the 633. This means I can avoid using the limiters in certain situations by using lower than 22 dB of preamplification.
The headphone preamplification is surprisingly clean.
The unit can be used as an audio interface! I completely forgot about this since I normally need at least 6 outputs for Surround work, but the Mixpre 6 is a very capable 8-in /4-out interface.
The Wingman app is available and can be connected to the Mixpre 6 without the additional WM-Connect module.
It can receive Timecode via HDMI and Aux in.
It records up to 24/192, as opposed to only 24/96 for the Mixpre 3.
With the caveats mentioned earlier, limiters are analogue and therefore much more effective.
Most importantly, it costs a quarter of the price of a new 633.
Conclusion
The Mixpre 6 is a hell of a device. It's incredibly small, well built, it has 4 nice preamps, but most importantly it doesn't cost an arm and a leg. It seems like Sound Devices have focused on small footprint, preamp quality and analog limiting while leaving out features such as balanced outputs, timecode generation etc. Not a bad mix of features.
Of course there are risks to being an early adopter, like the bootup loop mentioned earlier. I hope Sound Devices will iron these issues out fast as they usually do when something like this happens. Overall I'm happy with mine and I'll be keeping it as backup and occasional extra recorder. It can be used as main recorder for smaller operations as long as it's powered by at least two different sources and its limitations are well understood.
Beyond just the Mixpre series, it's good to see Sound Devices come up with a device that costs less than a grand. More competition is always useful and Zoom have been dominating this price range since they came up with the F-series devices. It is also good to see features like touch screen, USB-C and Bluetooth connectivity included in an SD product.