Sonuscore is a sample developer known for their fluid and tempo syncable libraries such as Action Strings, Emotive Strings and Action Strikes. All of these libraries are built on pre-recorded rhythmic or rhythmic-melodic which playback at any tempo in your DAW. But, The Orchestra, which runs in Kontakt 5.6.8 or higher and uses 7 GB of disk space, is different, since there are no pre-recorded phrases in the library; rather the library engine is able to create complex orchestrations with arpeggiators and envelopes that run through single recorded articulation found in the library. This all might sound a bit out there at the moment, but I will try to explain everything in the upcoming segments of the review. Before we dive in into the review I would like to quote to introduction from the manual of The Orchestra, so we can get a brief understanding what the thought process of the developers was when creating this library: "As orchestral libraries have grown more and more complex, we approached this instrument with the goal to make it as easy as possible to create good sounding arrangements. With the Ensemble Engine we created a simple way to combine orchestral colors and quickly load playable combinations for sketching or layering, while the single patches allow you to orchestrate your ideas in as much detail as you want."
Content and sound
For The Orchestra Sonuscore recorded the Budapest Art Orchestra at studio 22 in the Budapest RTV house. I had a pleasure to record with the Budapest Art Orchestra a few times and I was very pleased with their performance every time! We can basically divide The Orchestra into two segments. In the first segment are single articulations for most orchestral instruments (strings (vl1, vl2, va, vcl, db and concert harp), brass (horns, trumpets, trombones, low brass) , woodwinds (flute, oboe, clarinet, bassoon), and percussions (timpani, tubular bells, suspended cymbals, gran cassa, snare drum, tam tam, piatti, drum ensemble, taikos)- the full list of single articulations can be found here.). These patches are completely ordinary orchestral patches, that are found in most other sample libraries on the market (legatos, sustains, staccatos, marcatos).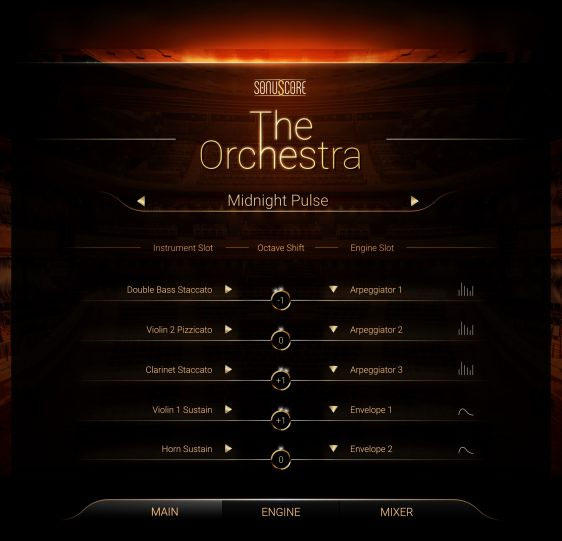 While you won't find more specific articulations, such as trills or runs, the selections of articulations and instrument patches is still quite impressive. There is also a quite good male and female choir patch with sustains (ah, oh) and staccato syllable patches. With only the use of the instrument patches you will be able to create a quite convincing orchestral mockup. With that said, the single instrument patches cannot compete with the quality of sound found in sample developers such as Spitfire, Cinesamples or Orchestral tools. The legato patches are far from perfect and the strings sound a bit nasally and I found it hard to program them as I wanted while I was writing my test track. All in all I still think, that for newcomers the library is worth buying even just for the single articulations patches, while pros in the business might be able to find some new sounds. For example, my favorite out of the bunch is the snare drum from the percussions. But, single articulations are not the most important part of the library.
The magic really happens when you load up the so-called "The Orchestra" patch. This patch works through a number of independent arpeggiators and velocity envelopes, to create pulsating rhythms and even full chordal orchestral arrangements from any combination of notes. All of this without relying on pre-recorded phrases – you have the full control. It will work, no matter what chord or note you play and in any tempo you choose.
Presets come in three groups:
The Orchestral Colors presets are practical combinations of instruments that can be played live on your keyboard.
The Orchestral Rhythms contain simple, useful playable patterns for separate sections of the orchestra that make use of our Ensemble Engine.
The Animated Orchestra presets go even further, and create complex orchestrated rhythms from any played note. The presets are a great starting point; not only do they sound great, but they are very inspiring as well. While playing through the Animated Orchestra presets I was sometimes surprised by the vivid and life-like sounding performances I was able to create by just pressing a few notes on the keyboard.
The library becomes really fun when you start creating your own presets. You can load up to 5 different instruments in independent slots and play them together. Every slot can be assigned one of the different modules (arpeggiators or envelopes) and each arpeggiator and envelope can be adjusted independently.
The multis combine different presets and settings in multiple instances of the Ensemble Instrument. They are sorted into the same categories as the presets from the Ensemble Instrument. Many multis are layered with playable articulations, so melodies can be played on top of the orchestral rhythms. One more down side of the library is, that there are no alternate mic positions available.
GUI
The GUI is pretty simple, so you will be creating your own orchestral colors in no time. For the single instruments, you only have two settings you can tweak. The EQ and the type and amount of reverb. The Orchestra patch GUI is more intricate though. On the main page you will be able to select the desired instruments for your orchestration and selecting a preset of your choice. You can also select to which arpeggiator or envelope each instrument goes. In the engine tab you can tweak the three arpeggiators and two envelopes available. In the mixer tab you can tweak the reverb, volume, EQ and compression of each instrument in the orchestration.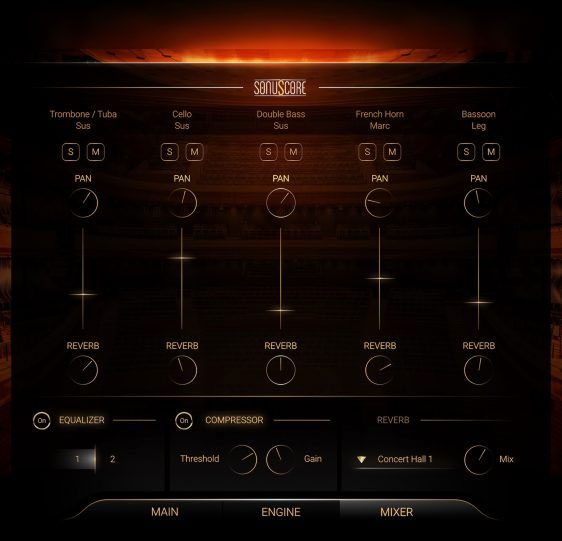 Price performance and conclusion
The Orchestra retails for 399EUR. I think this price is spot on for the amount of content you get. Also the engine that The Orchestra is equipped with is something completely unique on the market. I have been using this library for about a month now and I must say, that I am quite impressed. I found it to be a great inspiration tool. Just loading some presets and playing through the Animated orchestra patches, made my brain flow full of various ideas.
Sonuscore has created a great product. If they go on with these kind of instruments, I am very curious what they will come up with in the future!
Test Track:

You can find information about our review ethics
here
.
Check out other Audio Spotlight
reviews
Sonuscore The Orchestra review
Content
Versatility
Performance
Sound Quality
Playability
Price performance