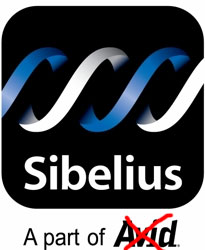 On July 2nd Sibelius' parent company, Avid Technology announced the closure of Sibelius UK, the Finsbury Park home of the Sibelius development team.  Avid claims this will make no difference either to Sibelius or to its technical support.
As with ProTools, Avid's strategy is to send the coding and maintenance work offshore.
Based on its latest published figures Avid is in financial trouble. Right after the most recent stockholders meeting, all the Avid board of directors sold significant shares of stock, clearly a co-ordinated sale.  Simultaneously, several key executives resigned, including Vice President, CFO and CTO.  Avid is short of cash and desperately trying to shore up its liquidity with reckless cost cutting.
Sibelius is viable as a standalone company, but without sustained pressure from its users, Avid will try to run it offshore, most likely in the Ukraine.  This short-term thinking is solely to ease Avid through its present cash crisis, not in any way for the benefit of Sibelius users.  In fact it will effectively destroy Sibelius.
Do you agree that Avid's decision is reckless and places the future of Sibelius innovation, maintenance and support at risk?
If so, please join us in convincing Avid that it is in everyone's best interests for them to sell Sibelius.  This will still ease its cash crisis, but will ensure Sibelius lives on in safe hands.
This text was taken from www.sibeliususers.org.