Today we are checking out a hybrid between a Kontakt library and a SFX pack from Audio Imperia called the Scenes from the Multiverse volume 1. Let us see what all the fuzz is about.
Content
Scenes from the Multiverse (SftM from now on) comes as a download package and weighs approximately 800 MB when unzipped, so the download of the whole pack shouldn't take too long. It features sounds that are more oriented toward super hero trailer sound design as the developer claims. There are few categories but all in one folder to make things easier when using Kontakt instrument. You have various risers, hits, whoosh bangs, drones and rhythmic loops.
As mentioned, the SftM also features a Kontakt instrument where you can modify the existing sounds even further. The instrument is nice and offers quite a few tools. It is a nice touch that the developer actually dressed the graphic interface in Kontakt. From what I understand Audio Imperia offers a Kontakt instrument with every SFX pack which again is great if you are in need of these type of sound and want to get your sound design freak on.
The metadata is also present and quite descriptive and useful in finding sounds fast if you own a big library.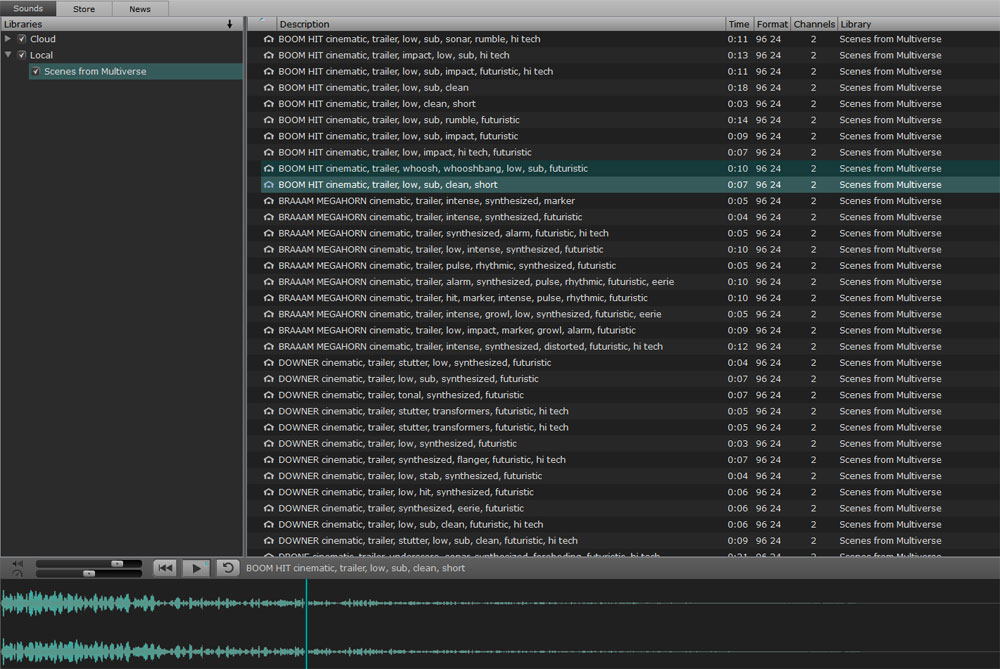 In terms of content, there isn't much to choose from but the sounds work well together and are quite diverse. All together there are 122 files (some multi takes) out of which each category features a few of those.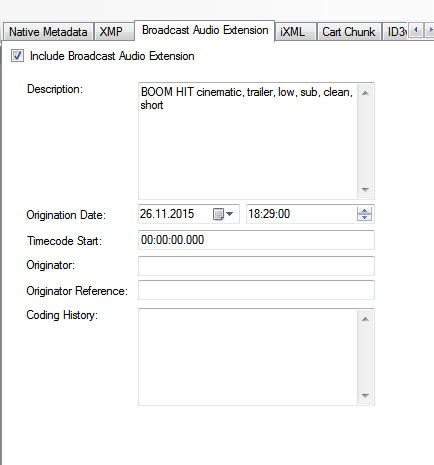 Sound
The sound of SthM is great and is delivered at 96 KHz and 24 bit so if you need to stretch or pitch it you shouldn't worry. There are some things that I would prefer to be done differently, such as several hits have a similar (different tuning) or the same hit sound but different start of a whoosh sound. Having said that, the whole quality of pack is really fantastic and up to par with the big boys.
The Kontakt instrument
The instrument is well designed and does its job as it supposed to. There are four tabs full of options to tweak the sounds as you wish. First the "Main tab" has the envelopes and filters plus a mixer which should mix the three sound sources but I am guessing this was meant for another library as it doesn't mix in any additional sounds. The second "Effects tab" features as the name suggests various audio effects. It can be applied directly or can be used as a send effect which is nice. It also tells you that you can use effects via key switches on your keyboard. The "Rhythm engine" is the third effect and as the name implies features a step sequencer for the samples and filters. You also have a Pan LFO and a Pitch LFO. "Output engine" is the last tab and here you have two additional effects (Stereo spread and a compressor) and an EQ.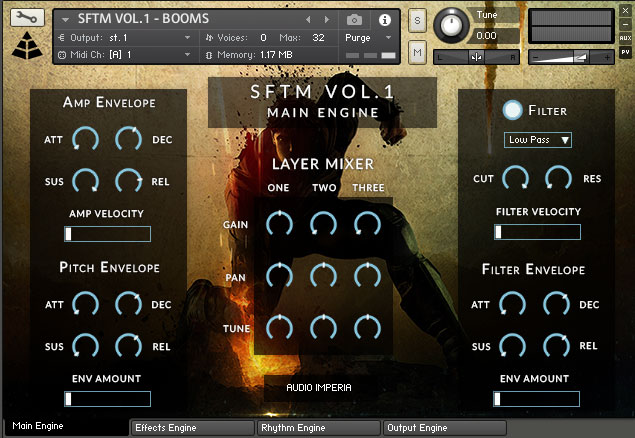 Overall the Kontakt instrument is a nice touch but it could use more patch examples to get you started. One thing to note is that you will need a full version of Kontakt (Kontakt Player not supported) in order to use it.
Conclusion
The Scenes from the Multiverse is a great library with fantastic sound quality. At $59 (on sale right now for 38.35), I think it offers a reasonable amount of sounds and a Kontakt instrument to tweak the sounds even further.
You can also check out the alternatives here
Scenes from the Multiverse review
Content
Sound quality
Variety of sounds
Value for money
Metadata