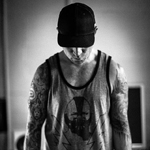 Find Sascha @
Official website
Twitter
Facebook
SoundCloud
YouTube
Tell us a little about yourself and what you do for a living?
Well, my name is Sascha Dikiciyan, but most people will know me under the Sonic Mayhem name. I have been writing music for Video games for about 15 years now. My first job was to write music for now iconic Quake 2 (1997), which of course started my career. Since then, I've scored over 25 games, incl. the 2012 blockbusters Mass Effect 3 and Borderlands 2.
What is your niche or speciality, that makes you stand out from rest of the audio professionals?
I think my agent once introduced me to someone from Ubisoft like this: This is Sascha. If you ever need "verkackte" music, call him (he kinda meant by that, different maybe even crazy. But I took it as a compliment). It was pretty funny. But I think people come to me because I live what I do. I don't accept mediocre work, I challenge myself only to deliver the best music I can possibly write. Growing up in the Berlin (Germany) underground electronic scene, I think it always gave me an edge. Also because I am never afraid to try something new, something outrageous. Even back in music school, while setting up mics for a drum session, the teacher told me "you can't do that". And I said, "well why not?". That's pretty much my principle. I hate using presets and usually go beyond what is ask of me.
Can you give us a brief summary of the equipment you use regularly?
My main setup is made out of RME hardware with a few PC's running Steinberg's Cubase. I also use the Dangerous music summoning bus hardware in my setup as well as a Obsidian Compressor. Monitors are Focal Twin be's with a Sub. They are amazing and really changed the way I mix my music.
What are your go-to plug-ins and software? (virtual instruments, audio processing etc.)
I use a billion plugins. I love the Sonnox mastering plugins, everything NI makes, of course Cubase is my main sequencer. I also use Kyma workstation and a ton of iOS audio apps. The FabFilter plugins are also some of my favourites. As for VSTis, I use the usual suspects as well as a lot of freeware you find on the net. Especially synths that emulate older synths from the 80's. The GTG synths (do search for them) are awesome and they are free! Used them all over our Mass Effect 3 score.
When do you find you are most creative?
Late at night. Which is difficult because I also like to get up early. But my best ideas happen between midnight and 3am. No phone calls, no social media.
What is your usual process for creating audio content for games, films etc.?
Usually when the schedule allows I like to do all my musical sound design first. For my Tron Evolution score for example, I spent about 2 weeks doing nothing but creating patches and sounds for the score. It's a lot easier to work that way as you can then draw from a pool of custom sounds to start the actual writing process. Of course the most challenging part is always to come up with a good theme. That may be some sound or a melody. For Prototype for example, we wanted to be a simple as possible, so of course we just used a piano. Really simply but themes you can remember are very hard to write. It's easy to get super complex but I think I've been always more of a minimalist. If the piano melody isn't good why bother at all? Anyways, once the theme is approved, that usually sets the tone for the rest of the game. Of course for iconic games like Mass Effect 3, the sound was already established so the question was how do we maintain that sound yet still infuse something new to it. A different challenge. But usually, once everyone agrees on soundscape, we get docs and game play videos. The docs list all the cues that need to be done and we always share one main list via Google docs so we can sign off cues that are finished. I think overall in games, we have a lot of more time to write than in movies. Overall, I enjoy the process of creating sounds and presets the most I must say.
Are there any particular secrets to your creativity?
To be honest, even after 15 years, I still struggle always to find that first important melody or sound. The secret, that you learn in time, is knowing when you have something that's good or not. Taking a break and leaving ideas alone and come back later will bring that answer.
Do you have any audio creation techniques that resulted in something interesting?
There are so many. While I love the actual creation i.e. sampling of sounds, my favourite part is mangling them beyond recognition. Ever since the Quake games, I have a vast collection of guitar pedals and other effect boxes. I usually always try to find new combinations of effects to get something new. Recently I've invested into a massive modular rig, that not only creates sounds but really can destroy them. Then, one of my favourite tools is my Symbolicsounds Kyma audio workstations. It really allows you to go beyond what for example, Reaktor is capable.
Any specific "lessons learned" on a project that you could share?
Yes. When your done with your cue, clean the arrangement and name everything. I tend to always leave a mess behind as I don't keep things always neat and what not. Also bounce all MIDI to audio when your done. So many times, some patch changed and I spent countless hours hunting what sound I have used for some pad!
Any tips, hints or motivational speeches for the readers?
Well I think with today's world, the amount of plugins and computer power that's at hand, it's easy to forget the basics. I think while its cool that your track may sound like famous composer X , no one is interested in a copy cat composer. It maybe good training but the most important thing is to find your sound. You may have to make compromises in the beginning but people hire composers for a certain aspect they love of their sound. Be yourself, take risks. *gasp* :)