More about Saro Sahihi and Soundbits.de @
Official website
Facebook
Twitter
Soundcloud
Brief list of credits:
Soundbits, Trash Detective, Steinbeis Early Birds, Bela Kiss: Prologue
Thank you for taking time to do this interview Saro. Let's begin with you introducing yourself and what got you involved into sound recording and sound design?
Hi, my name is Saro Sahihi, Sound Designer and Sound Effects Creator (SoundBits).
My interest in audio- and music production came up back in the year 2000. I made the first tentative steps, tried this and that. I got deeper and deeper into audio production, did a lot of mistakes, good mistakes. I spent all my money on new (and constantly changing) audio equipment. I always wanted to something sound and computers and after an appropriate audio education in 2004 it all started to become serious.
Tell us a little bit about the soundbits.de and when did you decide to start selling SFX libraries?
I came to Sound Effects Creation when I did the whole soundscape (except music) for the feature movie "Bela Kiss: Prologue". I met such great and inspiring people in that time. One day I had the idea to not just gather sounds randomly for certain projects but to create my own specific sound effects library. This first library was the 'Screams & Shouts' sound pack. I got in touch with Brian Nimens from Sound Ideas and he liked it. So that was the time when i started to create and sell sound effects.
You just released a new SFX library Cinematic Hits & Transitions 2. Tell us what is new in this library?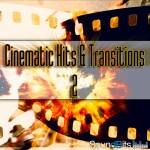 This is the direct sequel to the first "Cinematic Hits & Transitions" library that is still one of my best going sound packs from known sound designers to AAA game- and film- companies.
"It contains 222 cinematic, epic, heavy, impacts and hits from very deep earthshaking hits to brutally distorted and mangled impacts. Some dry, somy with extra huge reverbs. Some with instant attack some with a build up for that extra tension.
But that's not all. There are also 111 scary, haunting, unsettling and weird transitions and movements that instantly let the goosebumps pop out and bring in that extra suspense for your productions."
How do you decide what to include in the library and what not? How do you plan your libraries and do you have a favorite sound in Cinematic Hits & Transitions 2?
Uh, That's three questions at once. :)
1: All SoundBits | Sound Effects that I want to sell in a library undergo several steps of QA. Especially cleaning / editing but also at least two passes of mastering. All spread over several days because it happens too easy that i accustom myself to a sounds when I hear in a loop while editing. So i always check any edits the next day with a fresh pair of ears. When it's totally designed sounds i create them to fit the library. If
2: The planning depends on what kind of library it's going to be. But there's always an idea in the first place. Next step is to think about where i could gather the desired sounds or how could create them. What hardware/software do I need to accomplish that project and what places to go to? Do i need permissions to record there? So, mostly there are many questions i have to ask myself before i get started. But sometimes it's way less complicated. Like when i decided to record some additional Whooshes for the "Just Gore | Add On" library. It turned out be a lot of fun so i recored over 1000 sounds some of them went into the "Just Gore | Add On" and 575 of it went into the "Just Whoosh | 3 – Whoosh Essentials" library. So, there was not that much planning.
3: This is hard to decide. I really like them all. Like i said in point 1 there are several processes of refurbishing or sorting out those sounds that don't fit or don't fulfill the targeted quality. So what stays are sounds that i really like.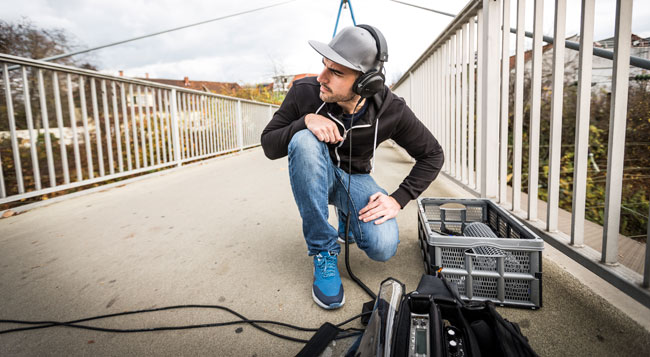 How much time do you spend working/planning on metadata for your libraries?
This is always the last step. And the time that I spend on metadata depends on what kind of sounds there are. When it come to let's say Foley sounds or Ambiences the descriptions get's very detailed while those cinematic sounds get a more raw descriptions.
For example when I search for a Cinematic Hit, I need to know if it's deep and hollow or brutally distorted with high lots of high frequencies. But not necessarily each tiny component of the sound. Then i just listen to all the results and tweak them if necessary.
Let's talk about your other projects for a bit. Trash Detective will be released soon and you were a sound designer and sound supervisor on the movie. How did you get involved with the project and what were your tasks as a sound designer and sound supervisor?
I was asked by a colleague of mine Daniel Vulcano, who already agreed to compose the music for that film. He told me about this (students-) project from director Maximilian Buck and that they're looking for a Sound Designer and Re-Recording Mixer. I didn't want to participate in the first place since it was a low budget production but i agreed to gather a team for the sound department. I acquired some audio -students and -graduates from SAE Institute Stuttgart that i appreciate and did all the supervising stuff.
Especially Nick Thienel whom I asked to be the RE-Recording mixer did an awesome job. But it turned out that not all delivered sounds had the targeted quality or it just were not enough sounds so I decided to support this project (which actually had me anyway, when I saw the trailer the first time). I did the whole Supervising and Executing Sound Editor stuff to fill in what was missing, did a lot of adjustments and spent several nights with Nick, Daniel and Max at the mixing stage. Now we're really happy and the film starts in about two weeks in cinemas in Germany.
On what projects have you been working on recently?
Besides the "Trash Detective" movie it was mostly image-films and some short film projects and some sound effects libraries of course (most recent: Just Whoosh 3, Just Gore | Add On, Screams & Shouts 2, Cinematic Hits & Transitions 2).
Do you have any audio creation techniques that resulted in something interesting?
I don't have a particular example at the moment but there are lots of different techniques and workflows I gathered over the years and it's not unusual that there is an unplanned but interesting and very useful outcome when combining the different workflows. Most cool stuff happens when you just let it go and not to try to stay on the usual way of doing things.
This one is for the gear heads. Can you give us a brief summary of the equipment, software and plug-ins you use regularly in the studio and in the field?
In the field I am using a SD 744T + SD MixPre-D combination as recorders. For quick and spontaneous recordings I use a Sony PCM-D100. All in a custom bag by "Kortwich Filmtontechnik" from Berlin.
Microphones used at the moment are Beyerdynamic MC863, MC950, 2x MC930 (ORTF) and RODE NTG-3 and a RODE NT-2000 and Brauner VM-1 in the studio. This Setup will soon be extended with another SD or Zaxcom recorder or maybe a ZOOM F8 and Schoeps MK41 + MK8 on CMC-5U as M/S setup.
My main DAW is Steinberg Nuendo because I love the capabilities and features. Sure I use Pro Tools sometimes if it's suitable for a project or when I am teaching it but for me it's way too limited especially when it come to Automation and Editing. I also often use Studio One from Presonus and sometimes Ableton Live if I want a different creative approach. Most Audio Editing is done in RX5 Advanced (couldn't live (or al least work) without it anymore) and some in Twisted Wave (because it's awesome for that price). My most used plugins are FabFilter Pro Q2, Ohmforce Ohmicide, zPlane Elastique Pitch, iZotope RX Final Mix, Audioease Altiverb, MB-7 plugin from BlueCat Audio
Any tips, hints or motivational speeches for the read-ers?
Love your job. I think it's very hard to work in creative business when you don't love what you do. Master and control your tools, don't be a slave to them. Spend time on building and extending your network. Be creative and don't run after things someone said to do so.
Oh, and buy SoundBits | Sound Effects ;)