Living up to the name, these guys make libraries of sounds that you wouldn't find in your usual places. They seem to thrive on it (people after my own heart!).
Weird Ambient Stuff 2 follows the trend to an extent, in that it allows you to create some really cool atmospheres, some tonal, some not, and this library gives you a huge amount of control over the sounds that come out. There are some examples on their site but to get to know it better I made a few of my own that you can listen to.
.
Now, let's have a closer look.
First Impressions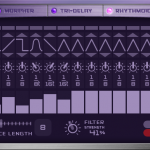 You can either choose a preset or venture into the world of the unknown. With Weird Ambient Stuff 2 you can choose three sound sources and then mangle, mash or squish them together into something new. I found it really easy to get into. At first I stuck to presets but then after a few minutes listening to all the sounds I started to experiment and realised the depth of what I had before me. I was able to make some really interesting jingles this way.
It has a bunch of functions such as "fuzz" which adds distortion to the sound, but in a very good way, or "lo-fi" to bit crush the samples. Both add some great textures.
There's a lot for surprisingly little. The whole thing, unzipped, is less than 280mb. There are 100 source samples and you can choose any 3 at one time to play with, so you have more options than you could shake a stick at.
Things it does
On the first page, you have your samples, function knobs (Attack, Decay, Sustain and Release, Fuzz, Lo-Fi, Low Pass, High Pass, Volume and pitch) and a slider on the right that allows you to fade between the 3 samples you chosen. This is mapped to your keyboard's mod-wheel too. Quite simple really.
The second page is pretty cool, it is home to three separate delays that sync to your DAW but also allow you to sync your current selection of sounds to three others. Put simply, you can play one sound then have another will be repeated in the echo. This could also provide a lot of opportunities for experimentation. The third page is the step sequencer. It offers different types of steps, different speeds, how much that step will affect the sound ("Power" or "Filter Strength") and a slider to determine the length of the sequence.
The Packaging (or GUI)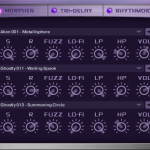 The GUI is great. It takes a no-nonsense approach with large writing, easy-to-understand buttons and three tabs that are neatly lined up along the top. I started by not reading up on it at all in order to do this properly and never felt lost. Then, after 20 minutes, I read their short guide, available on their site (http://www.sampleoddity.com/weirdambientstuff2/documentation/) and it revealed one or two things I had missed – great! More to play with. The colour scheme is minimal and everything fits right in. Activated/deactivated buttons are also very clear.
One final bonus, their license is very open, it literally reads "This is easy. Use these sounds in your personal projects however you like. Musically, as sound effects, whatever. Just don't repackage them or resell them, and it's all good." That's very kind of you, thanks!
Conclusion
For the meagre price of $49 you can get your hands on a really good library of sounds that offers a ton of flexibility and takes a no-nonsense approach to it. I can't honestly complain. The price is good, the content is of a good standard and the GUI works perfectly and as you would expect it to. The whole thing is very accessible even if you don't have any experience with more complex synth/samplers.
P.S. A full version of Kontakt is required for this library.
SampleOddity's Weird Ambient Stuff 2 Review
For the meagre price of $49 you can get your hands on a really good library of sounds that offers a ton of flexibility and takes a no-nonsense approach to it. I can't honestly complain.
Content
Sound
GRAPHIC INTERFACE
VALUE FOR MONEY