CYCLONE – GLOW Multi Pack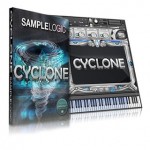 GLOW Multi Pack is a set of over 50 amazing multis that expand CYCLONE to the next level. The GLOW Multi Pack has been developed and engineered to push the envelop of music and sound design and is loaded with key sounds in CYCLONE. From wobbled out arpeggiated leads to bone-crushing basses and ethereal atmospheres. The GLOW Multi pack is a great addition for film, TV, game composers, and electronic musicians who want an sample-meets-synthesis edge to their sound.
TECHNICAL SPECIFICATIONS
• 50 new Multis featuring CYCLONE instruments recorded and processed at 48k/24-bit, delivered at 44.1k/24-bit.
SYSTEM REQUIREMENTS
• CYCLONE
• Kontakt 5 Player 5.2 or higher (free download) or full version of Kontakt 5.2 or higher (sold separately)
• Mac OS X 10.6, 10. Or 10.8 (latest update), Intel Core Duo, 2 GB RAM (4GB recommended)
• Windows 7 (latest Service Pack, 32/64 Bit), Intel Core Duo or AMD Athlon 64 X2, 2GB RAM (4GB recommended)
For more info visit:
www.samplelogic.com/products/cyclone
Available as Direct Download!
CYCLONE and GLOW Multi Pack MSRP: $329.99