OVERVIEW
Sample Logic's latest product Cinematic Guitars – Organic Atmospheres is an extension of the Cinematic Guitars Infinity collection, which we reviewed some time ago here at The Audio Spotlight. However, you don't need Cinematic Guitars Infinity to use this new library, since it also runs on its own.
The Kontakt instrument is sold as a downloadable product of about 5 GB in size and comes with over 850 instrument presets. For the extensive sample content of the instrument, a vast array of real acoustic guitars in many different shapes and sizes was recorded, which then ran through a complex sound designing process to morph them into pulsing, colorful atmospheres. Responsible for the recording of all the source material was composer, artist and producer Steve Ouimette.
Besides the usual suspects like nylon and steel string guitars, Steve delved into a whole world of exotic, ancient and downright strange string instruments which he set out to record. Among these were Ukuleles, Dobros, Baritone and Archtop guitars as well as a Puerto Rican Cuatro, a Purgatory Hill Harp, a Marx-O-Chime and a 4-string Cigar Box guitar. The recordings led to a massive sample collection of plucked, struck, bowed and strummed guitar sounds. Sample Logic advertises its new product as your "all-in-one cinematic atmosphere solution". Let's see, if it delivers what it promises in this review.
GRAPHIC INTERFACE
Cinematic Guitars – Organic Atmosphere comes with the same GUI and synth engine as its "bigger brother" Cinematic Guitars – Infinity. It's quite complex and has lots of control options, but since the GUI is very well structured, you can rather quickly get a grasp of it, if you take some time and a look into the manual.
The library's main element are four so-called "Soundcores", which can load up two sound sources each – allowing you to build patches consisting of up to eight different sound sources. The sound sources of each Soundcore can be blended seamlessly by hand, but you can also draw in and record crossfading curves, to blend sounds automatically while playing. In the center of the interface, you will find an XY slider, which lets you fade smoothly between all four Soundcores.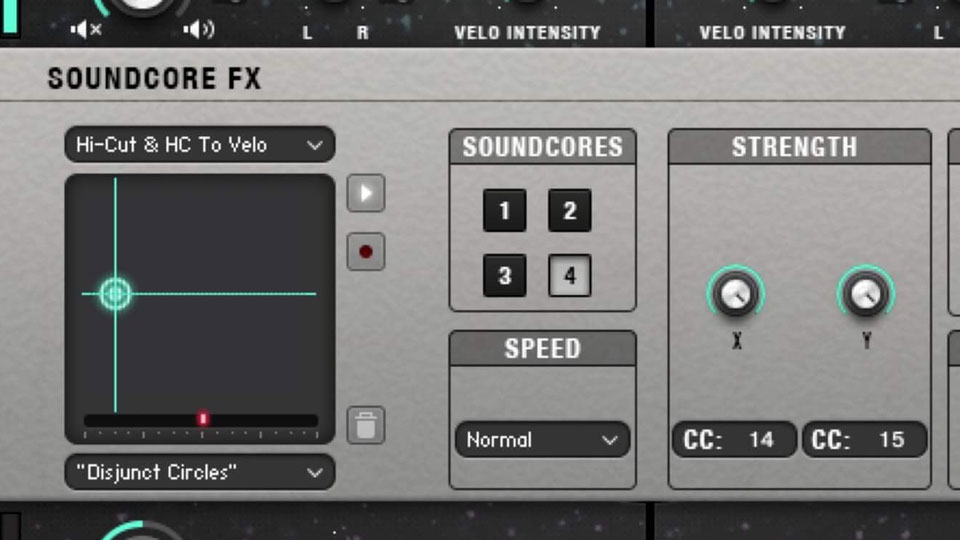 Additionally, you can assign a variety of controls, modulation options and FX to the slider and automate them to your performance.
Speaking of effects, Cinematic Guitars' interface provides you with a wide range of different Master FX modules, ranging from EQs and compressors to phasers, delays, reverbs, saturation and many more. The FX rack at the bottom comes with 15 presets consisting of different FX combinations and settings. They make for a nice starting point to build your own, custom made FX chains.





If you, rather than processing the sum of sounds, just want to put effects on certain Soundcores and leave the others unaffected, you can do so by clicking on the "four arrows" symbols of each Soundcore. You get access to a handful of effects modules as well as another bank of FX chain presets. These can be used to shape and modulate your base sound.





The last big element of the interface I want to spotlight, is Sample Logic's very elaborate "Step Animator", which is already featured in other products of the developer. The step animator provides you with numerous sequencing and randomization options, to breathe life into static pad sounds. Again, each module can be modulated and automated by assigning MIDI controls or the XY slider to the buttons, knobs and sliders. Also, every module features a randomization button (labeled "R") which you can click to receive unpredictable results instantly.

The gray "R" button is not only available for the step animator, but also for almost every element on the main page. Additionally, there are bigger randomization buttons which can be turned on to randomize a whole section or even the entire engine. This makes it very easy to kick start your inspiration and get sounds, you didn't even know you were searching for.

If you want to know more about Cinematic Guitars' excellent interface and its functions, I'd strongly recommend taking a look at Sample Logic's extensive tutorial videos for each element.
SOUND
Since the sound of this multifaceted instrument is quite hard to describe, I'd first like to provide you with a video by Sample Logic, which presents some of the numerous preset patches of Cinematic Guitars – Organic Atmospheres in action:
As you might have heard in the clip, Cinematic Guitars – Organic Atmospheres covers a very broad spectrum of sounds, ranging from dark and gritty atmospheres, over shimmering, detailed and epic pads to edgy, action packed pulses. It's very striking, that each and every patch of the four different preset categories is constantly evolving, modulating and changing. This adds a very human and organic vibe to the rather electronic/synthesized overall sound of the library.
These are the four categories, the instrument's presets are organized in:
• Chordal – Gated
• Glitch – Experimental
• Melodic
• Non Chordal
IN USE
Although the interface looks quite intimidating at the beginning, playing and fiddling around with this instrument works very organic (pun intended). As soon as you get comfortable with some of the controls, you can pretty much guess how the rest works. If you know one Soundcore, you can operate the other three with no hassle. For me though, it was exactly the adventurous feeling of "let's see what happens when I turn this knob?", that made playing with this library so much fun. Not exactly knowing what you're doing, yields get great sounding, interesting results in no time and you often end up with an awesome patch you didn't even intend to build in the beginning.
However, if you do want to learn all of the features of this complex instrument, you can take a look at the well written and easy-to-read manual that comes with the download or, again, watch the "virtual tour" videos I mentioned earlier. Especially the randomization features as well as the various automation/modulation options deliver such a vast range of sonic possibilities, that I'd say you will never create the same sound twice.
CONCLUSION
With Cinematic Guitars – Organic Atmospheres, Sample Logic delivers an absolutely unique virtual instrument that complements its "bigger brother" CG – Infinity perfectly. The multitude of expertly crafted presets covers a wide range of needs and represents an ideal starting point to tweak, randomize and create your very own patches. Of course, you could load up an initialized patch at any time and start building your custom sounds from scratch.
Although not many of the numerous mangled and twisted presets resemble the sound of an acoustic guitar anymore, you can still feel the natural, organic vibe of wood and strings in almost any patch. In combination with its cinematic, wide-screen sound aesthetics, you get a virtual instrument that both works as a wonderful, easy-to-play cinematic cue starter and in a Pop/EDM context alike.
The quality of the samples is astonishing – each sound source in itself already sounds punchy, clear and distinctive. Although you might be intimidated by the instrument's complex interface at first sight, you quickly learn your ropes by just playing around with it or by taking a look at the well crafted tutorials.
Cinematic Guitars – Organic Atmospheres has an introductory price of $199.99 (usually $249.99). However, if you already own Cinematic Guitars – Infinity, you can crossgrade to the new Organic Atmospheres extension for $99 or get the whole Cinematic Guitars bundle at once for a insane discount price of $419.99 (instead of the normal $850).
Regardless of whether you like to compose for modern cinematic music, trailer music, games or film scores, this virtual instrument provides you with that state-of-the-art, cutting-edge vibe you hear in many modern movie scores lately, while keeping everything sounding alive and organic at the same time.
Read our interview with
Sample Logic
. Don`t forget to rate the product yourself if you bought it in the "
Reader rating
" tab below!
Sample Logic Cinematic Guitars - Organic Atmospheres review
Content
Versatility
Performance
Sound Quality
Playability
Price performance