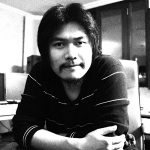 Find more about Roc Chen @
Official website
Twitter
Brief list of credits
Running Man, Chinese Zodiac, Kung Fu Panda 3, A Bite of China Season 1&2, Everybody's Fine
Hi Roc, thank you for taking time to do this interview. Tell us a little bit about yourself and what inspired you to become a composer?
Hey, nice to be here. I was born in the Sichuan province of China, hometown of Pandas. When I was young sometimes I woke up in the middle of the night and would hum the theme melody from Godfather, so I thought maybe I should become a part of something like that!. I went to a famous college in China for Communication Technology before I went to the conservatory of music. I obtained my bachelor degree of communication and later on I got my master degree of composition. And now I'm a film composer. I've scored lots of blockbuster films in China like Jackie Chan's Chinese Zodiac and also some worldwide released video games like Heroes of Might and Magic VII.
How did you get involved with Kung Fu Panda 3 and what was your role as a Chinese Music Consultant?
Perhaps it's the success I've had in the Chinese film industry that caught the attention of Hollywood studios like Dreamworks. It's such a great experience working with the Kung Fu Panda 3 team! As a Chinese Music Consultant, I offered a variety of suggestions to guide music in the right way based on my knowledge and experience with Chinese instruments, articulations, and of course also the Chinese culture. Since I know the taste of both eastern and western audience, I felt I was quite good at balancing the project. We also translated the Kung Fu Fighting song into Chinese and made it match the rhythm/feeling of the song. We recorded it with Chinese musicians in Shanghai – That's why you hear everybody singing that Chinese song before the rolling credits.
Red Sorghum (The Red Sorghum Clan) is one of the most popular TV series in China and is based on the Nobel Prize winning novel by Mo Yan. How did you get involved with Red Sorghum series?
People come to me because I have a reputation of bringing Chinese elements into a culturally infused product from that captures what it truly means to be international and make the original Chinese music feel elevated. Red Sorghum is a well known novel in China and the director is like a Spielberg in the Chinese film & TV industry. The producer like what I did for "A Bite of China", which is a really successful documentary in China that everybody knows that theme music to (the main theme reached the No.1 hit song in one of the Chinese Billboards), and later the producer introduced me to the director of Red Sorghum and we had such a great time.
You have also worked on American projects. Music wise, how do you translate Asian culture into American projects?
Actually as I'm traveling between LA and Beijing, I'm trying to be as international as I can. When I'm doing American projects, it depends on the projects. Sometimes we do it in a pure-western or pure-American way and we do not think of Asian at all. When I'm doing a pure-western style I normally will use what I learned during my time at the music conservatory: orchestration, counterpoints, harmony, etc. I also used to hang out with a lot of great jazz and country style musicians when I was young! And I think almost everybody understands the culture of Hollywood films/American films, as many of the Hollywood films are made to be released world-wide. But how I translate Asian cultures into American projects comes from the skills and processes I mentioned in working with Kung Fu Panda 3: experience with Chinese instruments and culture, and translating American songs ("Kung Fu Fighting") to match the rhythm and feel of Chinese sounds in the revamped version, etc.
What is your usual scoring process for films?
It really depends. Every project is different. Sometimes I start writing the score even when we only have just a script. Sometimes I'll be invited to watch the first cut of the film and begin from there. I also use a lot of midi-orchestra sample libraries most of which will then be replaced with a live orchestra.
How did you get involved with Heroes of Might and Magic VII game?
I'm a fan of the Heroes of Might and Magic I game since I was a little boy. Those Heroes/Knights were the real heroes when I was young. Ubisoft liked what I did for Might and Magic X: Legacy, which I felt was one of my more of purely western-style pieces, and they brought me on board scoring the Heroes of Might and Magic VII.
This one is for the gearheads. What tools and technology are you currently using and why?
Actually I'm using all 3 major DAW- Cubase, Logic, DP for composing, but when it comes to mix/record, I only use Pro Tools HD. I built my own system which is formed by many computers, which are both very powerful and portable so I can carry them when I'm traveling between LA and Beijing.
What are you working on right now and can you tell us more about that project?
I'm working on a Sci-Fi feature and many TVs and some animations. Due to NDA reasons I can't say more but certainly I hope you'll enjoy them when they release!
Any hints, tips or motivational speeches for the readers?
If you come from a background in technology or something else other than music, don't worry. You can always make something unexpected your strength and power!