Rob Papen is around for quiet a while and his virtual instruments and fx are featured on various tracks across the charts and clubs out there. Yet the only plug-in I got hold of so far was "RG" a rhythm guitar synth. Some time ago I read a lot about his "Punch" vst, a drum synth & sampler, but as I am rather lazy and use the same way to edit and process my drums for years, I didn't feel the need to test it myself. With "Punch BD" they release a smaller version of "Punch" with the focus on the bass drum. Not only since Felix da Housecat's "Kick Drum" I know of the importance of this very drum and was happy to be able to get hold of a copy of the new Rob Papen instrument this time.
Content
The download is through the Rob Papen homepage and for 49 EUR you get a 270 MB .zip file. Punch BD can be integrated via vst & aax in either 32 or 64bit.
The instrument hosts 6 drum pads that can be played alone, stacked or in various orders. For each drum pad you can choose whether you want to use the build-in (drum) synth with four different synthesis models or a sample. Over 50 samples are included in the instrument and you can easily import your own .wav & .aiff files via drag & drop. Each pad can be routed to one of four fx channels. 32 effects are available for each of the four channels. In addition you can choose from 20 different distortion models and use a three-band graphic EQ directly for each drum without going through the fx channels.
Graphic Design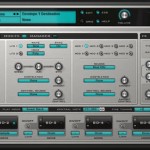 The design is the well-known Rob Papen design, you might know from most of his plug-ins. If you run one of his other instruments or fx you will feel at home in a second. Though it doesn't match my personal taste in design, as it doesn't look stylish, instead very clean but at the same time too complex, the design proofed itself to be very functional after digging deeper. But it took some time to get used to it for me as every knob seems to be of equal importance at the first glance. A real highlight though is the "Easy" mode. Very simple surface, all you get is 13 faders. These editing options work on all the stacked sounds the same and you get really good results and can make great changes to the drum.
Sounds
First of all, let's talk about the sound of the presets. There is eight categories of presets: Dance, HipHop, Acoustic, Special, Oddiction, JoMal, Rob Fabrie & Z-old. I don't really like sticking to musical categories, when it comes to kicks, but if you search for special fx for a sound design you easily find the right presets through this. In general I must admit, whatever possible bass drum you might be looking for, you will find it in here. Whether it is Gabba, timpani style or a tuned synth kick; it covers everything. And it is authentic with most styles, which is not common for an instrument that covers such a broad range. With naming the plug-in "Punch BD", the expectations are high. And really plenty of sounds have a great attack and lots of volume.
On the other hand the instrument features soft and smooth bass drums as well as plastic clicks and clacks. It delivers lots of punch but isn't limited to it. The synth has 2 envelopes, 2 LFO's and 8 modulation slots. The sound is solid, nothing new or extraordinary. The clue really is stacking different kind of sounds. The samples are 44100 khz stereo wav files. Well recorded and extracted. But again the magic really comes into play stacking the sounds and using the build-in distortion and processing options. The build-in Fx and sounds really do well and to demonstrate this, I built a short demo tracks in 20 minutes, using 15 presets and only added a bit of editing with the instruments own parameters and a compressor on the master.
Hope it demonstrates the variety and possibilities this instrument offers. Keep in mind it only took 20 minutes, so you see how easy it is to get great sound out of this little plug-in. Guess you could do a lot more if you really spend time working with this machine. I also tried Punch BD on some electronic & hip hop tracks. The sound was really cut through and very well defined. It was easy to find a matching preset and start working from there to get the details.
Usage
Just try to imagine who could make use of a bass drum. This is the person who could make use of this instrument. Even if you have your own preferred recorded samples, this tool makes it easier and faster to stack them and might be of help to you.
Conclusion
Guess I will keep using this friend in need. I spent a lot of time in my life searching for the right bass drum to fit a certain sound, stacking and tuning them. Punch will help me with this task. When using my own compression, saturation, eq and distortion effects on top, I was really satisfied. The one thing I am really missing is an option to slightly differ the starting time of the different pads, when stacking them. I think there should be one directly accessible button next to the pad, as this is an important function for me when stacking drums. Now I have to open several tracks with punch and change their latency or assign the 6 pads to different keys on my master keyboard and play them slightly shifted, both complicated. Of course I will keep sampling bass drum sounds and never leave my favorite 808 sample. But it does really well, when it is used as a sub, stacked with other sounds, so it found its place in Punch BD as well.
Screenshots

Don`t forget to rate the product yourself if you bought it in the "Reader rating" tab below!


Here are some alternatives for you to explore
D16 Nithonat
Image-line Drumaxx
Motu BPM
FXpansion Tremor
Arturia Spark
Sonic Charge MicroTonic


Rob Papen Punch BD review
Content
Sound quality
Value for money