Rob Papen is well known for his soft-synth, now he is expanding his arsenal with another virtual synth, RAW. He teamed up with two Dutch DJs to create a strong instruments that suits the needs of producers of dirty electronic music (think DubStep, Glitch etc.). Let's cut the intro and dive right in.
Content
For 119 EUR / 139 USD I get to download a 39 MB installer file. I can choose from PC / Mac and 32 or 64 bit. As always with Rob Papen, the download from their web-page (or you can choose a boxed version) & installation is pretty easy.  Let's take a look, what is waiting under the hood.
There are two oscillators, each equipped with a x/y pad to distort the waveforms. This is distortion number 1. Then there is a build in distortion fx section, which is distortion number 2. And on top there is a LowFi tab, which allows me to use distortion for a third time. This goes separate for each voice. So there certainly comes a lot of distortion with this baby.
In addition there are plenty of more fx, like chorus, flanger, reverb, delay, gater & phaser. There is an arpeggiator, a filter, a main LFO and an onboard EQ which I can decide to use before or after the distortion. One very valuable item Rob Papen added are plenty of diverse presets programmed by various DJs as well as his own team. It is hard to find a synth out there that comes with more usable sounds on board. They nearly replace the very well put together manual, which allows me to look up every knob, and it's function.
Graphic Design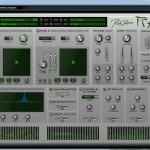 The design is plain and simple and supports the handling of the synth. Right next to the drop-down windows are six buttons that allow me to open up the version that suits my needs best. The original preset, my edit, the help button, which opens the manual, external midi-control & a really nice stripped down version of the synth called "easy" which was designed for performing live with RAW. Every fx, filter & amp section is graphically separated from the others, and there is no mixing up knobs. In general the design helps to tame a complex instrument and I find it very intuitive to handle. Especially experimenting with the x/y pad is easy, a lot of fun and often brings up surprising results. The movement across the pad can be recorded and saved with just a few clicks on the digital surface.
Sounds
There are countless sounds that can be created with RAW. The introduction bank features samples for the different styles that can be programmed. It displays cutting edge distorted lead sounds & wobbles as I was promised and would expect from this synth. But furthermore there are lovely pads, bell like arp sounds, odd percussive blips and all kind of sfx. Most sounds are very harsh and on the edge to annoying. Which is a good thing when you are looking for it.
Usage
Let's start with the obvious. Electronic music producers will love this synth. It delivers edge as well for the studio as for live situations. Also sound designers will love this synth. It is very easy to produce sound fx for sci-fi and robotic genres. Also every one else who is looking for a sound module that provides other sounds than the every day sound – but be prepared it might be hard to fit in the mix.
Conclusion
RAW is not the average synth and it certainly rather is the "second car" than the one you need first to master every situation. The second car is not for everyday, but it is always a highlight to drive it. Same goes for this synth. There are limits to the sounds it can produce (though far less than one would expect) – but it won't be easily beaten in the niche it is aiming at. I never found it so easy to produce good sounding distorted sounds, that live and move almost organic while playing. A lot of automation worked is saved here. Of course the digital distortion is very brutal at times, which is a highlight for all Dubstep & EDM producers but is not easy to place in every mix. So dirty electro producers & sound designers should definitely take a closer look!
RAW (Rob Papen) review
Content
Sound Quality
Graphic Interface
Value for Money