Essentially, I caved into pressure. I was doing some remixes and some breaks tracks and again and again people would complement me on my percussion. They would ask me how I did it and I thought maybe it would be fun to work on my own sample pack. I had always been a massive fan of BT's Breaks from the Nu Skool collection, which is one of the first sample packs I ever bought. And generally I thought the standard out there was pretty hit and miss. So, I sat down and started programming some loops. Then I threw them through lots of different mixing effects (there's one loop on The Unfinished Breaks Vol 1 that has five compressors on the bus!), chopped them up, edited them, added more effects, until I was happy that each loop had a really good and interesting groove.
I wanted to produce something that I would buy, that I would use. I'm pretty pleased with the final result and have had some great feedback from those that have used it. I've heard my breakbeats on tracks featured on hit US tv shows – which is pretty cool.
However, if I'm brutally honest, despite the fact I think the collection is pretty damn good it hasn't sold as well as I would have hoped. So, when an electronica producer friend mentioned that I should try doing synth soundsets, I was pretty keen to try it out. He was making some good 'pocket money' from his and all that studio gear doesn't pay for itself!
Is that how the Massive Darkscore series came about?
Pretty much, yeah. I tested the water initially by giving away some presets for free when I created my new website (www.theunfinished.co.uk) in January of this year. They were patches I'd made in NI Massive for projects I'd been working on. So, I was confident all the sounds were useable, as I'd used them! I packaged them as Massive Darkscore I and had A LOT of downloads – people like free stuff. So, I immediately embarked on doing a full commercial pack of 128 sounds (MDI had only been 40), not knowing whether it would work or quite where it was all going. But, I figured, if it came to nothing I'd have a bunch more nice sounds to play with.
What was the process of creating Massive Darkscore II?
The short answer is: I just sat down in front of Cubase, opened up an instance of Massive and tinkered until I heard something I liked. But I'll give you the long answer too. I had in my mind what the project was about. I wanted to create a wide-ranging set of sounds that would lend themselves well to modern hybrid cinematic scoring. All that Zimmer, Gregson-Williams, Zablonsky stuff but with a little bit more of a dancefloor-inspired edge to it. My original music background is as a dance producer, although now I see myself as a soundtrack composer. I knew that Massive could do this. It's seen as a noisy, dubstep beast, but I know it's capable of more subtle, ethereal stuff. It's so easy to use, intuitive, and I feel that I can get most sounds that I might want out of it.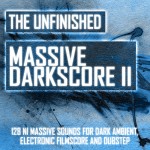 So, I literally just started experimenting. Modulation and filtering was key. Hooking up the LFOs to the filters and oscillators gives sounds that movement that brings them alive. Massive does this really efficiently and flexibly. I had learnt Massive enough to know which oscillator types were capable of which sounds and what impact the filters would have on them, so initially I stuck to a few tried and tested rules and came up with some sounds (mostly deep, growly basses and otherworldly soundscapes) that set a solid base for the rest of the project. I also kept a spreadsheet. Each time I made a sound, I marked what category it fell into (bass, pad, lead, sequence, sfx, etc.). I had a feel for how much of each would make a balanced collection, so set up the spreadsheet to make sure I stuck to it.
Very quickly I had almost maxed out the number of basses and soundscapes I wanted, so had to discipline myself to concentrate on other areas. I allowed for happy accidents though. Sometimes I would start with an idea for a synth sequence in my mind and perhaps it wouldn't be working as I wanted it to. So I would experiment by changing the oscillator types, or I would run the step sequence to the cutoff instead of the pitch, or I'd change the envelope parameters to see if it worked as a pad. There are quite a few patches in the set that are happy accidents. But, if they meet the massive Darkscore criteria, they go in.
How long did it take you to create Massive Darkscore II?
In total about 100 hours I would guesstimate. This was all spread across about three or four weeks. I found the mornings were particularly creative periods for some reason. The power of toast? I don't know. Some sounds could take a matter of minutes to perfect, others I could lose hours chasing down creative cul-de-sacs. What probably took up the most time though was designing the macros. Massive has eight knobs/dials that you can use to control complex sound sculpting parameters, be it the oscillators, filters, effects, inserts, LFOs, unison mode, noise, whatever. And you can use these macros to combine various different effects in just one knob to really warp and twist a sound.
It was extremely important to me that the sounds were flexible, that they could transform from dark to light and back again. Though there are 128 sounds in the collection, the macro parameters mean that there's technically 1000s in reality.
I then spent another two weeks writing demo tracks and invited some talented composers and producers to produce their own demo tracks to help promote the collection too – all of which were fantastic. Then maybe another week of artwork, promotion and setting up the e-commerce aspects for my website.
What makes your soundsets and samples stand out from the rest?
Aaarrgghhh… How to avoid sounding conceited but still make it sound like they're great and unique. I think the key thing for me is that I will not release anything I wouldn't use. And use up front as well, not just bury in the background behind better sounds. Ultimately I'm making sounds and samples for myself, and if other people like them and get use out of them, then fantastic. A lot of effort goes into making my sounds go further. I don't design sounds that just do their thing and that's it. They have to be tweakable, they have to be able to go places you wouldn't expect from the original patch sound.
Music is about a journey and the sounds you use should help propel you on that journey. If they're static they won't do that. The percussion loops are more about developing a signature sound. They're less flexible than my soundsets, for sure, but the aim is different. The loops are designed to be dropped into your track and used as they are. That's why I do 8 and 16 bar loops, not just 1 or 4. That gives me room for variations, so there are different fills in the 4th, 8th, 12th and 16th bars etc. They're designed so that they won't get boring and repetitive if used throughout a track. That's the aim at least. I'm not trying to develop an all-encompassing drum solution, just loops that I like and that I think can rally add depth and punch to a track.
What are you working on now? What future plans do you have?
Well, I've just completed a really exciting project. I designed a whole bunch of sounds for a AAA games composer in LA. That came about from him buying Massive Darkscore II. He contacted me on Twitter and asked if I'd design some sounds for Massive for a couple of projects he had coming up. Naturally, I jumped at the chance. However, that's all I can tell you as I'm under an NDA!
I've also recently completed a dance set for Massive, called Massive Stratosphere. It's primarily aimed at popular progressive house synth sounds: Deadmau5, Swedish House Mafia, etc. But also has a few trance classics in there. Again though, I've programmed the macros so that the sounds can be taken to some pretty weird and disturbing places. There's plenty of scope for filthy electro and techno noises in there.
What I'm currently focusing on though is a sequel to MDII: Massive Darkscore III. Which is much harder! I'm trying to avoid making more of the same, despite the fact that the concept is technically identical. I'm looking at what was perhaps missing in MDII and making sure there's more of it in this collection. So, there should be more percussive and synth sequences, more sfx and some subtler pads. I'm cheating slightly though!
Anything that's too aggressive/dance-y or too soft/new age goes into two other smaller collections I'm doing: one for dubstep and one for ambient. Nothing goes to waste. Beyond that, I'm lining up some Darkscore-style soundsets for other synths, possibly including Zebra and Omnisphere. And I'm also prepping for new percussion libraries. At the moment I'm asking fellow composers/producers for what percussion loops libraries they are looking out for. It's quite exciting. I love drum programming! And there might be some live stuff included in these new projects as I have built up a collection of ethnic percussion from all round the world. Somehow I've got to fit all this round my regular composing jobs.
How can people support your projects?
Ha ha! That's simple. By buying them. On the one hand, obviously, if you buy my soundsets and sample collections then I have money with which to feed and water myself, and therefore have the time to create new and, hopefully, even greater ones. But equally, it's also encouraging. My commercial packs are on sale in a variety of places where I receive a variety of earnings per sale, and each sale means a great deal to me. It's gratifying to think that someone has found a use for it and is enjoying it. Which is why I'm always keen to hear work that uses my sounds. I love that. Having said all that, I earn the most if you buy them through my website – so do that please!
You can support Matt by buying his soundsets and music loops. You can also download some of the free patches and demo version of Massive Darkscore here.