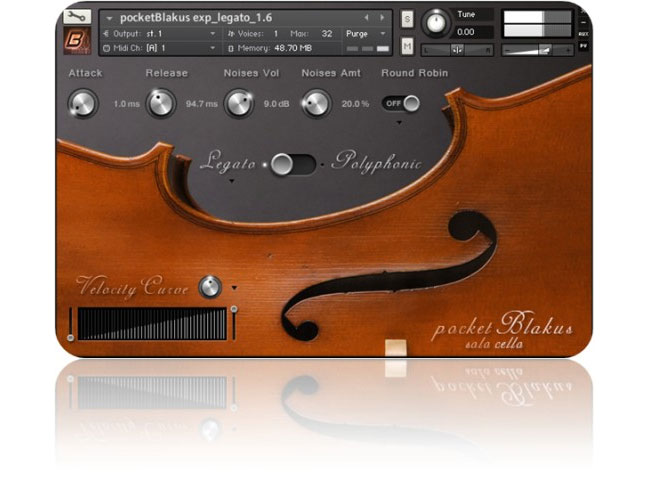 What is it?
pocketBlakus is a sampled, expressive solo cello virtual instrument for Kontakt* 4.2.4 or higher (v.1.6). There is also a version available for HALion** (v.1.5).
Features at a glance (Kontakt version) :
Expressive sustains with progressive vibrato
Expressive sustains triggered by playing velocities >90
Simulated legato patch – using SIPS scripts. Easily customizeable.
Basic release samples & mod control
How do I install/use this?
Just download and extract the .zip file and manually locate the instrument via the Kontakt "File" browser pane.
Do I need the full version of Kontakt?
pocketBlakus will work for a limited time only in the free Kontakt Player (all Kontakt libraries which don't need to be activated through N.I.'s Service Center have this restriction: they are not really "Kontakt Player-compatible" – this is a licensing thing between instrument developers, and Native Instruments).
What is the latest version? Will there be more updates?
The download links on this page point to the newest version, (currently 1.6). Older versions and extras like alternate .nki's created by other pocketBlakus users can be found in the archive. To find out more about the latest developments, please check this thread at the V.I.-Control.net Forum.
Where can I get help and/or make suggestions ?
The aforementioned forum thread is where you can also post all of your questions, feedback, or your creations with this instrument… Blakus would love to hear them!