The sound design maestro that is Jeremiah Pena, returns this time with his fourth and final installment of his Photoynthesis series in "Volume 4: Realms". Realms is taking the concept of sampling common metal objects further into really gnarly and obscure sound designed elements, providing composers and sound designers alike with new and very unique tools for scoring and creating artificial soundscapes.
For those of you who are not familiar with Photosynthesis engine, it is an open-source Kontakt based engine, which enables anyone to create their own Kontakt instruments in a rather easy and creative ways by importing samples and shaping them with various filters, effects and rhythm section featuring a step sequencer, filter sequencer, and 5 LFOs for filters, panning, pitch and gain.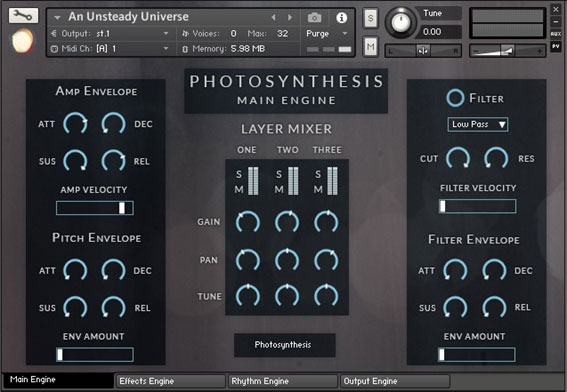 Realms is mostly concentrated on bowed metallic objects, and it provides seven of them, which are organized into 41 sound menus, and each menu consists of many individual recordings that can be opened and transformed individually. There is also an additional set of "effects menus", oriented more towards horror genre. Even though it is mostly horror-oriented, Realms can easily be utilized for other purposes in many genres with its natural organic pads, which are created by using bowed sound sources, but there is also a large collection of processed and designed keys, rhythms and soundscapes, so there is a little bit of everything for everyone. There is also a bonus of 33 Guitar Rig 5 Pro presets.




The library comes in 2.3 GB, which consists nearly over 1400 samples, and even though Photosynthesis is a free engine, you will need a full version of Kontakt 5.5 and above. In order to use Guitar Rig Pro presets, you will need to run a full version of Guitar Rig 5 Pro.

What I really liked about this library is how quickly and easy I could create something completely new when tweaking and mangling the already existing patches and sound collections. Natural Pads are sounding simply beautiful and they can really enhance your sustained orchestral strings when used together. Soundscapes are bringing something completely new and they sound out of this world. You can easily create a horror or dark ambient atmosphere with just a couple of keys and if you layer a couple of patches together, you are all set to provide your game developer clients with complete sets of looped underscore atmospheres for various situations.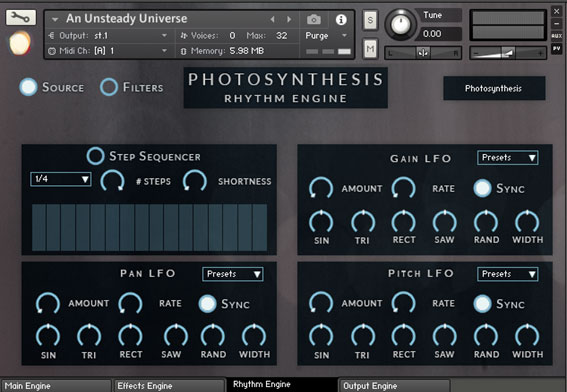 The bowed instruments can be key-mapped across the keyboard to chromatically accommodate your compositions. For example, you can import any bowed sample of any note, and map it across the keyboard and then manipulate it with Photosynthesis engine to create something of your own, like new pads or weird sound effects. I am currently scoring a horror video game, and Realms is really the pinnacle of my template for this project. It can work on its own very well, but it can also be easily integrated into other libraries to add some more spice.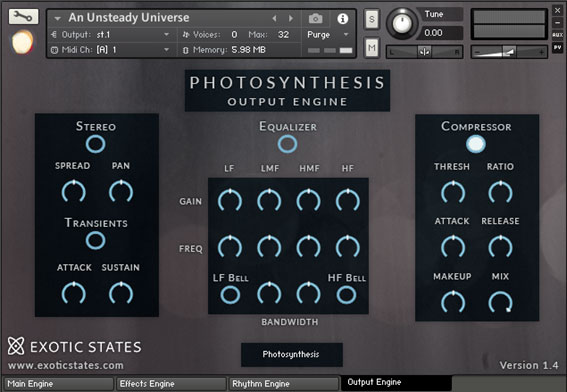 For a price of only 60$, you get a lot of material to work with, and I honestly think that this library is a steal at this price point. This is a must-have for anyone who is working on dark and obscure games and films. I know it will stay in my horror template for many more projects.

More sample library reviews here

Photosynthesis vol 4: Realms review
Content
Versatility
Performance
Sound Quality
Playability
Price performance